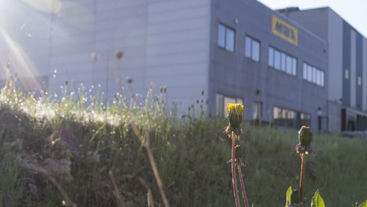 Mirka is publishing its 2022 Sustainability Report highlighting its global Clean Commitments (Performance, Partner, Production, Proactivity), spearheaded by a 30M€ development funding acquired from Business Finland for the innovative SHAPE project and its ecosystem
This community investment creates an ecosystem of Finnish companies working on the development of new solutions for the remanufacturing industry, and Mirka's journey towards a more sustainable business aligns with the project's strategic ambitions.
In 2022, Mirka invested in fossil-free electricity generated by hydropower at all its production facilities in Finland, which are now run entirely on fossil-free electricity. This also led to a 56 per cent reduction in carbon dioxide emissions within scope 1 and 2, and it installed solar panels on the production facility in Fino Mornasco in Lombardy, Italy, so the site is entirely powered by solar energy.
Its production facilities in Jakobstad, Finland were expanded with an energy solution based on geo-energy from geothermal holes, which means the site will reduce its annual carbon dioxide emissions by around 900 tonnes. It also invested in a purification and heat recovery system at its Oravais plant in Western Finland, transitioning from oil heating to recycled energy using the extra heat by the end of the year.
In addition, air transport has been reduced by 30 per cent, and further energy solutions have been phased across several sites, leading to 70 per cent renewable energy use in its production facilities.

Mirka's CEO Stefan Sjöberg says, "Over many years, Mirka has made smart long-term investments to improve the sustainability of its operations. These investments helped us ride out the pandemic's challenges, and our sustainability work has proved that sustainable operations benefit not only the environment but also companies in the long term."
To read the full Mirka Sustainability Report click on the link below
Receive the latest news
Sign up for our newsletter
For you and the environment
Sustainable Mirka
For us, it has always been clear to not waste financial or material resources – our own or yours. It is equally clear to preserve the planet's resources. Sustainability, for us, means taking the economy, the earth, and people into consideration when we make business decisions.
We work hard to conserve energy and raw materials, reduce waste, increase recycling, and decrease the use of persistent chemicals. We are developing healthier, safer, and more efficient products and processes so that you will benefit. For example, our dust-free sanding systems help protect the lungs when sanding while giving a cleaner and better surface finish.
Responsibility
For Mirka corporate responsibility is at the very core of how we conduct business. As stated in our values, all parts of our operations are driven to be responsible, committed, innovative and respectful.
In practice, this means ensuring that what we do in terms of sustainability, occupational health and safety, compliance and legislation as well as management systems are an integral part of every department.
You may also be interested in...