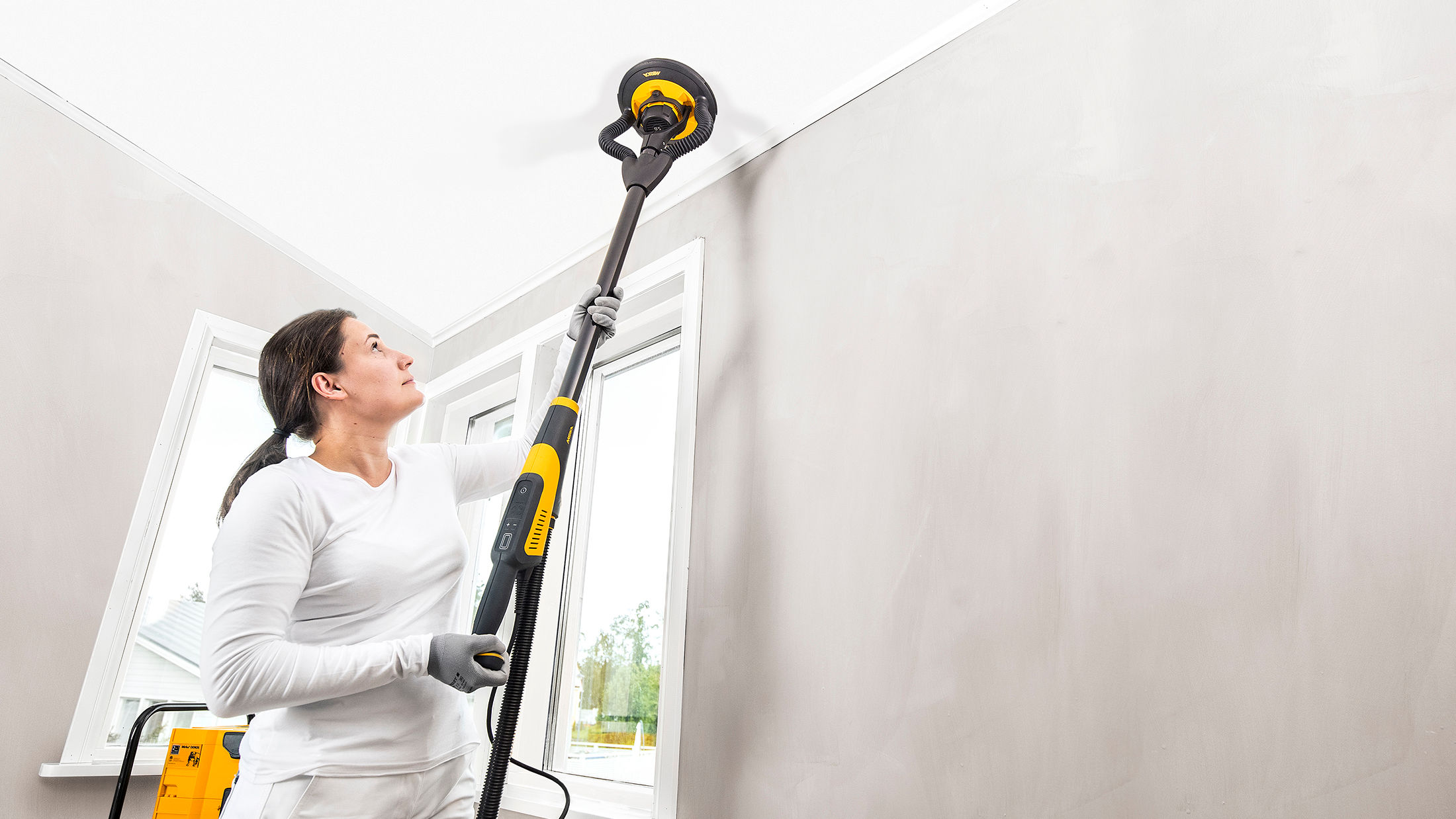 Mirka® LEROS Wall & Ceiling and Drywall Sander
Get the perfect drywall finish
Without the sanding power and precision of electric sanders, finishing your drywall and ceilings can take hours. Our LEROS Drywall Sander is here to streamline this task for a quick and efficient finish. Discover the lightest, most advanced model that tackles even the toughest of jobs.
180° Flexibility. 100% Comfort.
What Makes Mirka LEROS Wall and Ceiling Sander Different?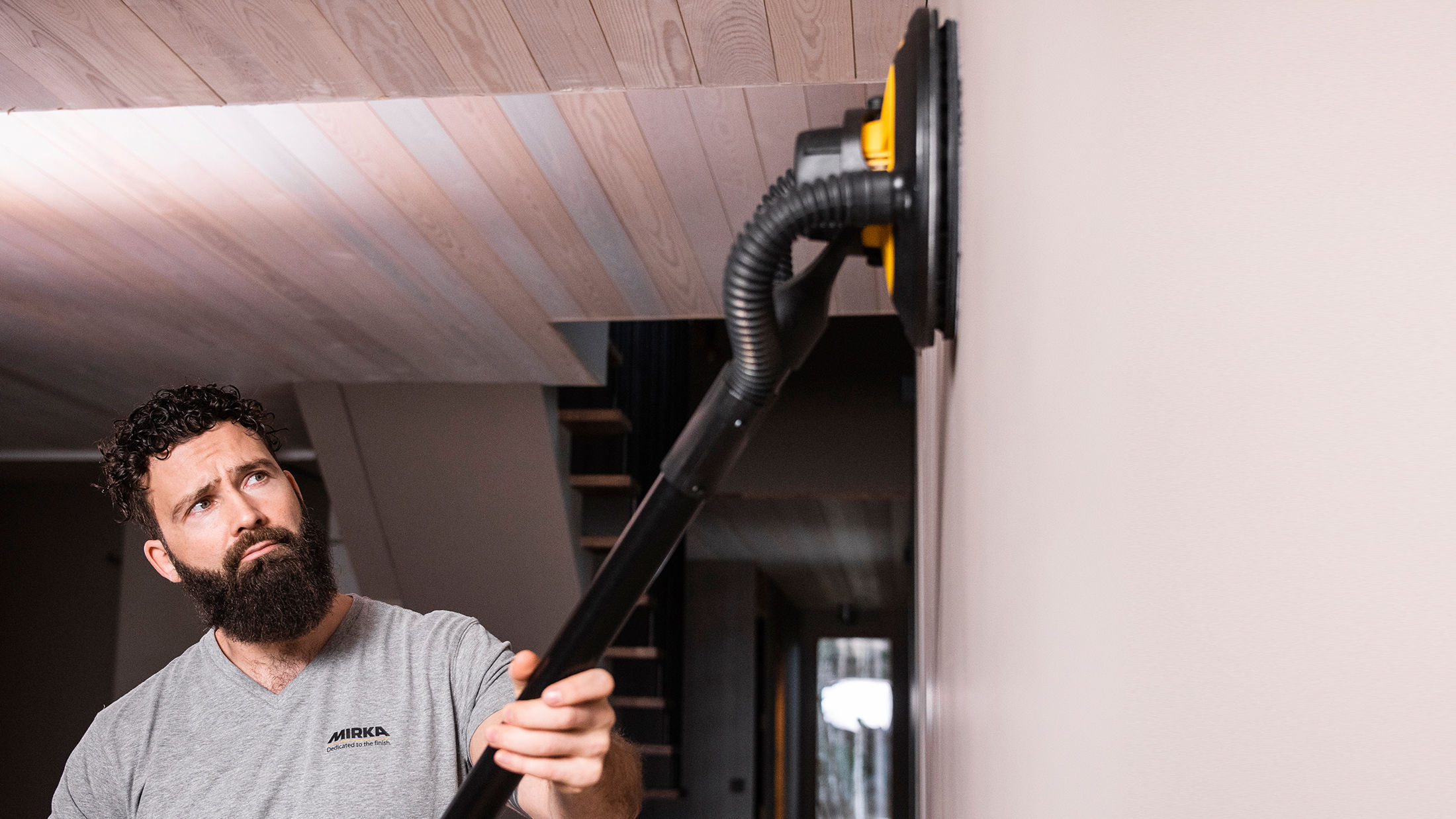 The Mirka LEROS Wall and Ceiling sander helps you reach the precision and smoothness you need for a job well done. Its innovative design includes a sanding head with 180 degrees of flexibility and a 5mm random orbital movement that gets you closer to corners. The ergonomic design frees you from any uncomfortable angles that can be hurting your back, so you can sand comfortably for longer.
Precision and perfection
A Wall Sander that Gets Closer to the Corners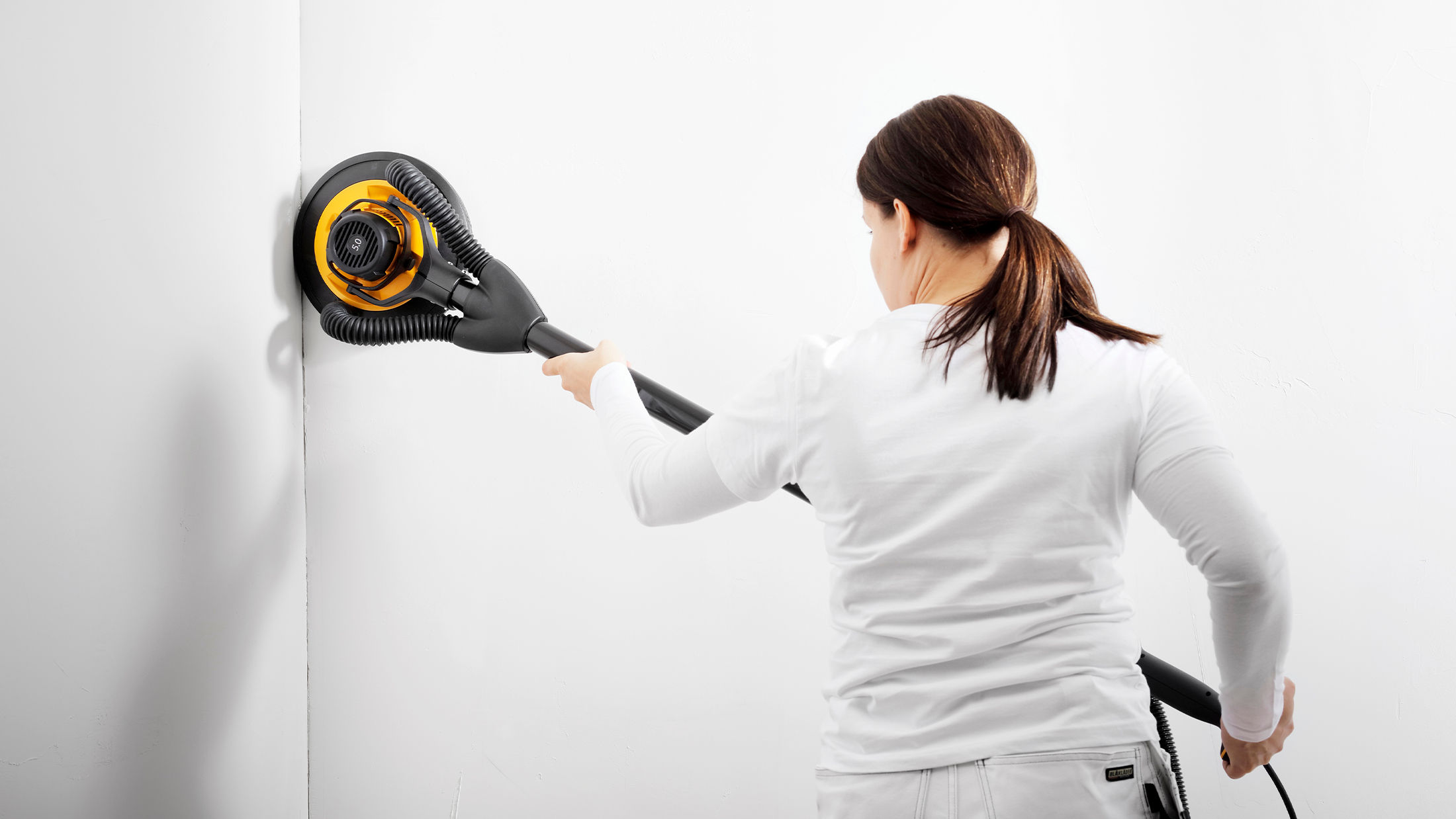 Corners with layers of thick texture are always the toughest and most time-consuming to sand, due to the precision needed in positioning the sander. Holding a sander at a fixed position for a long period of time is as exhausting as it sounds.
Thanks to the random orbital movement, the Mirka LEROS drywall sander can get into tight spaces, with a removable pad housing for sanding edges and perpendicular walls. Pair it with a DEROS or DEOS orbital sander for working on any filler, plaster, paint or coating that needs extra scraping, including sheetrock, and reaching nooks and crannies.
The quick-reacting brushless motor and lightweight design of the Mirka LEROS drywall sander allows it to respond precisely and intuitively to your movements so that you're in complete control of the machine.
Create perfection, not exhaustion, and avoid occupational diseases, discomfort and work-related accidents with the easily handled Mirka LEROS.
No dust
Fast and Clean Solution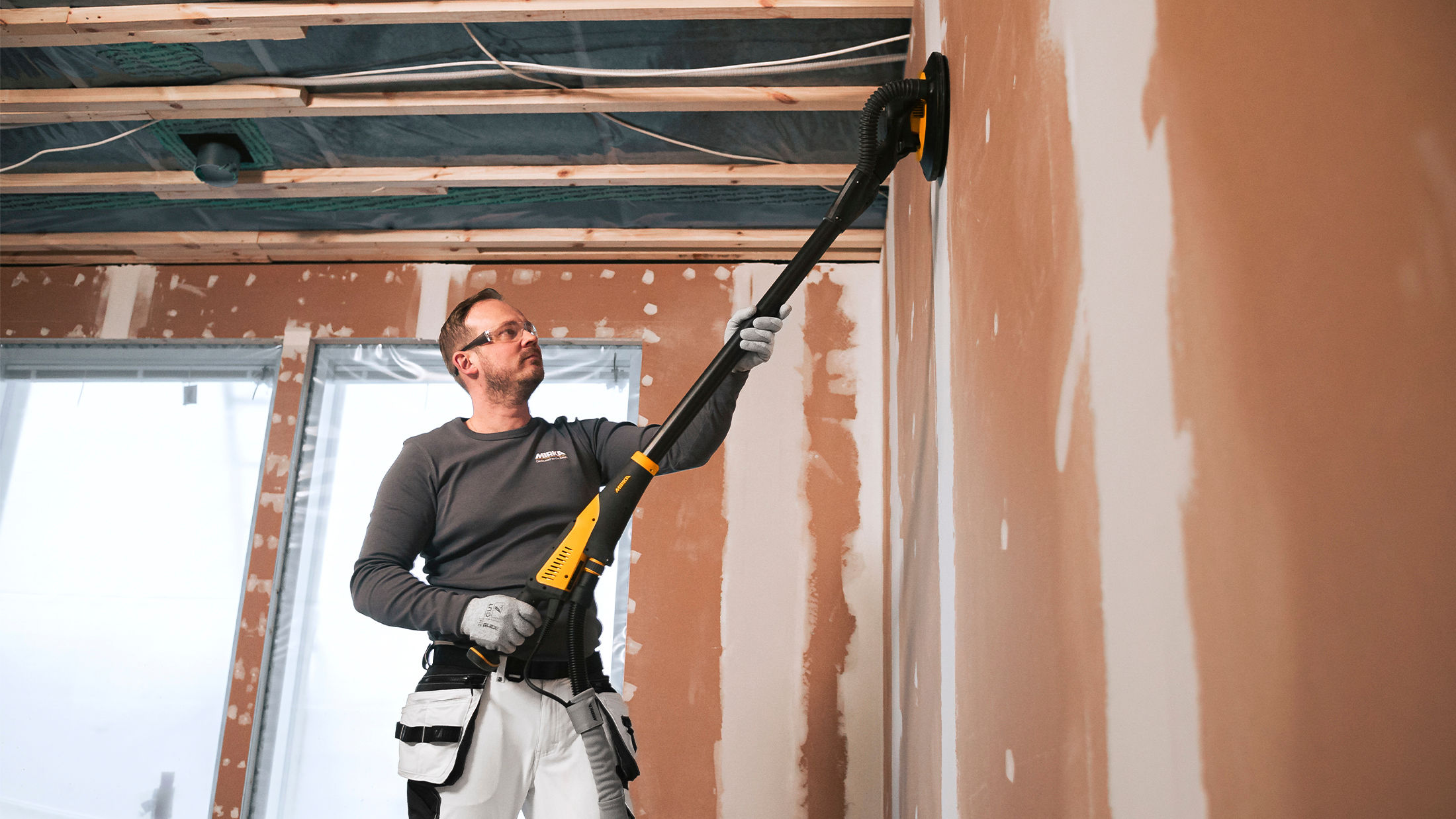 Sanding drywall has never been cleaner. Pair our dust-free net abrasives and a suitable dust extraction system with the Mirka LEROS drywall sander, for a clean working environment.
Our dust extractor with the new vacuum hose option saves you time, thanks to its high-powered suction system that completely removes airborne dust, dirt, paint residue and more. Dust will not spread into the working environment, even after completion of the work. Finish within minutes without breaking a sweat.
The best for you
Built for Perfect Finish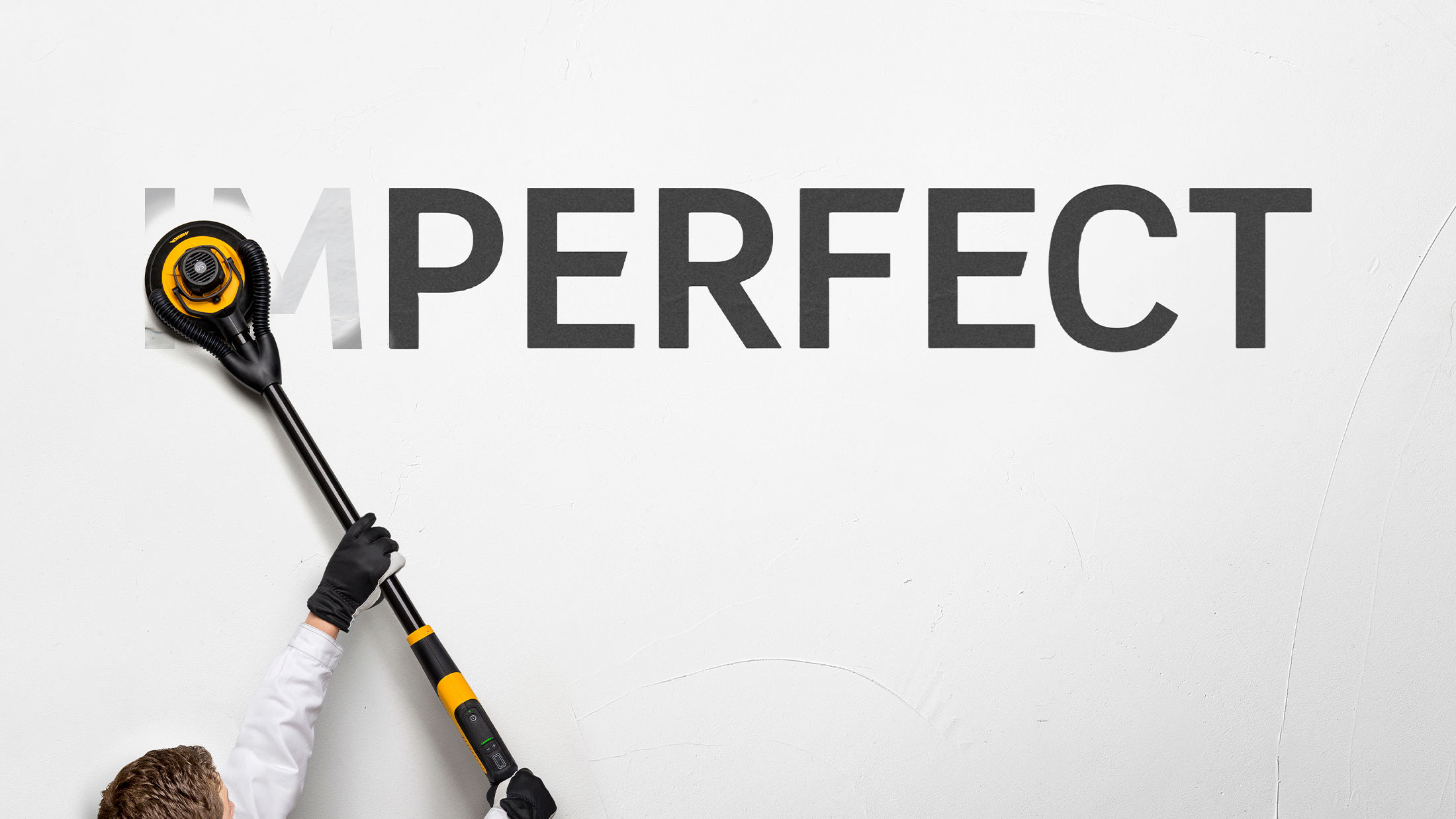 Work less, save time, effort and costs, and get an unparalleled finish. Mirka tools are built to last, and with proper maintenance, such as changing your backing pads regularly and keeping your sander in good condition, you can ensure you can get the most out of your sander for a long time.
See what our clients have to say in the testimonials below and learn more about our Mirka LEROS drywall sander. Watch some of our instructional videos to learn about all its benefits. Be sure to check out all the other unique features of the Mirka LEROS wall sander.
Designed for your comfort
Lightweight
Mirka LEROS is the lightest sander in its class. At less than 3.5 kg, the operator can sand for longer periods without fatigue. Less strain is put on the operator's body.
Flexible sanding head
100% Comfort
A flexible sanding head enables the tool to easily follow the operator's movements and permits the operator to reach the surface from different angles and to use an ergonomic working position resulting in less strain on the operator's body and back.
Mirka LEROS-S - The well-known abilities of the LEROS, but shorter
Mirka LEROS-S Compact Wall and Drywall Sander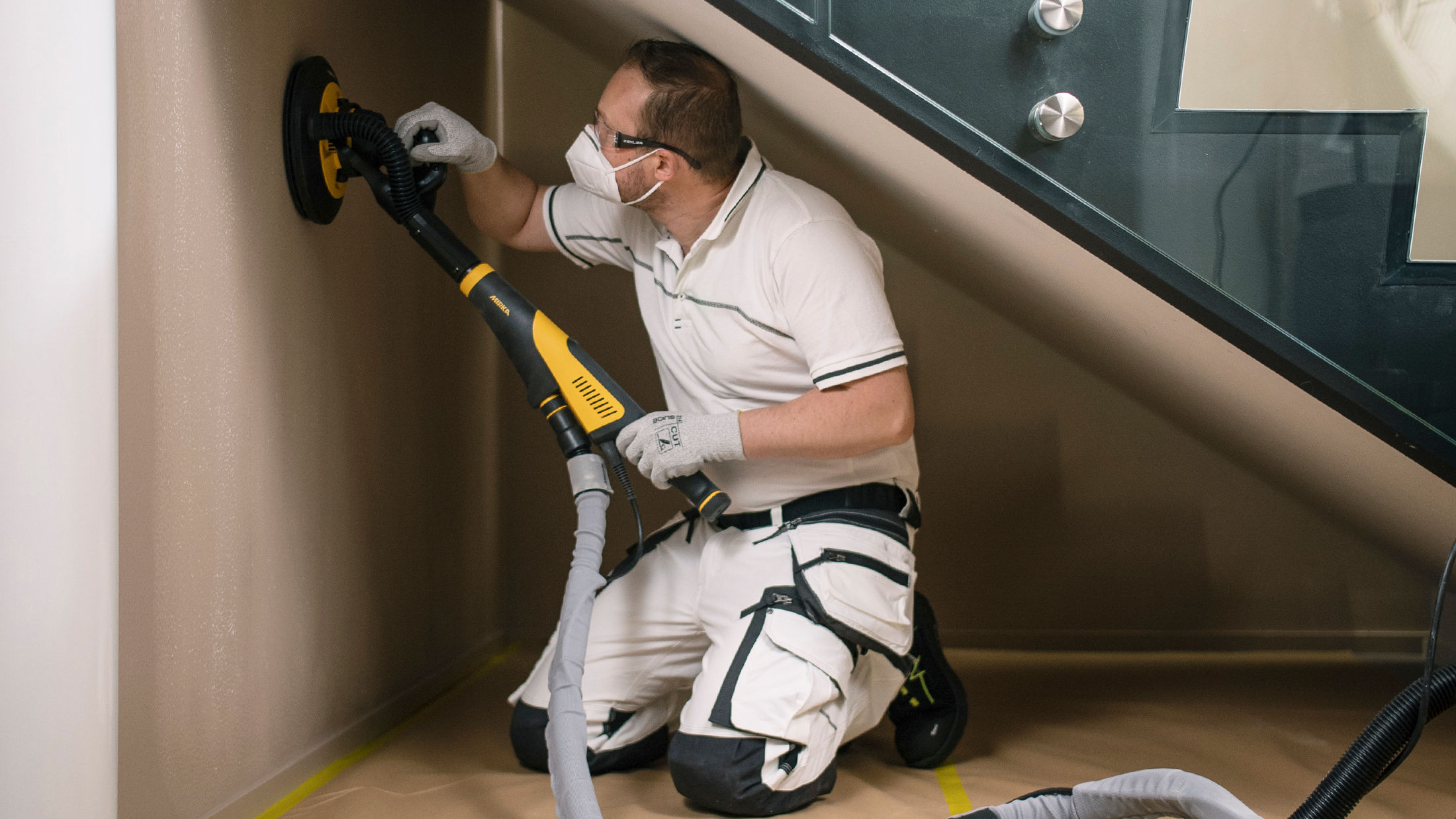 For those occasions when you need the abilities of the Mirka LEROS in a more compact package, Mirka has introduced the new LEROS-S. It is a compact length wall sander, engineered to perform both in confined spaces and on large surfaces. The LEROS-S has two dedicated grip points for full control when sanding large surfaces.
Mirka LEROS and LEROS-S - Perfection From Any Angle
Paint Pot Ladies, UK
Mirka's Dust-Free Solutions
Tired of feeling like a snowman when the working day is over? Try Mirka's dust-free sanding solutions and save both time and money. Sarah Hillberg from Paint Pot Ladies told us what dust-free sanding means to her.
"It's not only great for me, but it's also great for my customers because there is no dust going into our lungs."
Ornamentalist - Decorative Painter, France
Mirka's Dust-Free Solutions
Having the right tools for the right sanding application is crucial if you want to exceed expectations in the finish, whether you work on something new or doing renovation work. For Alexandre Lardy, plasterer, ornamentalist and decorative painter from France, choosing a dust-free solution from Mirka was an easy choice.
"One thing I've really liked and that struck me immediately is the dust extraction aspect.

I have the impression that I'm not sanding at all, so effective is the extraction – I get absolutely no dust."
Meet the R&D team that gave us the award-winning Mirka® LEROS
Dedicated to Helping You Perform Better
Years of development work and a determined focus on ergonomics and user-friendliness resulted in the lightest brushless electric wall and ceiling sander on the market, Mirka® LEROS.
Faster, cleaner and healthier
Dust-free Sanding Complete System
Combine Mirka LEROS with Mirka's dust-free net abrasives and a suitable dust extraction system to create a cleaner and healthier working environment when sanding drywall. Not only will it speed up the sanding process it will also save you time and money. Below you will find our suggested products for a complete and efficient system.
Mirka® LEROS range and complementary products
Preventive maintenance is crucial for durability
Cared for Properly, Your Mirka® LEROS Lasts for Years
Changing your backing pad regularly helps to keep your sander in tip-top condition. Check out what Mirka LEROS can do, along with our other electrical orbital sanders.
Good practices to get the most out of your machine
Getting Started With Mirka® LEROS
This is how you connect your Mirka® LEROS to your dust extractor and much more.
Sanding putty and plaster without dust
Save Time and Money With a Dust-Free Solution
Do you get covered in dust when sanding? Save your lungs and your wallet by switching to dust-free sanding.
Try Mirka's pioneering sanding solutions and see how a dust-free working environment can boost your business.
Healthier workplace - Stop dust from getting into your lungs
Time-saving – No cleaning after sanding and clean abrasives cut better
Money-saving – No clogging lets you sand longer with the same abrasive
High-quality finish - Thanks to a finer scratch pattern
Do you want to know more?
Contact Us
Please get in touch and our expert support team will answer your questions.