Sanding Wooden Door and Window Frames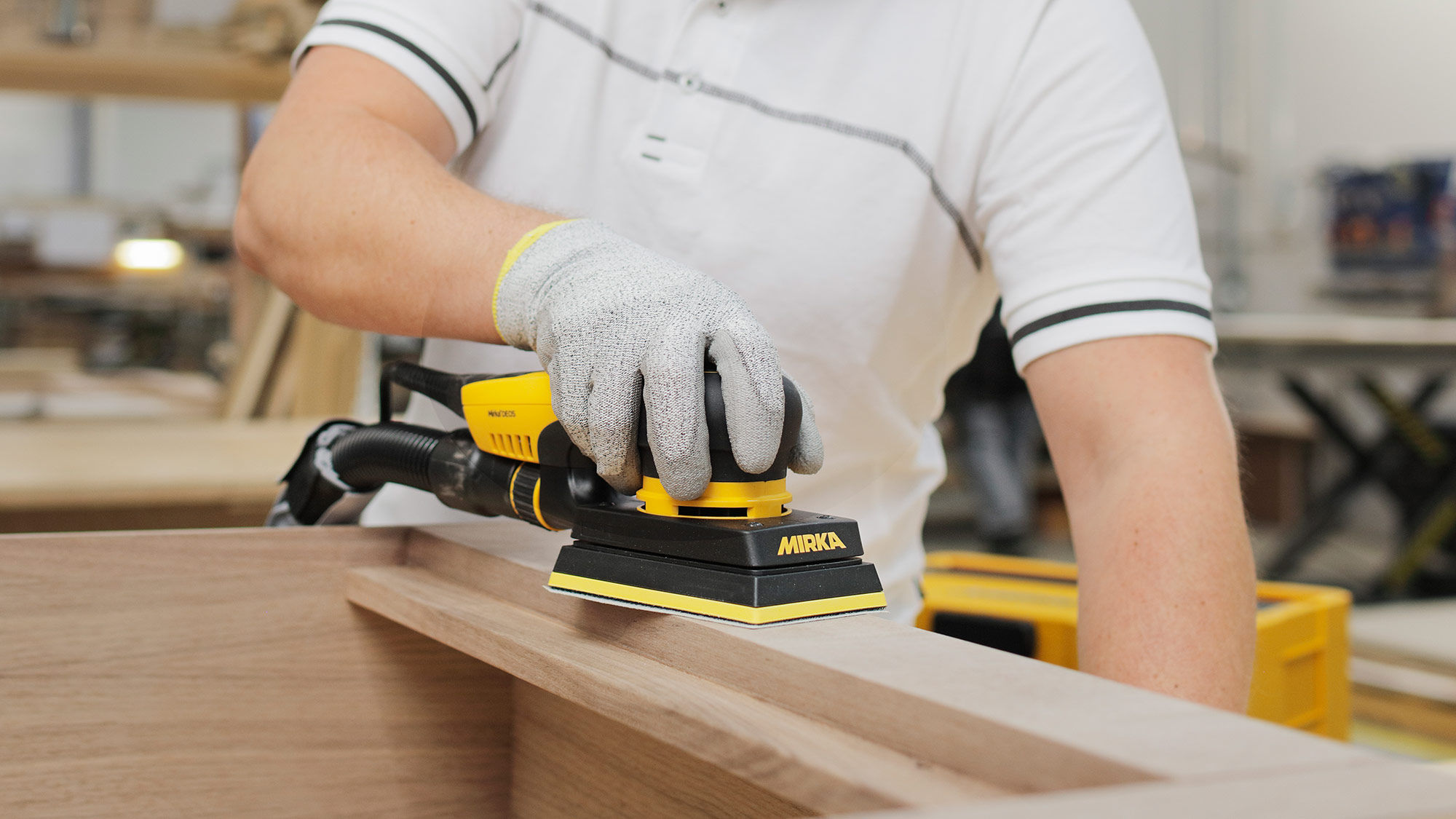 Sanding Doors and Windows for Advanced Finishing
Get a flawless finish with less dust and better productivity in your manufacturing by using Mirka's dust-free solutions. Promising effortlessly efficient dustless sanding, the Mirka brand is known for its award-winning sanders. Combine them with Mirka abrasives to achieve an end-result that exceeds expectations.
Door and window frames can be a challenge to sand, due the difficult shapes and working positions. With Mirka tools, sanding even trickier parts can be effortless and efficient.
Get results with Mirka's dust-free solutions
When perfect end result is a must and prevention of occupational hazards is essential, Mirka dust-free solutions are your natural choice.
Perfection in Every Corner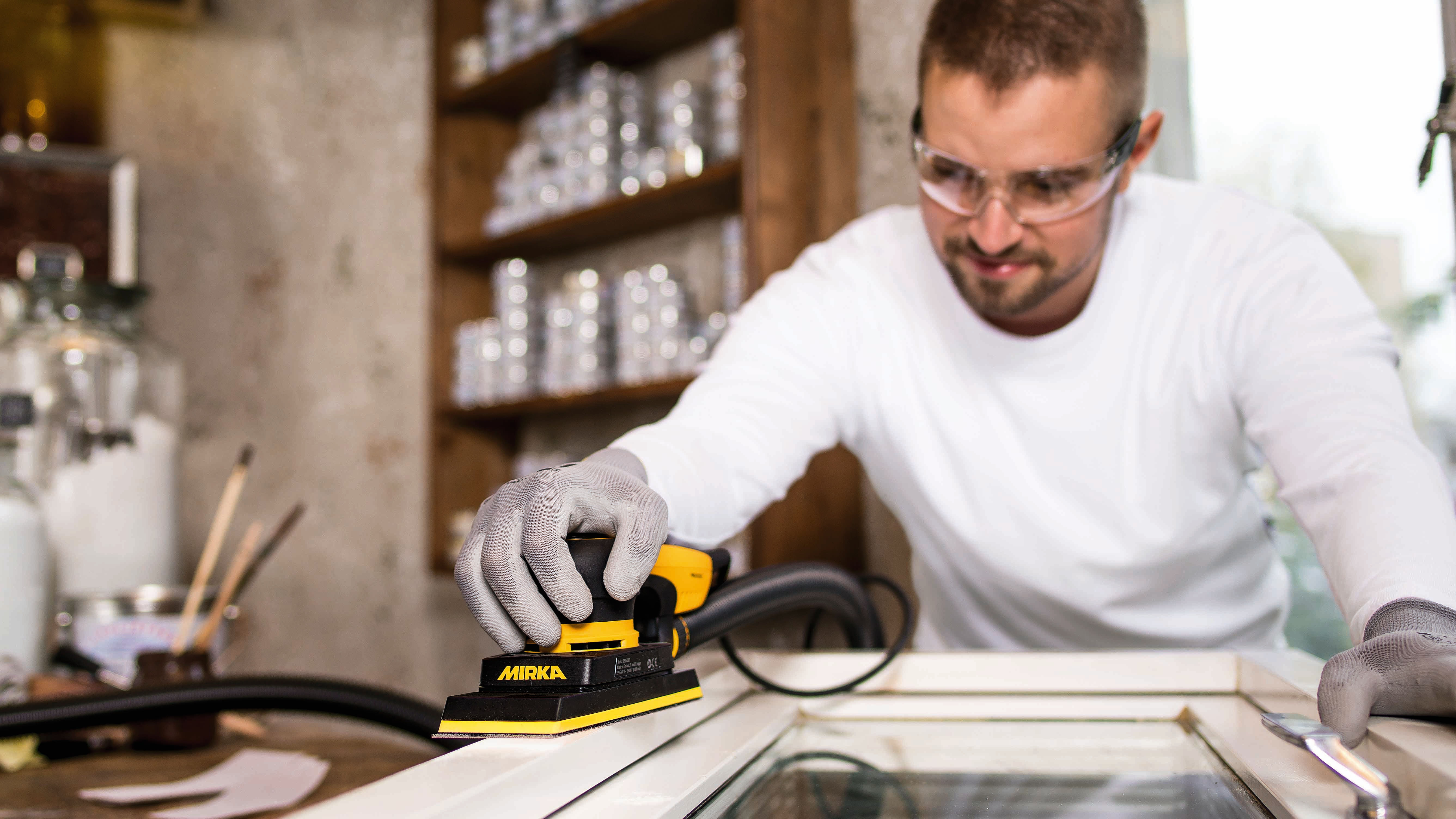 When you want perfect sanding results without compromising your health
Reach every corner
Flawless finish in shorter time
No dust, less rework
Great ergonomics, taking care of your most valuable asset – you and your people.
Three steps to performing better
For Almost All Models and Sizes
1. Power tools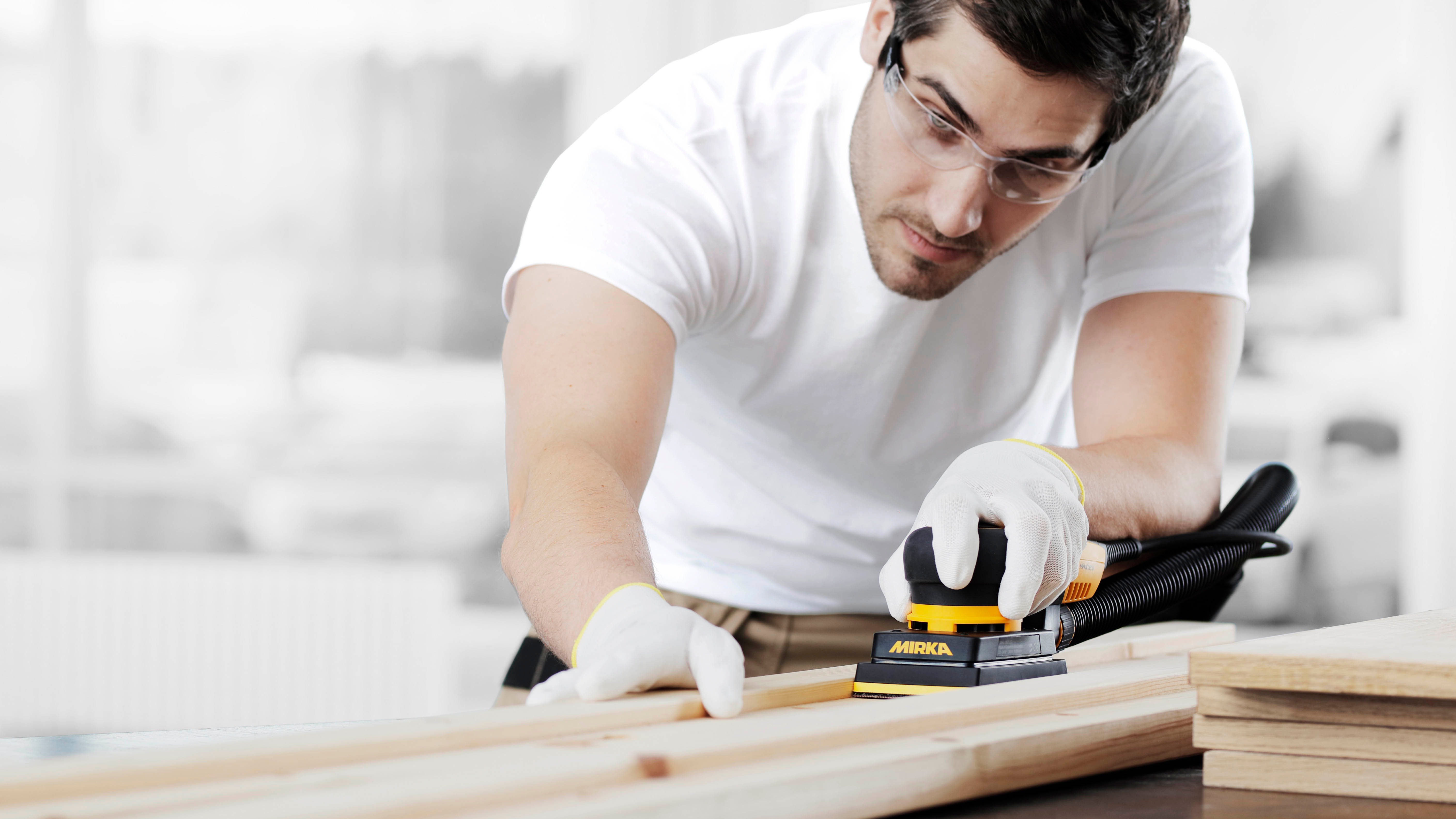 When sanding door and window frames, our recommendation is the Mirka DEOS 353CV or the Mirka DEOS 383CV electric orbital sander, and for corner sanding the Mirka DEOS 663 CV/DEOS Delta electric orbital sander. You choose the most suitable pad size: compact 81 x 133 mm, longer 70 x 198 mm or triangular 100 x 152 x 152 mm. These tools are designed with the user's health and comfort in mind, featuring a low profile, light weight, brushless motors and ergonomic design with minimal vibration levels.
Dust Off Your Production Processes
2. Abrasives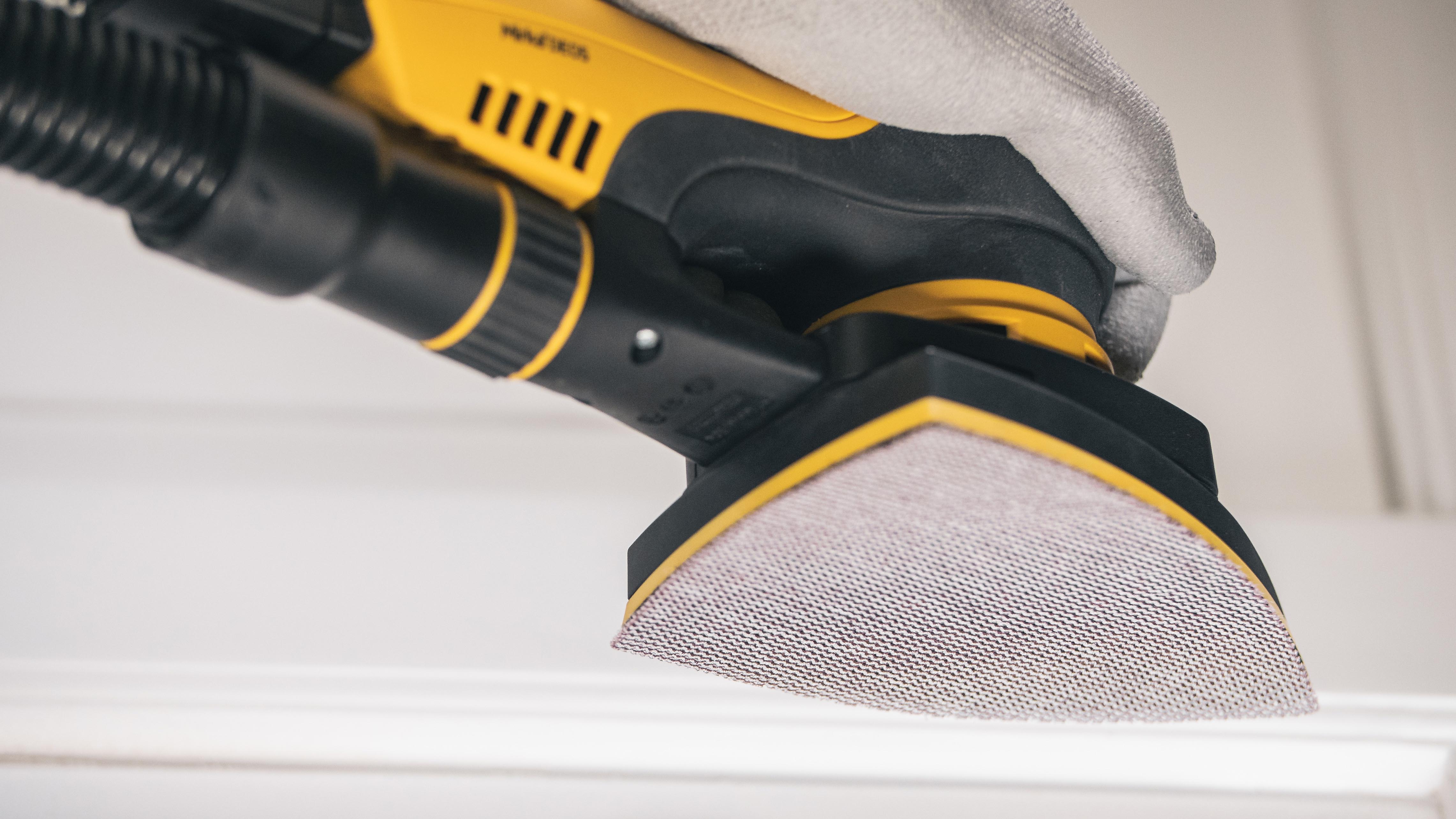 Mirka offers a wide range of effective abrasives and sandpapers for different applications. When sanding door and window frames, we recommend choosing the Mirka® Abranet® range of products. The ground-breaking Abranet abrasive is fully formed out of mesh, meaning the entire surface area can be used for dust extraction. Abranet is available in different grits and strengths.
Full Suction Power
3. Dust extraction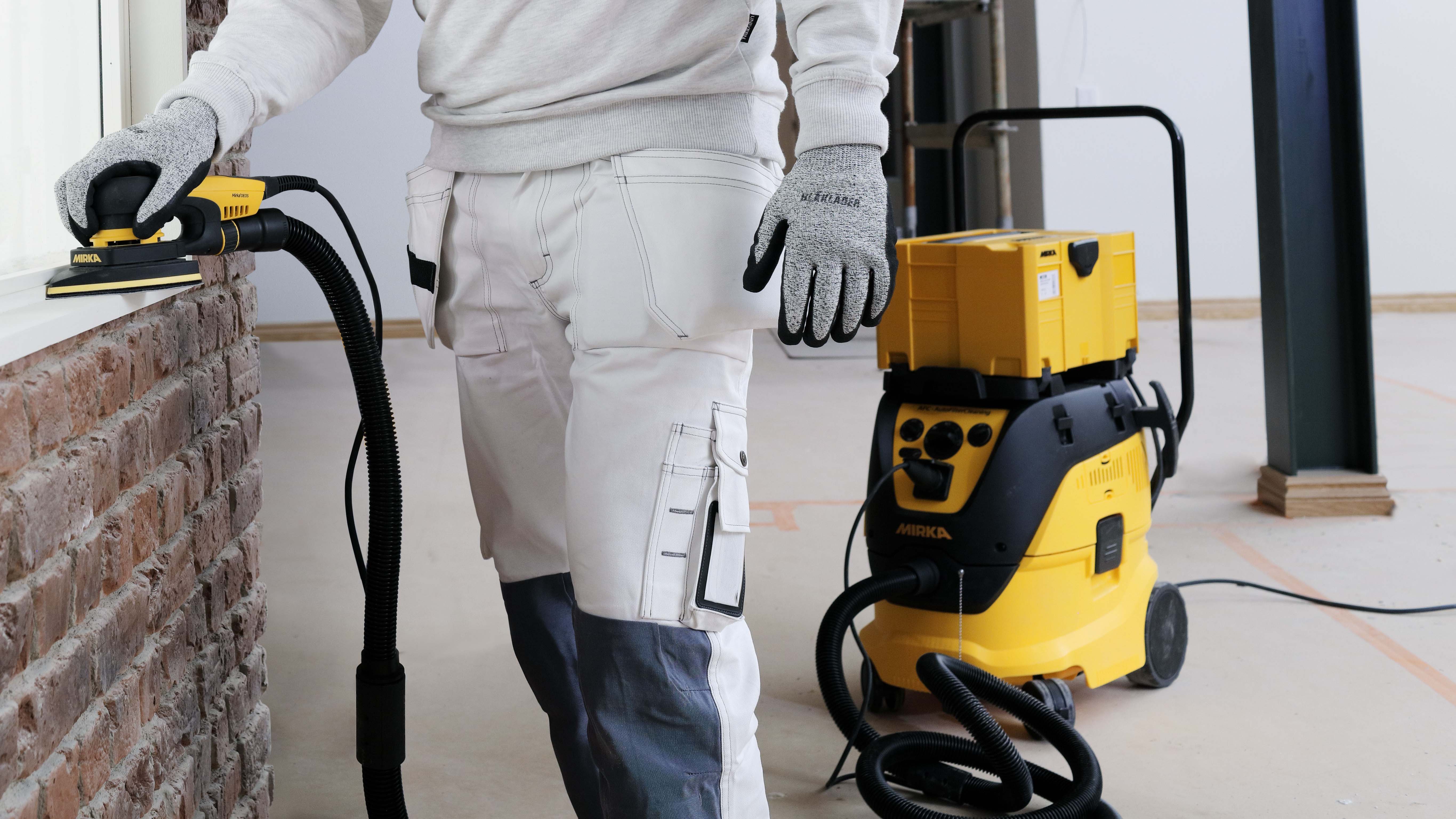 Most Mirka power tools are offered with dust extraction capabilities. Simply by connecting the tool by means of a hose into a dust extractor, dust created from sanding is effectively deposited in a dust extractor that is convenient to use. Not only is the dust removed from the working surface, the amount of dust in the workplace air is also significantly reduced. Our M-class extractors are suitable for harmful wood dusts. However, we recommend using a mask and other protective gear when sanding.
Take care of your health
Your most important asset is you
When you want to perform better and as efficiently as possible, but don't want to inhale dust, Mirka's three step dust-free solutions are your best friend. When the dust is directed to a dust bag, it doesn't enter your or your customer's lungs.
50% more effective
Work Faster
Another innovation from us is Mirka® DEOS Delta which makes sanding corners faster and easier than ever before.
It has all the great features that our Mirka sanding machines are known for, including:
Easy-to-use
Great ergonomics
Low weight and low profile
It is easier to sand with it, especially when working on vertical areas.
This new sander has the largest orbital movement of all delta sanders on the market making it the perfect partner for effective and fast stock removal.
Wood sanding without dust
Save Time and Money With a Dust-Free Solution
Exposure to dust poses many hazards to the health and safety of millions of workers. Dust in the workplace can also contaminate or reduce the finishing quality of products and affect worksite productivity. But it's all preventable.
Try Mirka's pioneering sanding solutions and see how a dust-free working environment can boost your business.
Healthier workplace - Stop dust from getting into your lungs
Time-saving – No cleaning after sanding, clean abrasives cut better
Money-saving – Clogging resistance lets you sand longer with the same abrasive
High-quality finish - Thanks to a finer scratch pattern
The number one benefit of dust-free is that you maintain your health.
Mikko Ylihärsilä
Kauhavan puutyö
Kauhavan Puutyö, Finland
Mirka's Dust-Free Solutions
Kauhavan Puutyö has over 30 years of experience in manufacturing and reconstructing workbenches, serving a diverse set of clients. Thanks to Mirka's dust-free solutions they can work more efficiently with better results.
"52 hours saved yearly thanks to Mirka's solutions. More time to create something new."
Perform better with Mirka woodworking tools
Window Restoration with Mirka Tools and Solutions
When performing skilled woodworking such as window frame restoration or building or restoring furniture, it pays to take care of your hands: they are your most important tools.
With Mirka's smooth running and ergonomic electric power tools, together with vibration monitoring via the myMirka app, you can reduce strain and mitigate the risk of occupational disease from exposure to prolonged vibration.
You Might be Interested in