Wall and Ceiling Sanding and Preparation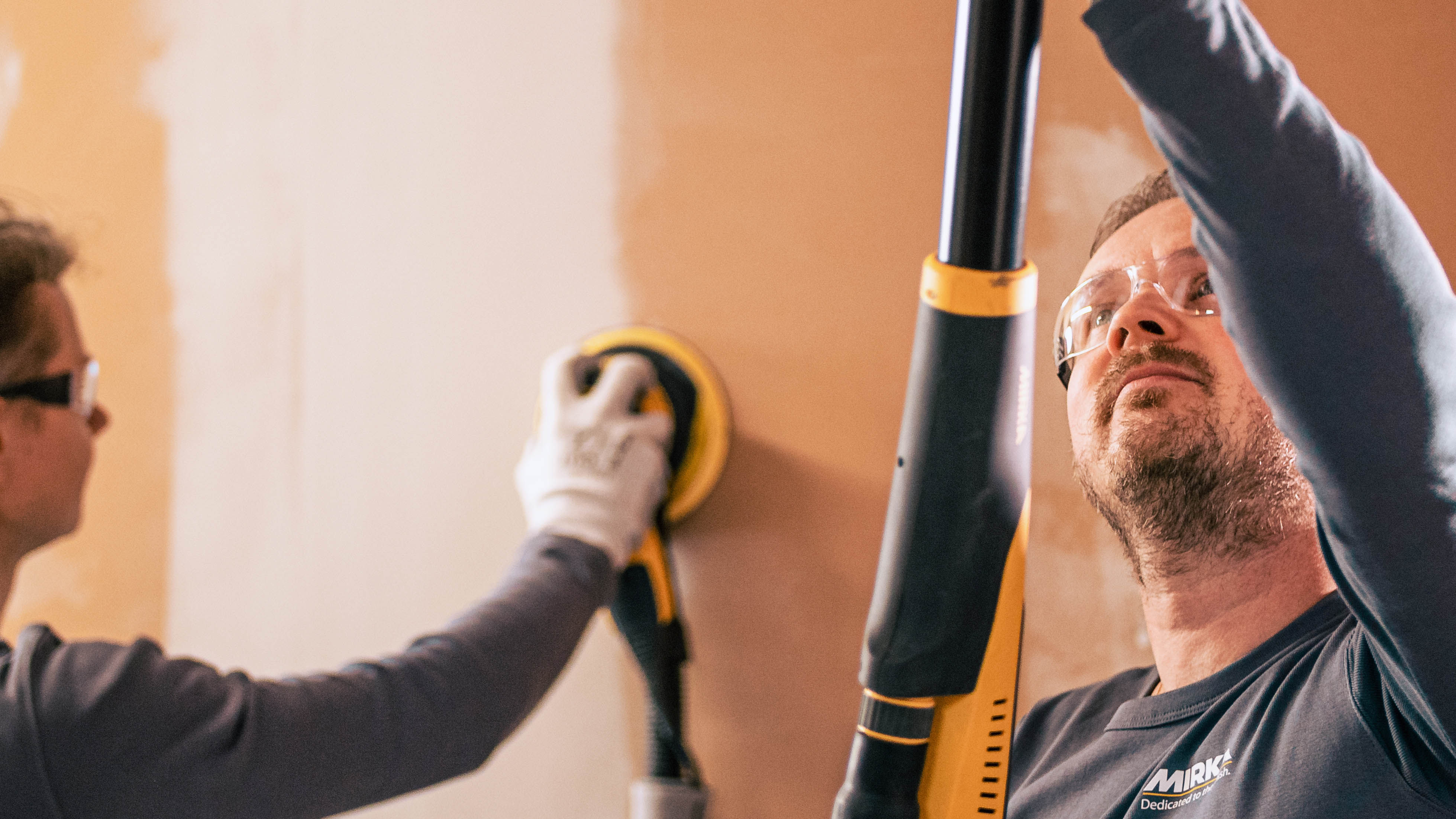 Preparing a Wall for Painting or Wallpapering
The better you prepare the plastered walls before painting or wallpapering, the better the endresult. Reaching for a perfect sanding result can be time-consuming and uncomfortable, but it doesn't have to. You don't need to compromise the perfect sanding result if you choose the best solutions for the job at hand.
Inhaling dust is dangerous for your health. This is why we at Mirka take removing dust seriously. We know that time is money, and with Mirka dust-free solutions you can invest your time on the actual work instead of cleaning up.
Sanding walls after plastering can be hard on your back and shoulders. With Mirka award-winning tools you can finish your job and begin a new one with ease and comfort.
Protect Your Health with Dust-Free Sanding
When you want to protect your health and move to the next project faster, Mirka dustless drywall sanding solutions are the answer.
No Need to Compromise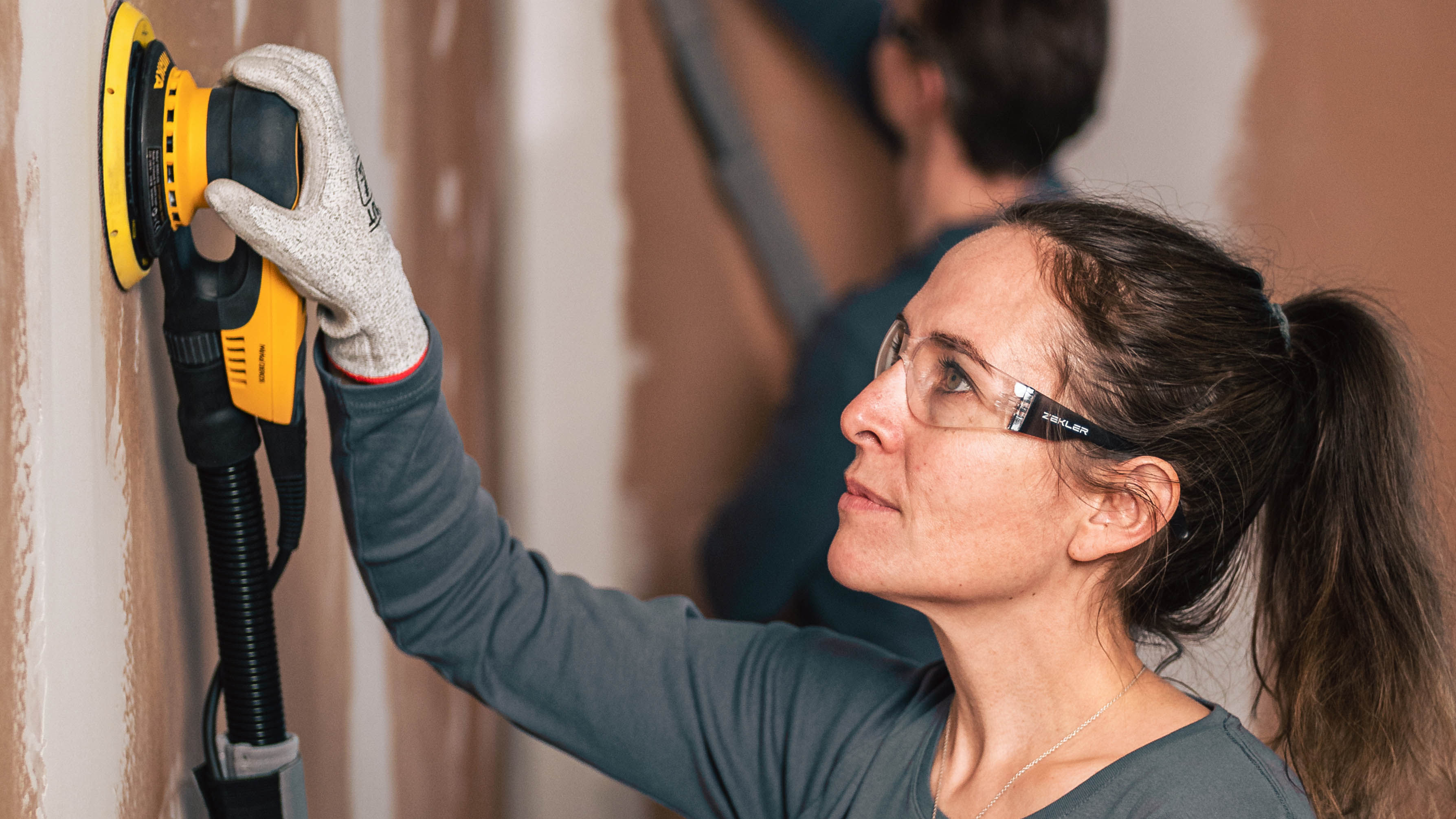 When you want perfect sanding results without compromising your health
A perfect finish comes from perfect preparation

Drywall sanding

without dust with your health as a priority

Less time

spent on cleaning

Great ergonomics, taking care of your most valuable asset – you.
Three Steps to Performing Better
The right solution for every project
1. Power Tools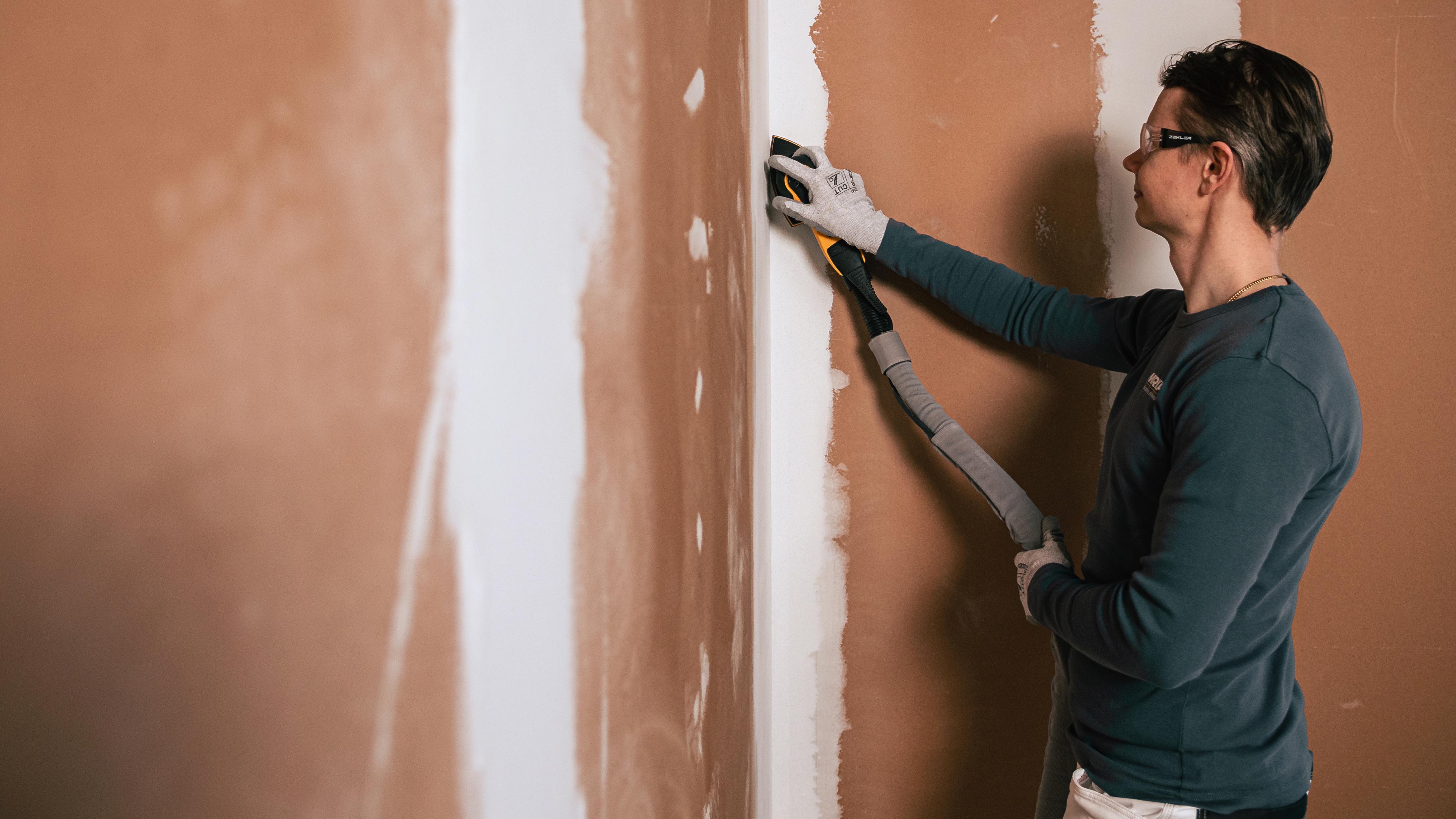 For sanding partial walls, the Mirka DEROS orbital sander is your perfect choice. For larger surfaces and ceilings, we would recommend the Mirka LEROS 950CV drywall sander- and if you want to reach closer, Mirka LEROS-S 950CV is a shorter version of the iconic LEROS, a perfect machine for smaller rooms. For corners and edges, Mirka DEOS 81x133 as well as DEOS Delta can help you reach even the most difficult spots. In addition, Mirka Handy hand sanding kit is a useful and ergonomic choice when there is no electricity available.
Net plus ultra
2. Abrasives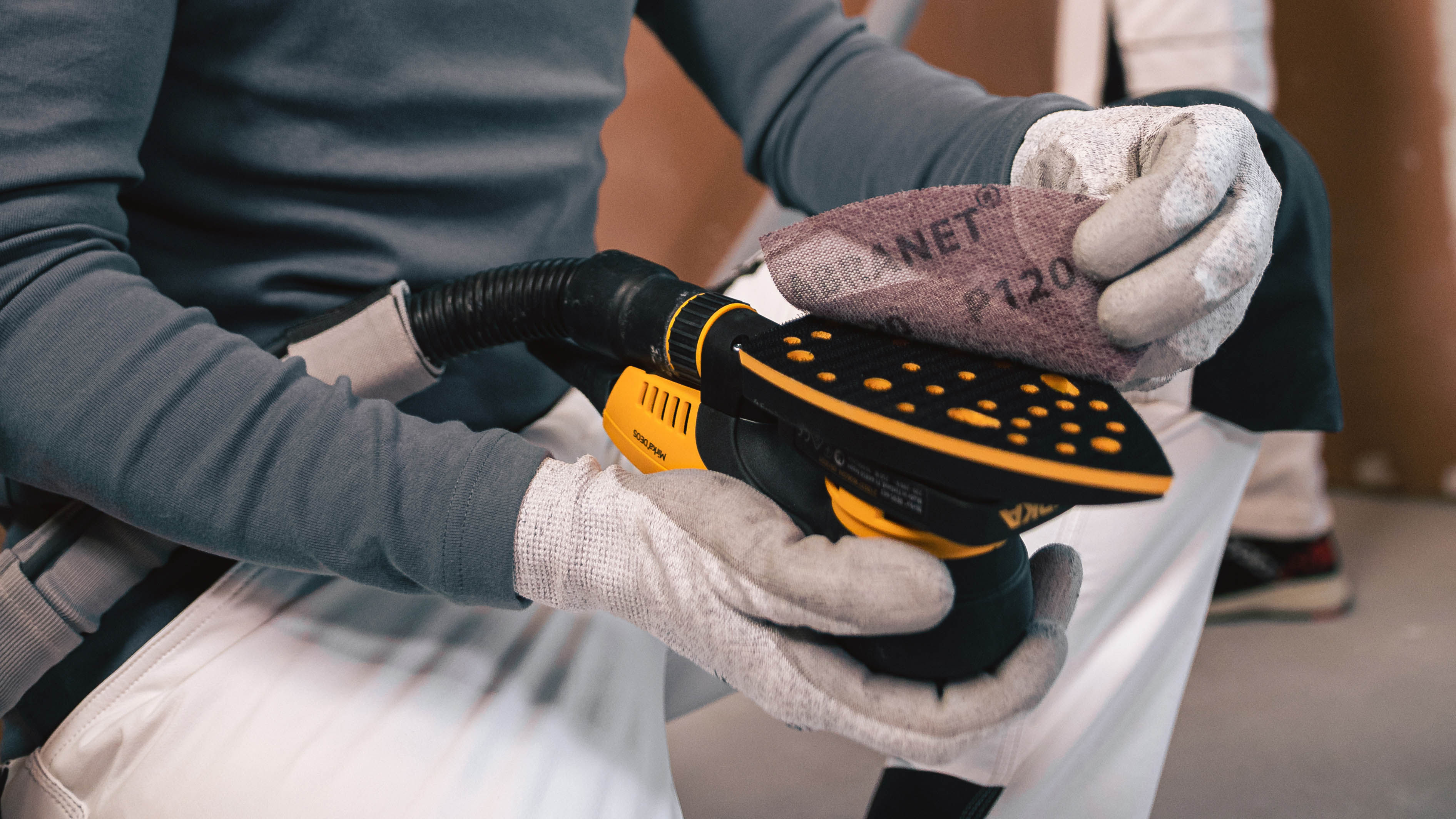 Mirka offers a wide range of effective abrasives for different applications. When sanding putty on walls, we recommend choosing the Mirka Abranet range of products. The ground-breaking Abranet abrasive is fully formed out of mesh, meaning the entire surface area can be used for dust extraction. Abranet is available in different grits and strengths. For hand sanding, Mirka Gold Proflex is a flexible and efficient sandpaper that works perfectly on paint, wood and fillers.
Dust off
3. Dust Extraction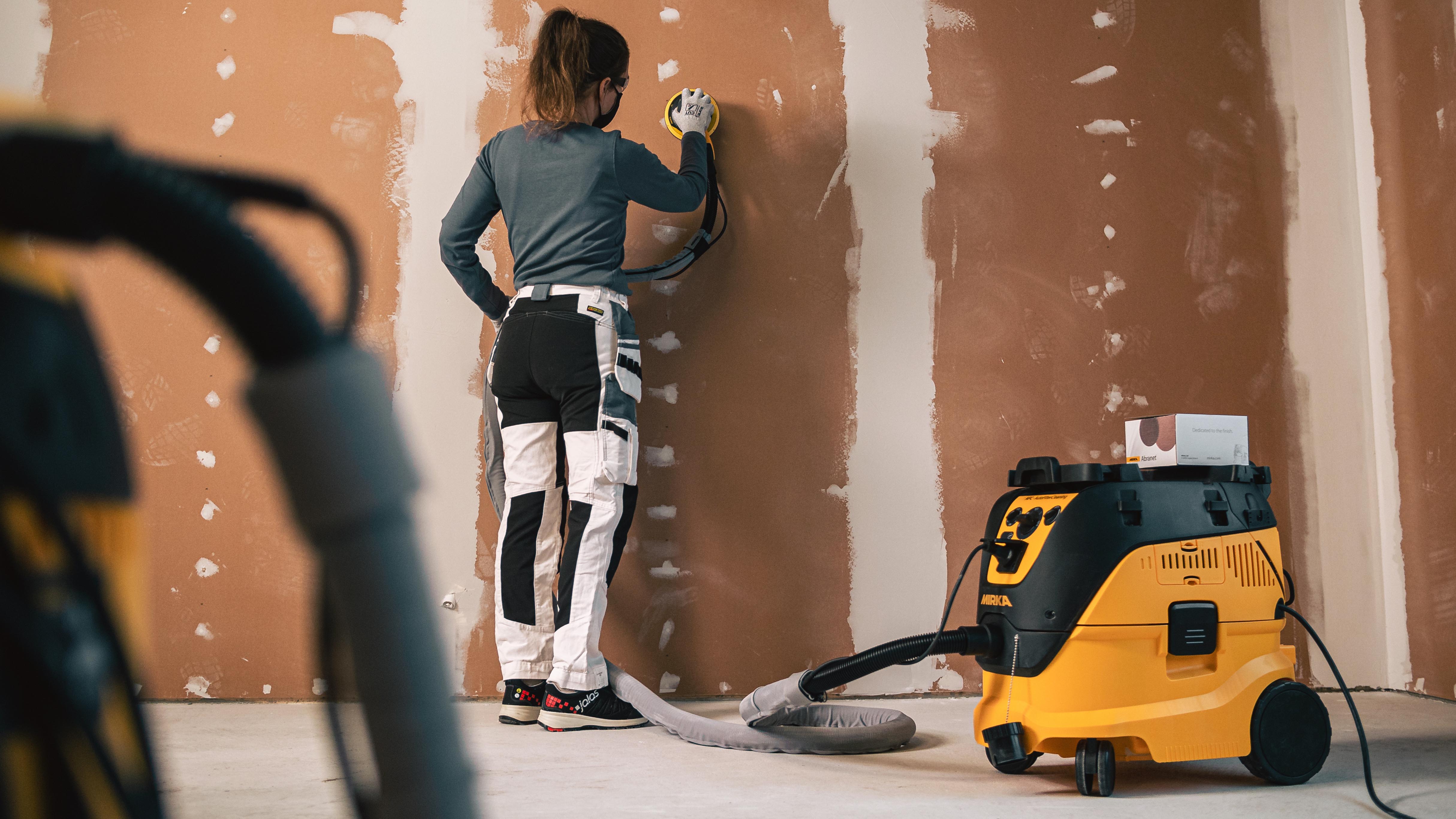 Dust removal is essential when you want to gain a perfect wall sanding result without the mess. And what about the ceiling! When using a hose to combine the efficient sanding tool with a dust extractor, the dust created from sanding can be removed by 99,7%. Dust is placed in the dust bag of the vacuum cleaner instead of remaining in the air and your surroundings. Don't forget, we recommend using a mask and other protective gear when sanding.
Take care of your health
Your Most Important Asset is You
When you want to perform better and as efficiently as possible, but don't want to inhale dust, Mirka's three-step dust-free solutions are your best friend. When the dust is directed to a dust bag, it doesn't enter your or your customer's lungs.
Ornamentalist - Decorative Painter, France
Mirka's Dust-Free Solutions
Having the right tools for the right sanding application is crucial if you want to exceed expectations in the finish, whether you work on something new or doing renovation work. For Alexandre Lardy, plasterer, ornamentalist and decorative painter from France, choosing a dust-free solution from Mirka was an easy choice.
"One thing I've really liked and that struck me immediately is the dust extraction aspect.

I have the impression that I'm not sanding at all, so effective is the extraction – I get absolutely no dust."
It's not only great for myself, it's also great for my customers.
Sarah Hillberg
Paint Pot Ladies
Mirka's dust-free solutions
How to Sand Without Dust
Tired of feeling like a snowman when the working day is over? Try Mirka's dust-free sanding solutions and save both time and money! Sarah from Paint Pot Ladies told us what dust-free sanding means to her.
Save your health, time, and money
Sanding Without Dust
Do you get covered in dust when sanding? Try the benefits of Mirka's pioneering sanding solutions and see how a dust-free working environment can boost your business.
Benefits from dust-free sanding
Healthier working environment - Stop dust from getting into your lungs
Time-saving – No cleaning after sanding and clean abrasives cut better
Money-saving – No clogging lets you sand longer with the same abrasive
High-quality finish - Thanks to a finer scratch pattern
Featured Tools and Accessories
You Might Be Interested in
Do you want to know more?
Contact Us
Please get in touch and our expert support team will answer your questions.