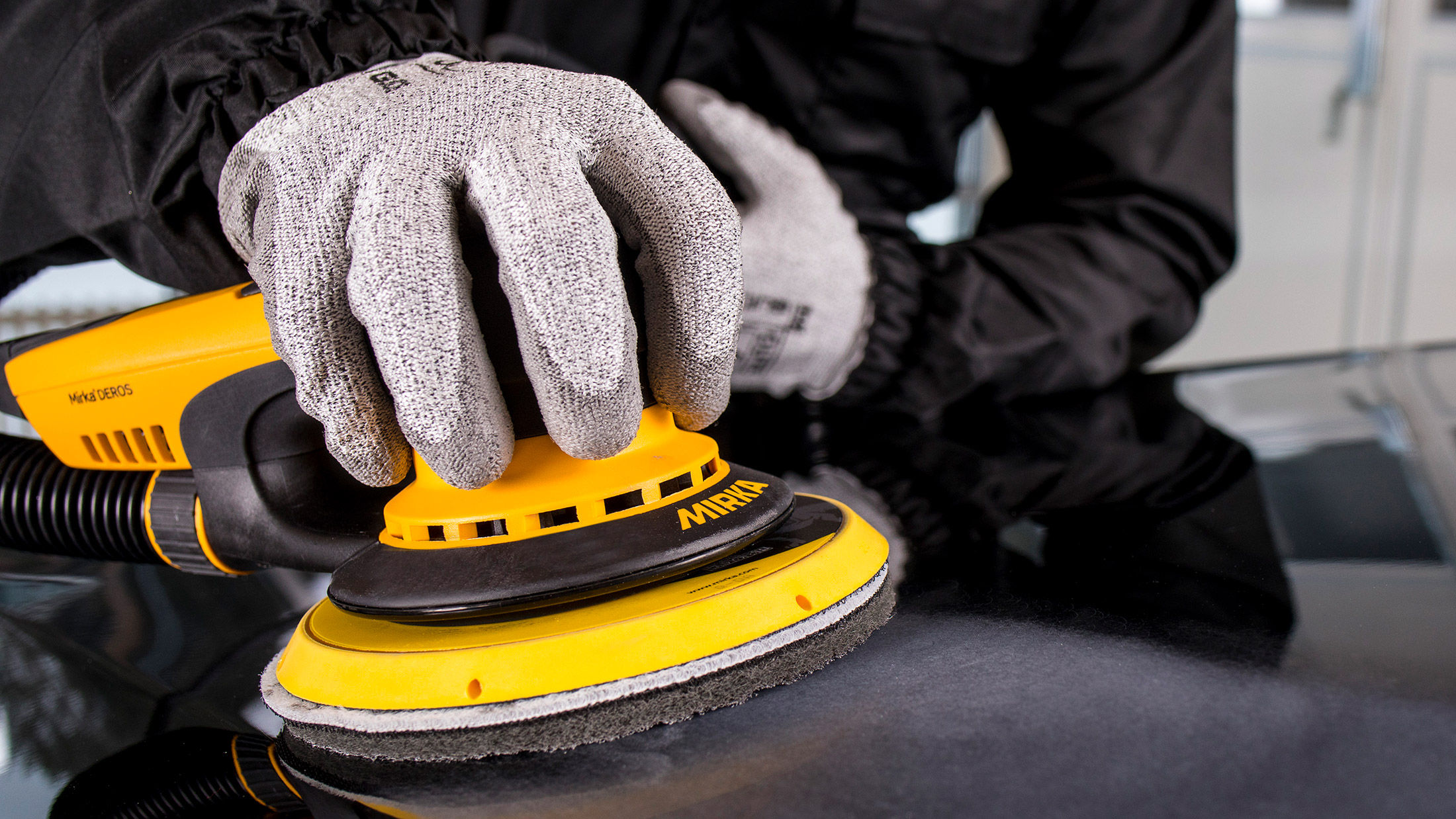 Benefits of Electric Tools vs Pneumatic
Should I Move to Electric Power Tools?
In grinding, sanding and polishing work, pneumatic tools have proved their worth. But it can be worth it to consider moving to electric power tools.
Mirka has worked for recent decades to introduce electric and cordless sanders and polishers to applications where pneumatic tools have traditionally ruled. Thanks to powerful and smooth electric motors, Mirka tools have proven their worth in these applications, bringing benefits of electric tools to working processes.
It's not the noise that does the work
Silent Power
Compared to pneumatic tools, using electric power tools with brushless electric motors is markedly quieter. In performing grinding work, such as removing rust or cleaning up welding seams, the operator can be exposed to loud noise for extended periods, which makes hearing protection especially important. With a quieter electric tool, the noise levels can be significantly cut, reducing the risk of occupational hearing damage or loss.
Freedom of movement
Go Cordless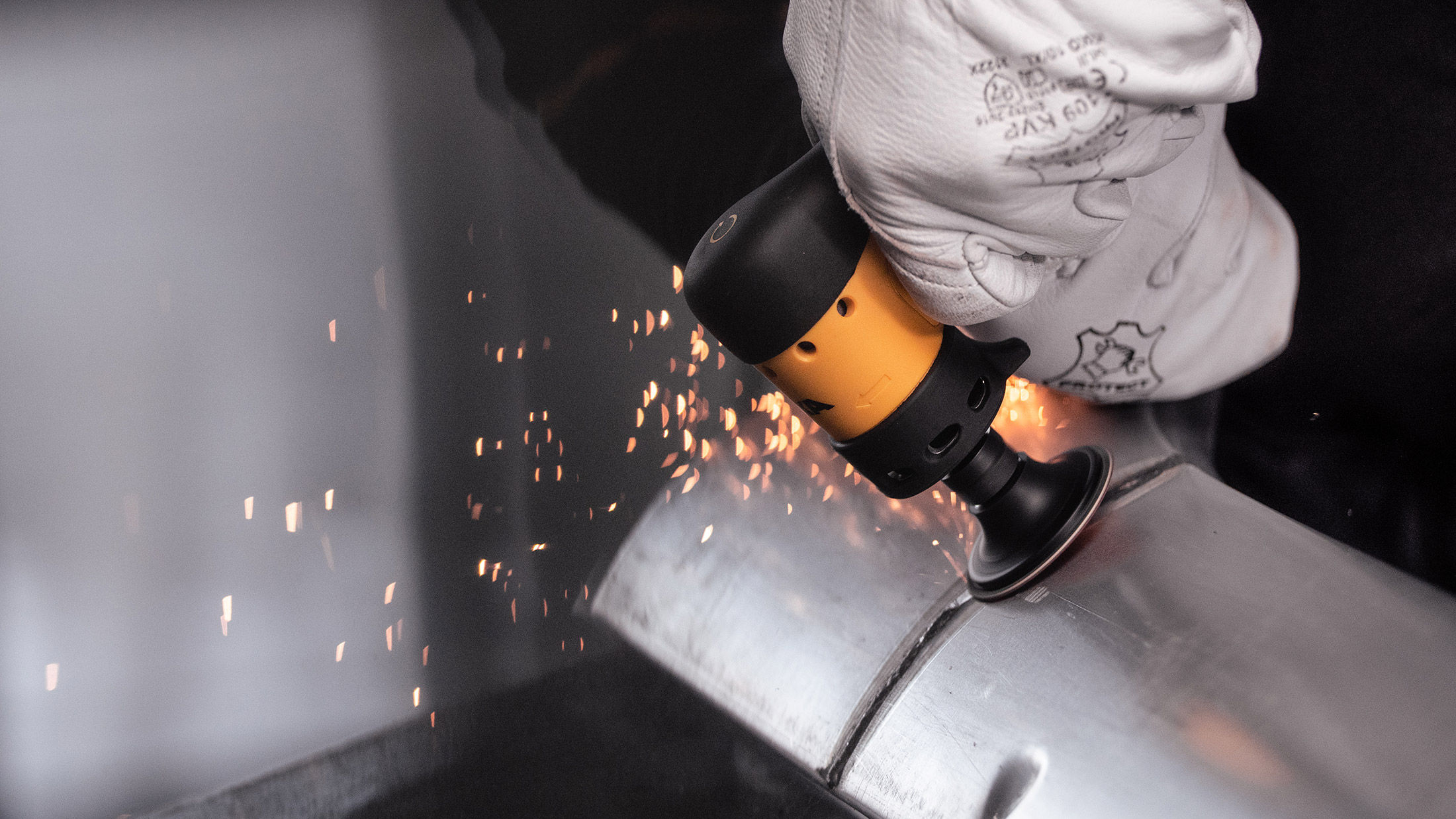 In applications where freedom of movement truly counts, it is possible to go completely cordless with Mirka power tools. Mirka manufactures battery powered sanders and polishers which free the operator from restrictive cords and hoses, enabling them to focus perfectly on the job at hand.

When performing grinding work in a difficult spot in an uncomfortable position, Mirka's electric power tools, such as the compact Mirka ANGOS battery powered grinder can make the difference, turning a stressful job into quick work so you can move on to the next phase faster.
Energy costs are rising - cut costs with electric tools
Save Energy
By switching to an electric power tool with an efficient brushless motor, there is potential to save as much as 90% of energy on a yearly basis compared to using pneumatic tools. During recent years this has proved a very important part of cost saving in professional use, as with the same amount of energy it is possible to run ten electric power tools compared to just a single pneumatic power tool.
This means getting ten jobs done with the same amount of energy – and especially when energy costs have severely risen, the benefits are even more significant. With electric tools, there are also no costs from maintaining a compressor that pneumatic tools require.

Please note, when calculating energy costs, use your own energy price in the equation.
Estimated Yearly Savings

Using a company as an example, where a sander is in use year round, 20 days per month, four hours per day. An equivalent pneumatic sander requires a compressor producing a minimum of 400 litres/min. This can be achieved with a 3.6kW compressor.

Savings per year: 1248 euros (with an energy price of 40 cents/kWh)
Estimated Energy Consumption and Cost with a Pneumatic Tool
3.6kW x 4.0 Hours x Energy Cost (0.40€/kWh) = 5.76€ per day

20 working days per month = 115.20€ per month


12 months = 1382€ per year
Estimated Energy Consumption and Cost with an Electric Mirka DEROS tool
Power 0.35kW x 4.0 Hours x Energy Cost (0.40€/kWh) = 0.56€ per day

20 working days per month = 11.20€ per month



12 months = 134€ per year
Calculate your energy costs
Energy Savings Calculator
Easily swapped batteries
Minimize Downtime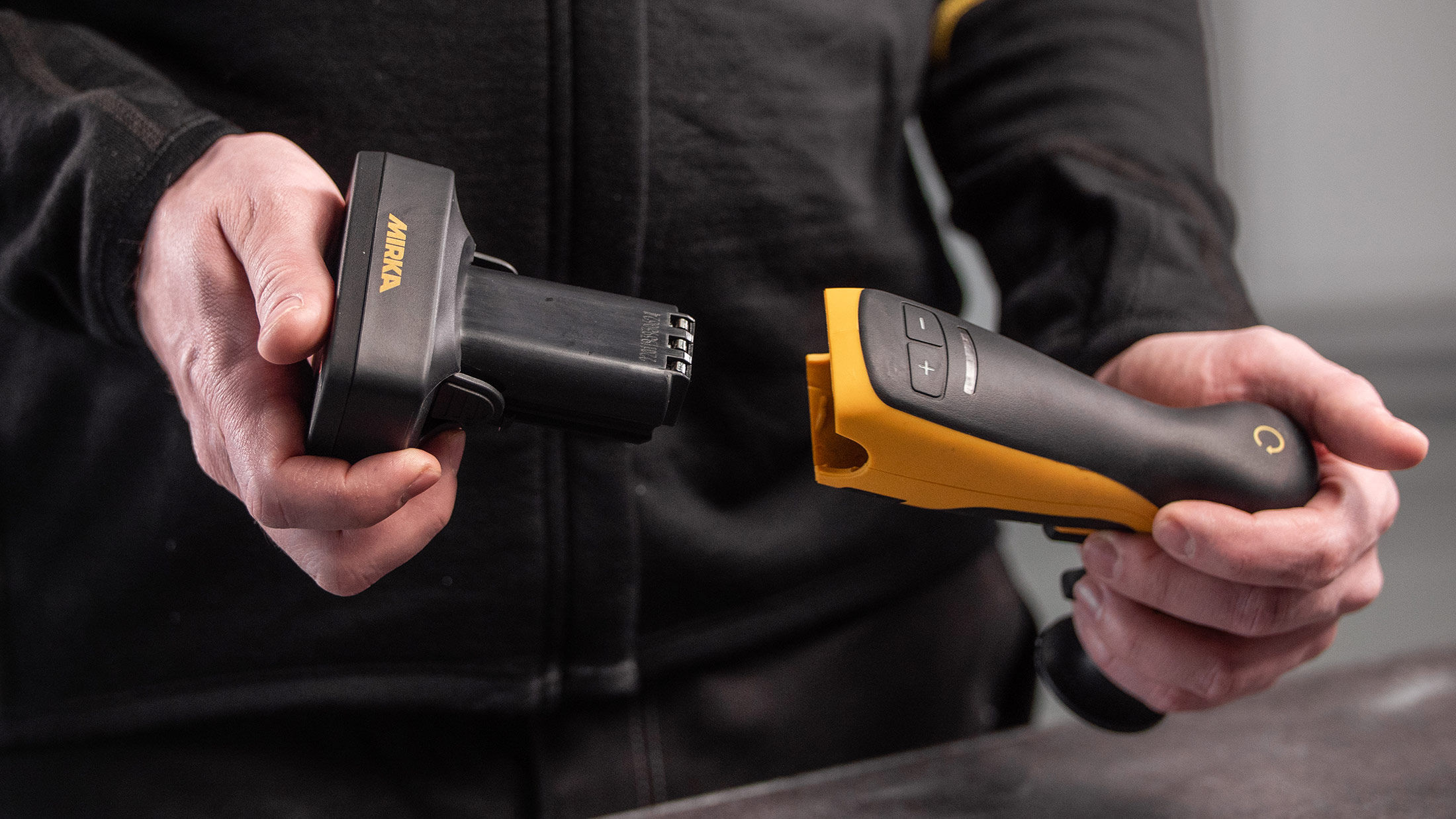 With easily swapped and quickly charged batteries, downtime with cordless tools is kept to a minimum. It takes just as little time as changing an abrasive to change a battery from an empty to a fully charged one, and Mirka's 10.8V Li-ion batteries take just 45 minutes to charge, reducing downtime further.

As well as the Mirka ANGOS battery powered grinder, Mirka offers cordless tools for sanding and polishing, especially for spot repair and finishing work.
Monitor your exposure to vibration
Benefit from Connectivity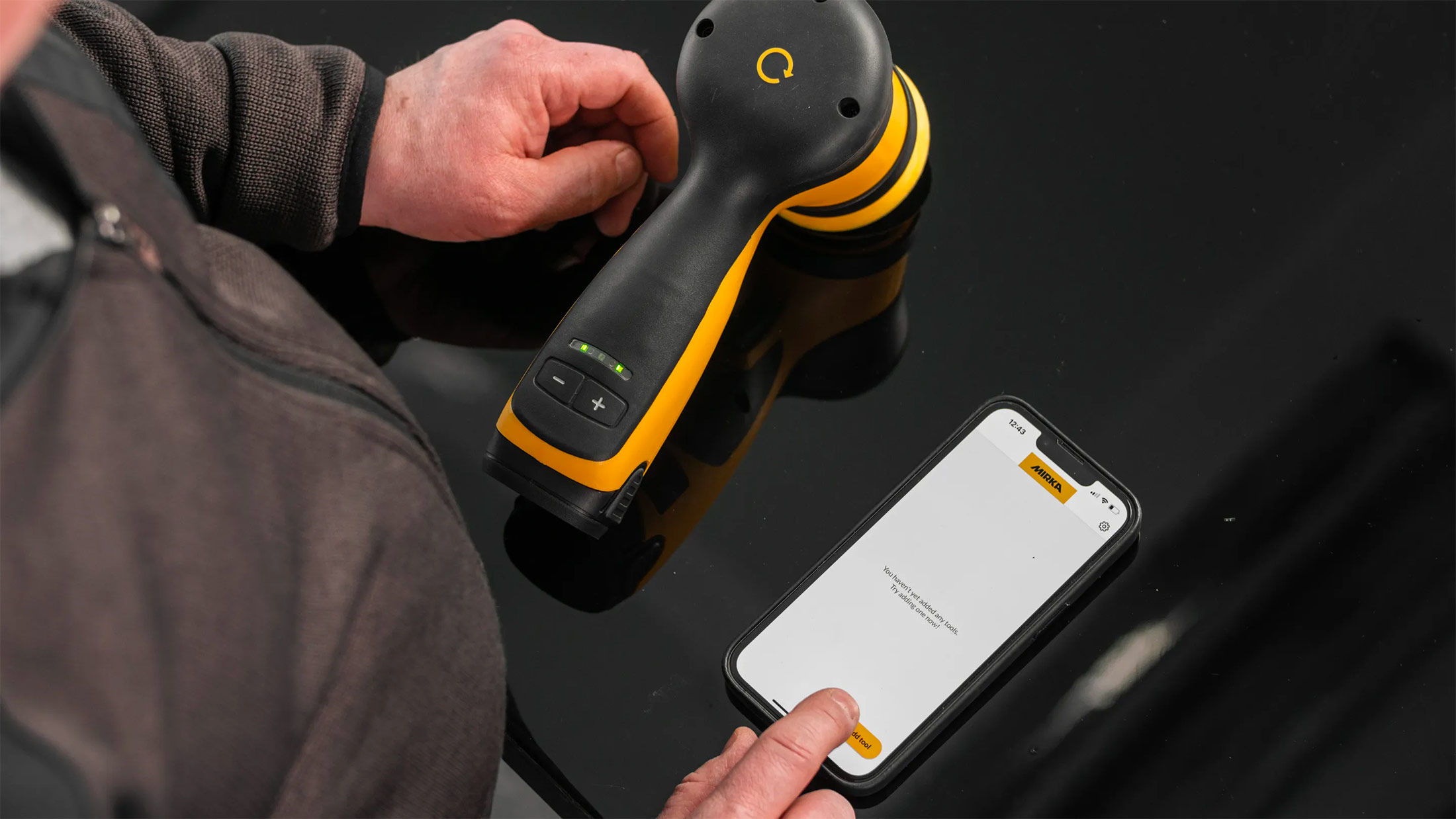 An additional and important benefit of Mirka electric power tools is their Bluetooth connectivity. Using the myMirka app gives the operator a chance to monitor their daily vibration levels to reduce the chance of occupational disease, such as white finger syndrome through constant vibration.
Electric tools also run smoother with less vibration, provided that they are kept in good working condition and adjusted to prevent imbalance.