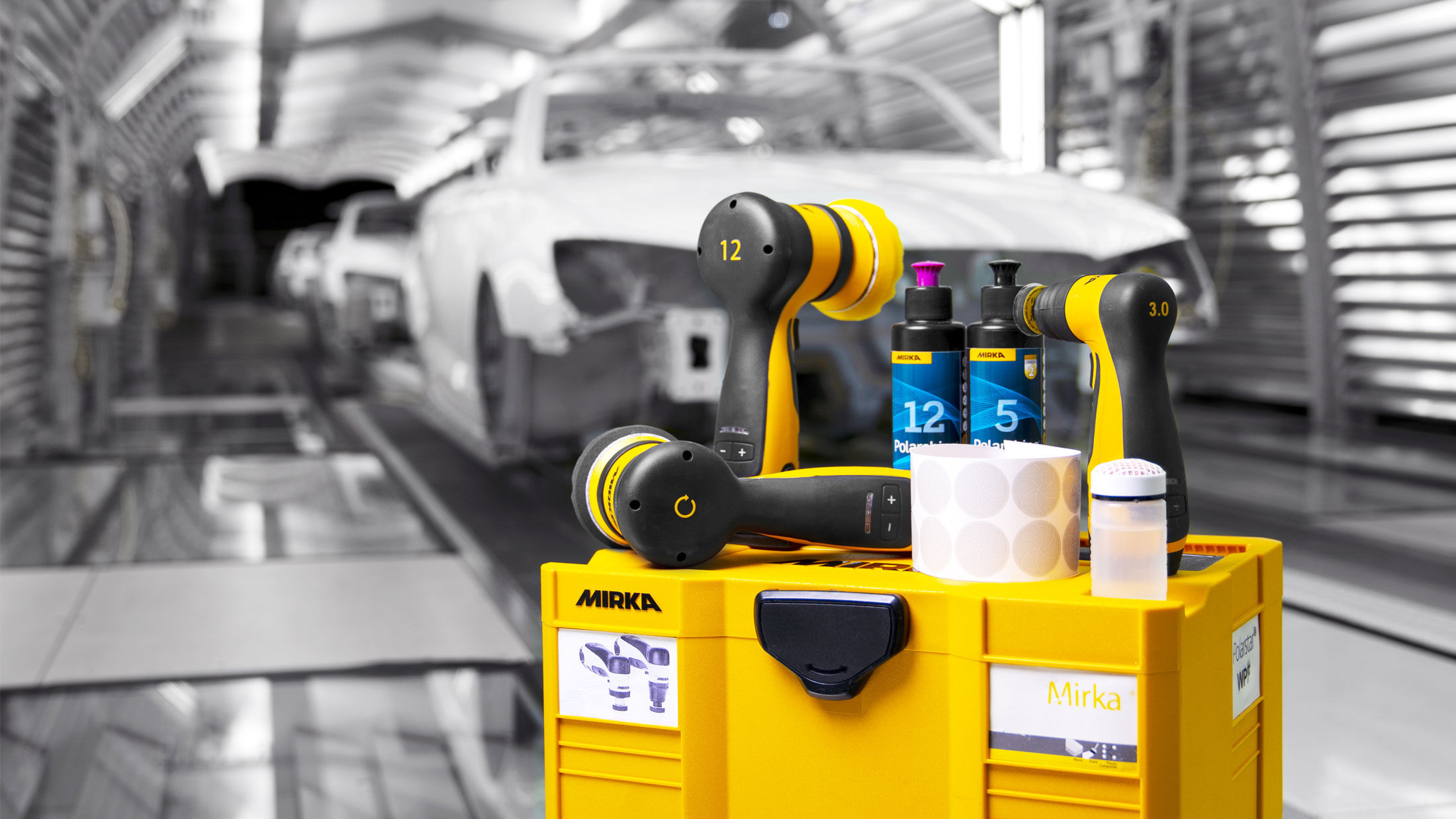 Mirka® Cordless Sanders and Polishers
Where convenience meets control
Experience the unmatched convenience and efficiency of Mirka's cordless finessing solution. Increase productivity and consistency, to get the same great result every time. Mirka's cordless tools are used in car factories, Tier1 manufacturers, body shops and woodworking shops alike, by professionals dedicated to getting that elusive perfect finish.
Small brushless battery driven sanders and polishers
Designed for Spot Repairs and Finessing
Spot repairs and finishing of small details have never been easier since Mirka introduced the cordless sanders, Mirka® AROS-B and Mirka® AOS-B. The light and ergonomic sanders improve productivity in manufacturing and collision repair. Did you know the Mirka AOS-B sander won the Red Dot Award for product design in 2017?
Now we are improving the next step of the process, with the new cordless polishers Mirka® AROP-B and Mirka® ARP-B:
Easy handling – no pneumatic hoses or electric cords
Ergonomic – sits well in your hand
Reliable sander even in the most demanding applications
Complete control with Mirka's new polishers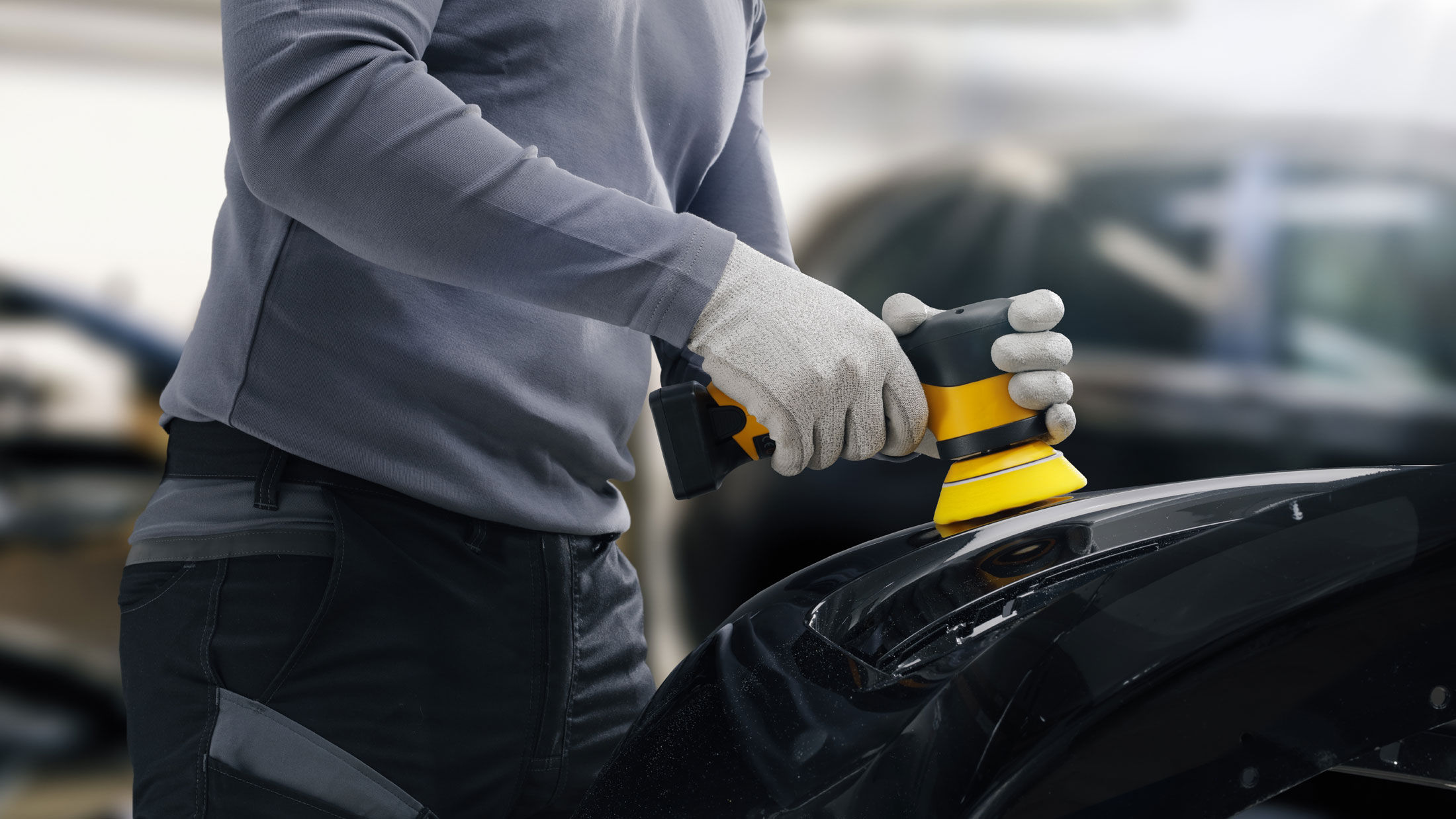 Experience worry-free polishing with the new cordless polishers, Mirka® ARP-B and Mirka® AROP-B. Light, ergonomic and optimized for spot repair polishing, the polishers are perfect for polishing bumpers and spoilers, but can also be used for paint rectification and polishing of small areas on vehicles and wooden surfaces.
Small, low weight, brushless motor → Great for spot repairs
Variable speed trigger → Adjust speed while polishing
Intelligent battery → Monitor the capacity for optimal use
User-friendly → Excellent balance of the tool, less strain
Ergonomic design and a low noise level → Get the job done faster
Mirka® ARP-B 300NV is a cordless rotary polisher with a brushless motor and a 77 mm backing pad. The cordless random orbital polisher Mirka® AROP-B 312NV has a brushless motor, a 77 mm backing pad and a 12 mm orbit.
Sanding spots in an easy, efficient way with Mirka AOS-B and Mirka AROS-B
Small Lightweight Cordless Orbital Sanders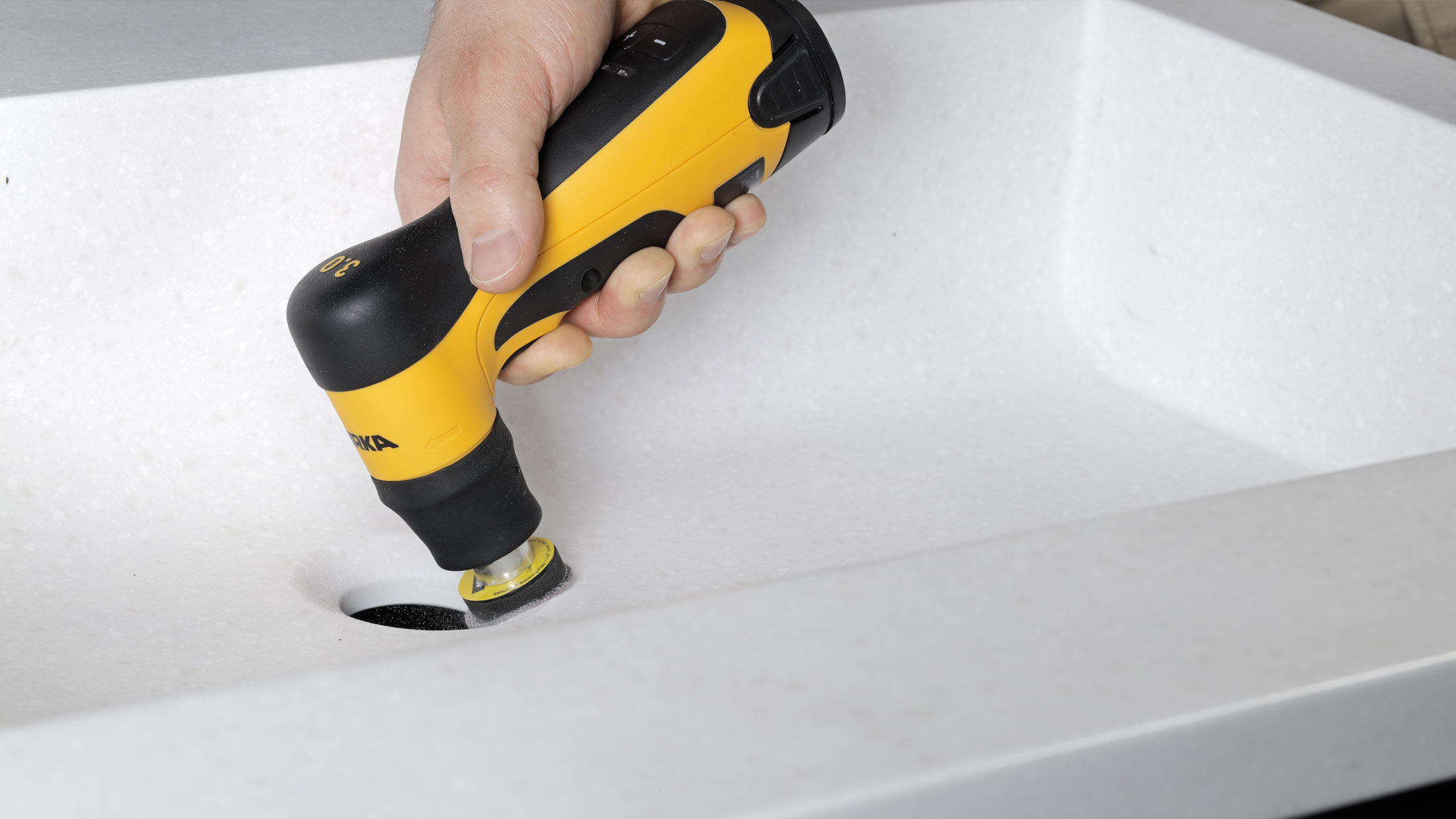 Do you want to move freely without getting tangled up in cords or hoses when sanding? Try worry-free sanding with Mirka's cordless sanders.
The small, lightweight sanders have brushless motors and feature an ergonomic design. You can move easily from spot to spot and sand for longer without getting tired. The sander delivers consistent performance up to 16 hours in spot repair use.
The 10.8V Li-ion battery charges in 45 minutes – so with two batteries, there is no downtime.
Mirka AOS-B has a 3 mm orbit, whereas the Mirka AROS-B has a random 5 mm orbit for more efficient stock removal.
Cordless solution
Do you have a sanding challenge you need to answer? We provide you with a complete solution.
Read more about the easy step-by-step cordless spot repair process.
Denibbing and Finishing Process with Iridium® SR
World-Class Cutting Properties
Mirka's new Iridium SR abrasive features excellent consistency and an extremely long life with its efficient silicon carbide grains. With evenly placed grain on a stable and robust backing, Mirka Iridium SR daisy discs produce a world-class, uniform cut and scratch pattern that is fast and easy to polish out.
Key benefits:
Excellent quality consistency​
Fast cut and long life​
Easy and fast to polish out
How to Connect Your Cordless Power Tool Through Bluetooth®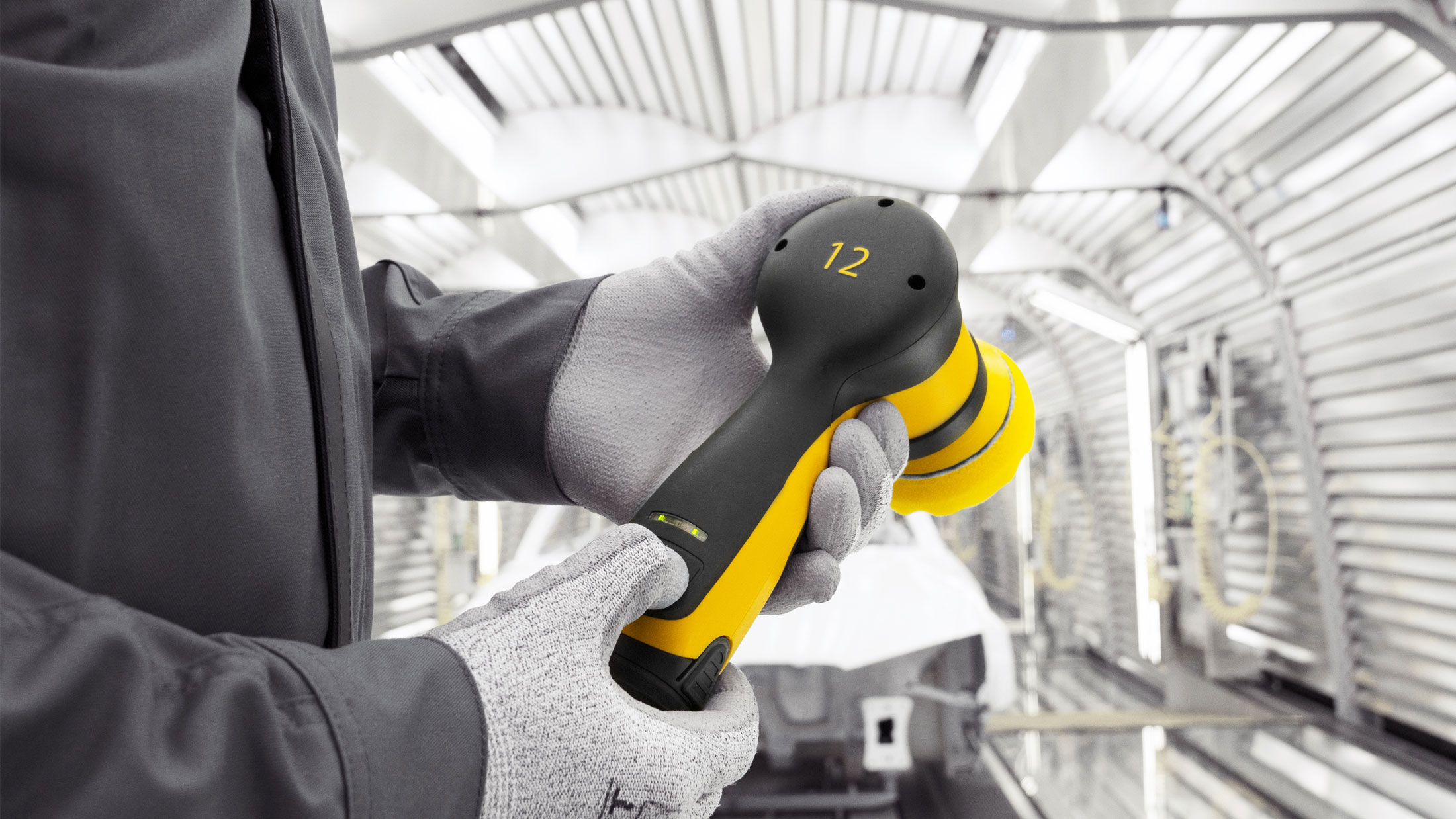 Press and hold the + button while pressing the trigger button.
The middle LED light is flashing, to indicate that Bluetooth is active.
Pair your device
Press the "Add tool" button on myMirka.
Select the tool with which you want to connect.
You are now ready to start exploring myMirka features!
The middle LED lights up (green), to indicate that the tool is connected.
Bluetooth is automatically deactivated when the tool is disconnected from the battery or mains outlet. Check that your connected phone or tablet is also equipped with the Bluetooth® low energy technology and activated.
A consistent process with myMirka®
Cordless Convenience. Complete Control.
With variable speed on the trigger, you get optimal control of the polishing process. For a complete cordless system, combine the Mirka® cordless sanders and cordless polishers.
Each cordless polisher is delivered with two 2,5Ah 10.8V Li-ion batteries and a charger*. (5Ah 10.8V Li-ion batteries are available to buy separately.)
Mirka's cordless tools are top of the range models with Bluetooth connectivity, which means additional features are available via the myMirka app. myMirka app has RPM range management and auto-stop function (in-app purchases), which give you complete control and allows you to standardize your polishing process.
RPM Range Management
Optimize and standardize a process, for example, locking and limiting speed
Interval Setting / Auto-Stop Function 
Set the maximum runtime   regardless of how long the switch is pressed
Vibration Measurement
Momentary vibration level indication and Daily Exposure follow-up**
*For US market: 5Ah 10.8V Li-ion battery is the standard.
**Some features are in-app purchases. Check myMirka for more information
Tips and knowledge about your cordless tool's battery life
Tech Tips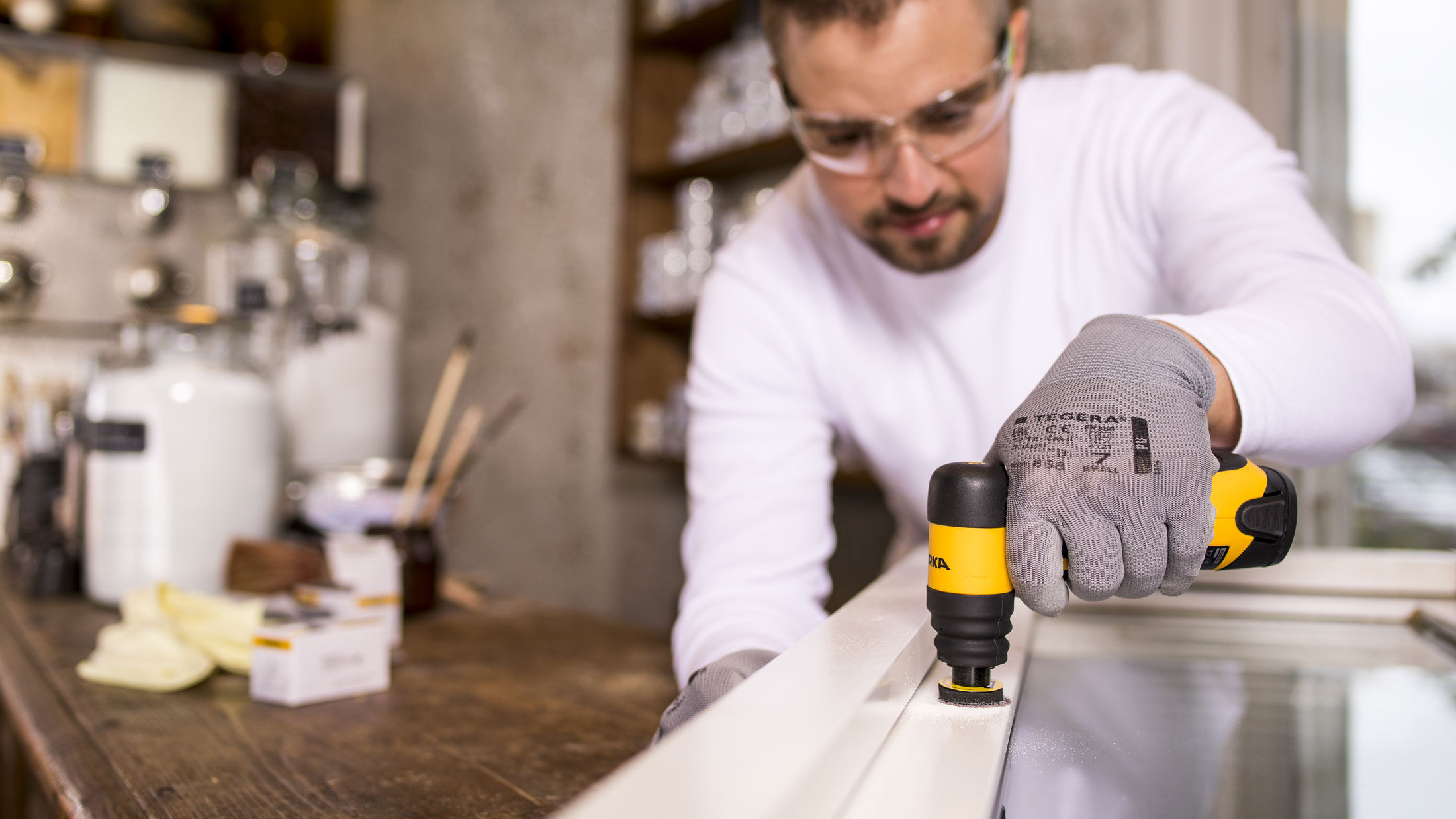 The battery pack is not fully charged when delivered, charge the batteries before you use it. To get the longest possible battery life we recommend:
Never store the battery in a discharged condition, recharge it immediately after it has been discharged.
If you store your tool for long periods of time without use, recharge the battery every month. This will prolong the battery life.
When the trigger is released the sander will stop but continue to stay in active mode for a short time before it automatically deactivates/turns off.
When the sander is in active mode the LED light to the right is green.
In active mode, the LED light to the left shows the battery status

Green: Battery charge level is 75-100%.
Flashing green: Battery charge level is 50-75%.
Flashing green/red: Battery charge level is 25-50%.
Red: Battery voltage too low, tool is not operable.
Please note, in case a battery is damaged physically, with cracks or visible damages, it cannot be returned due to transport regulations.
A better choice for you and the environment
Water-Based Polishes
All polishes that Mirka produces are water-based and produced in Finland. There are many benefits of choosing a water-based polishing compound.
Effective permanent removal of scratches - Water-based compounds remove scratches permanently. Solvent-based compounds can lose gloss after cleaning the surface with a degreaser and in some cases, they may only temporarily hide the scratches.
Safer for the operator - No hazardous chemicals
Sustainable - Water-based polishes are better for the environment and do not contain benzene or similar hazardous chemicals.
The smallest battery driven spot repair sander on the market
Red Dot Design Award to Mirka® AOS-B Cordless Sander
Mirka AOS-B 130NV has been awarded for high-quality design in the discipline Red Dot Award: Product Design 2017.
The ergonomic design has been a priority and makes the sander easy to move from job to job and allows users to operate the product for a long period without fatigue while delivering good control over the sanding process. The small and ergonomic tool also provides economical and consistent performance for the duration of the sander's battery life, which can last up to 16 hours when used for spot repair applications.