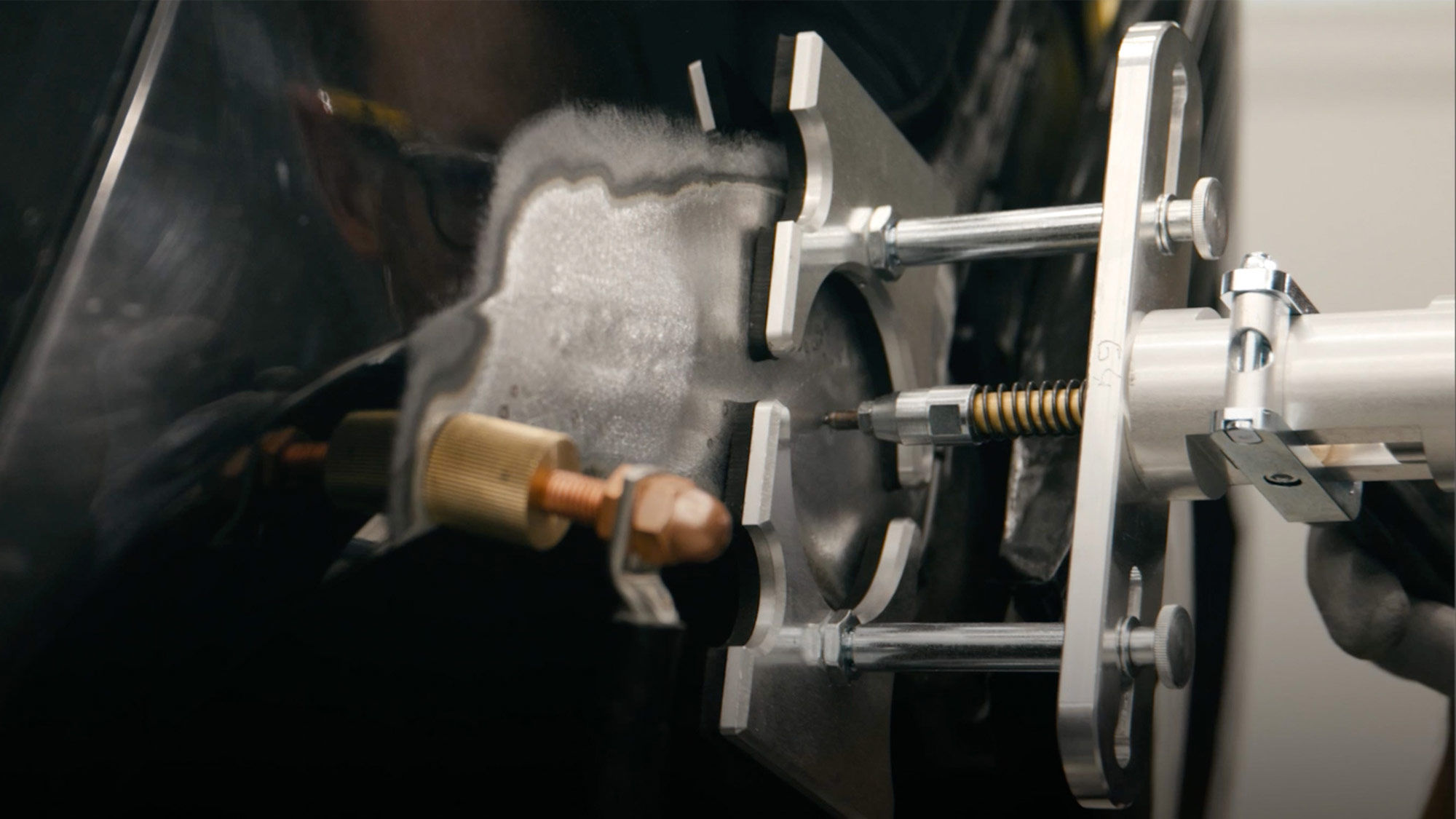 Panel Beating and Repair Processes
Removing paint and collision damage is an essential part of refinishing automotive surfaces. When a panel cannot be simply replaced, it must be repaired to remove traces of collision damage, often working with bare metal in the repair process. For a professional body shop, the repair process must be efficient and effective, so that a high quality end result and customer satisfaction are reached while saving time and resources.
Mirka's Panel Beating product portfolio consists of power tools and suitable abrasives for body shop professionals. Removing paint to a bare metal surface, sanding body filler and feathering paint edge is done using long-lasting and effective Mirka abrasives together with ergonomic and easy-to use Mirka Power Tools, making it easier for you to take the next step.
Less Time, Better Finish
Mirka tools and abrasives work together to improve your finish while saving time
Mirka's Optimized Surface Preparation system, OSP for short, is designed to streamline and simplify the sanding process for consistent high quality results and customer satisfaction. With an easily applied process, you can take complete control of the body shop.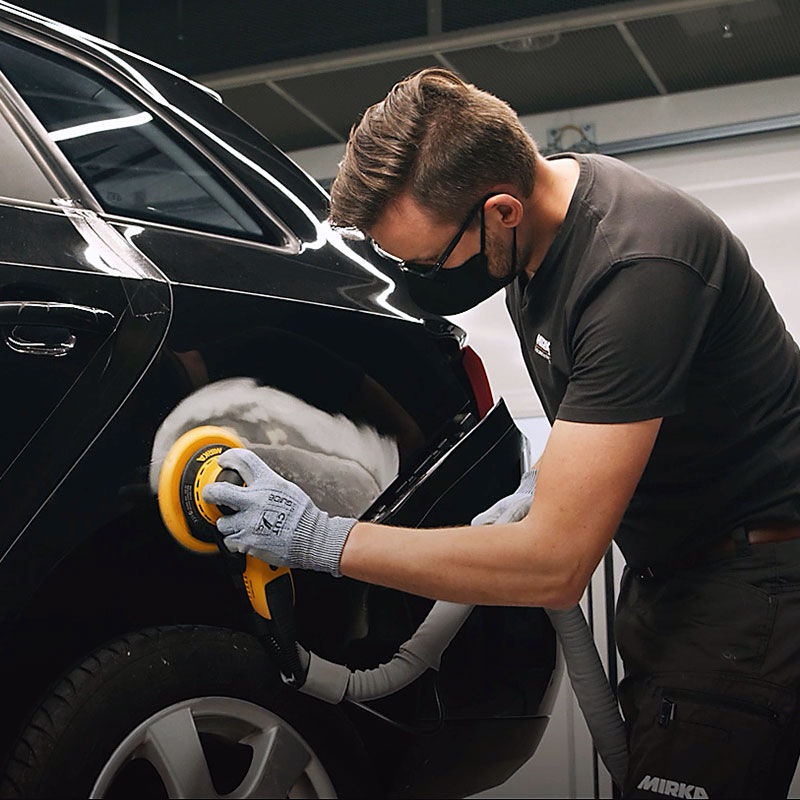 Removing Paint
After inspecting damage and choosing the correct steps for the panel beating process, paint must be removed from the repair area before the damaged metal is pulled straight. Mirka abrasives are well suited for removing and feathering paint in collision repair and refinishing processes.
Our newest abrasive is the high-technology Mirka Galaxy, which is engineered for a fast cut and a long life, making paint removal easy. The Galaxy also benefits from Mirka's new Multifit hole configuration, which combines superb edge wear resistance with anti clogging properties and dust control.

Read more about Mirka Galaxy
In addition to Galaxy, we recommend Mirka's Abranet line of abrasives. Abranet is especially efficient in dust-free sanding, as the entire abrasive is formed out of net, meaning its entire surface is engineered for dust extraction. Abranet abrasives are also easy to clean from any accumulated paint dust and filler dust residue to keep abrasive waste to a minimum.

Read more about Mirka Abranet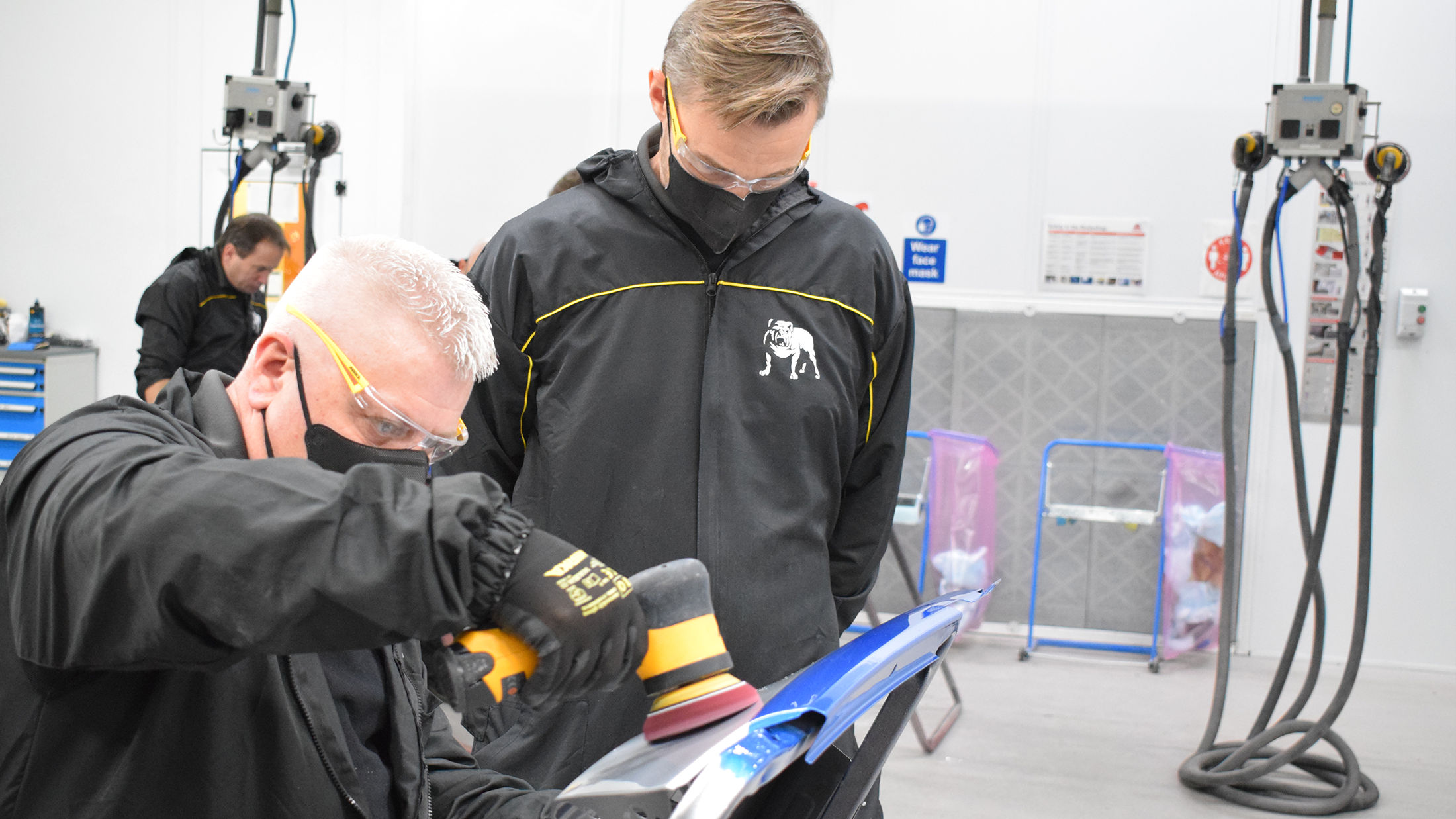 Supporting your business through technical development
At the frontline of the business, we believe that training, shared knowledge, quality products and systems make the bodyshop a better place to work for the individual.
To support this Mirka has a national team of ATA trained staff who have over 150 years repair industry experience between them and are able to provide a hands-on approach to support businesses.
Ergonomic Tools
Better design reduces strain and improves comfort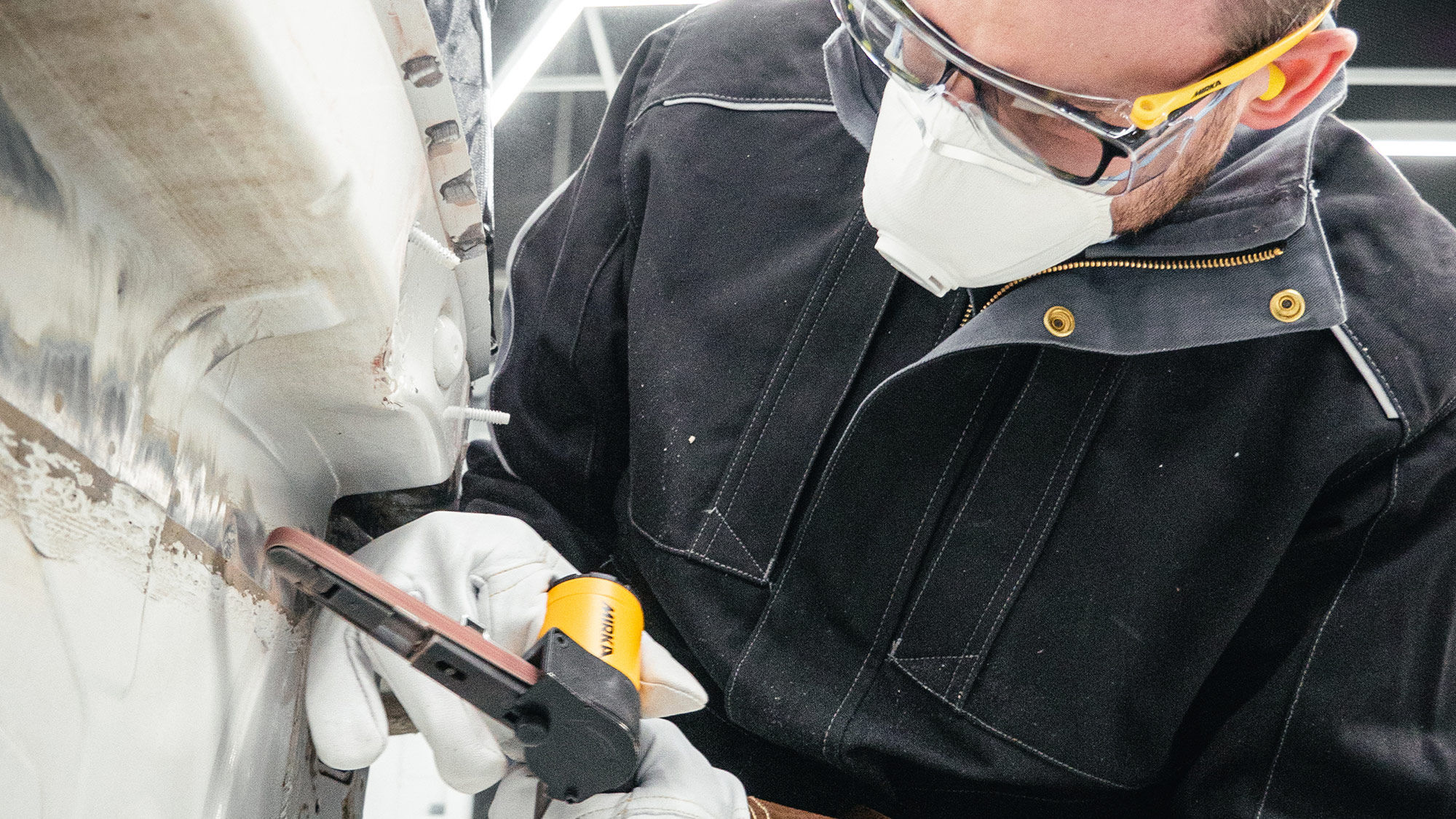 PBS - Pneumatic Belt Sander
The Mirka Pneumatic Belt Sander is the optimal tool for grinding welding spots and seams in vehicle or marine manufacturing and body repair and for removing paint and preparing surfaces in body shop work and collision repair. With a handy rubber grip, it is comfortable to hold even when sanding spots that are difficult to access. The tool is smooth and quiet to use and its grinding speed is easy to set with a top-mounted selector. Thanks to the tension mechanism, the file belt is easy to change in a matter of seconds, and the arm angle of the tool is quickly adjusted with a key that is stored in the handle for whenever it is needed.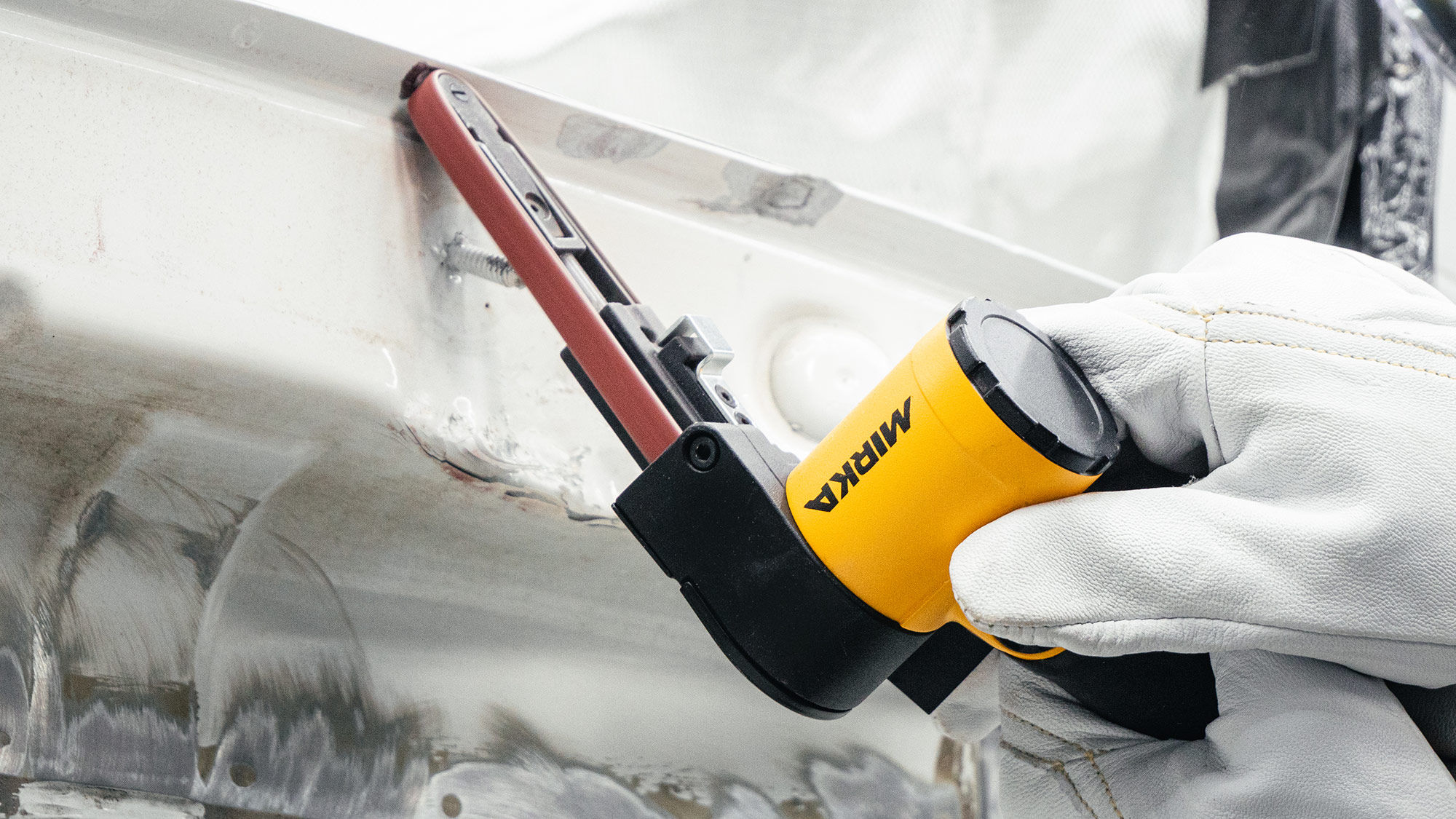 Mirka File Belts
Together with the Pneumatic Belt Sander, we recommend using Mirka file belts. The ZIR file belts are ideal for stainless metal sanding applications for automotive refinishing and metal processing. The Zirconia grains provide a high removal rate, a good surface finish and a long life time for the abrasive.
The CER file belt is named after ceramic grains and coloured dark red. CER is ideal for tough sanding applications, especially suited for automotive refinishing and metal processing. The self-sharpening Ceramic grains provide a high removal rate at low and medium pressure, along with a long life time and good surface finish.
An Abrasive for Every Job
Choose the best abrasive for every process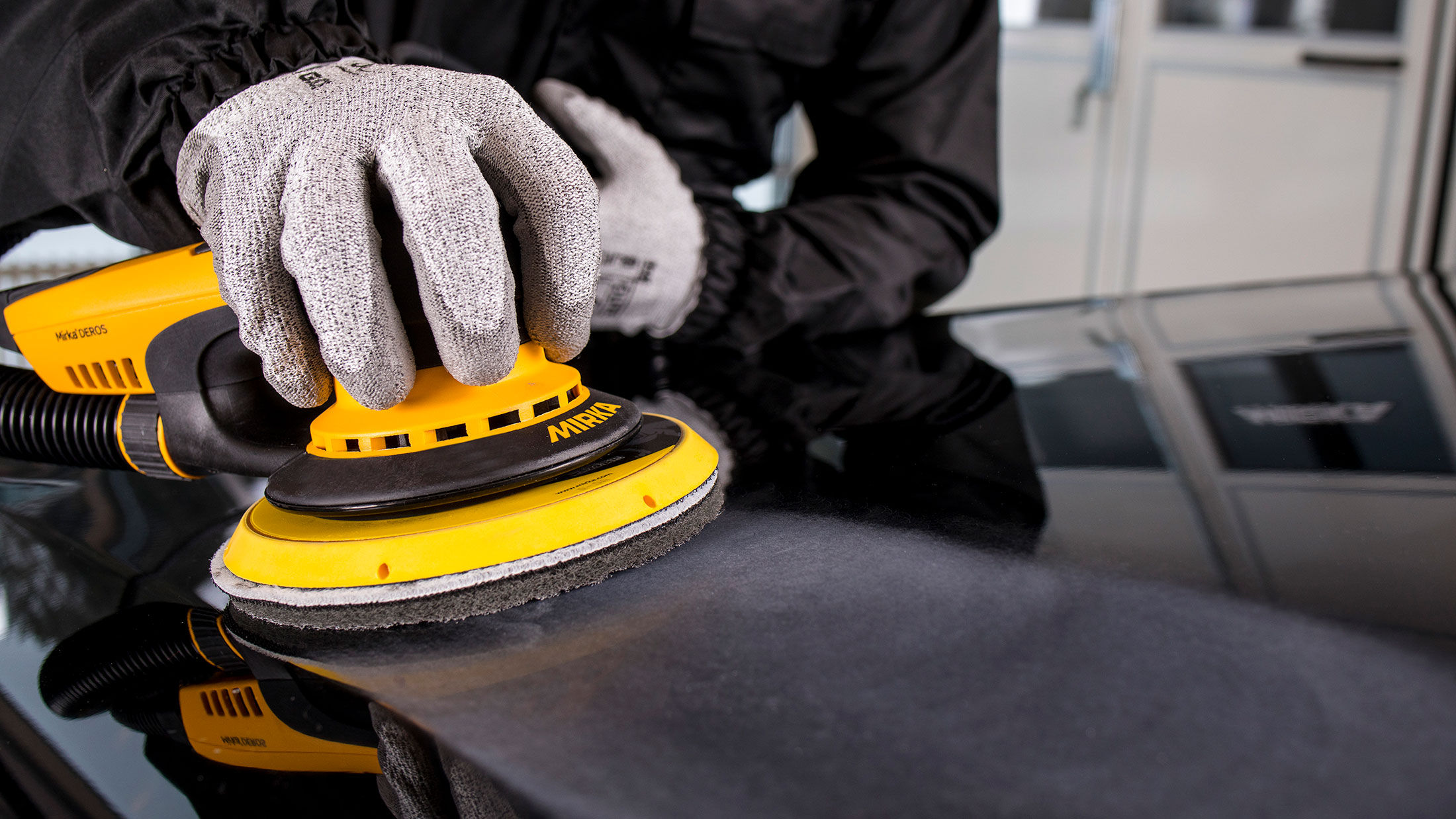 Mirlon Total for Mattening and Feathering Out
With its three-dimensional, long-lasting Total Coating, the flexible and easy-to-use Mirlon Total product range works perfectly for mattening and feathering out paint.

Mirlon Total is a non-woven resin bonded abrasive that is well known for its abilities in automotive collision repair, and it also suits new vehicle manufacturing, wood, metal and composite processing as well as marine production.
Mirlon Total is available in rolls and strips for hand sanding, and it is also compatible with machine sanding thanks to the introduction of discs. In addition to that, Mirka has developed a net interface for Mirlon Total – not only for improving user comfort and the grip of the abrasive further but also to make it compatible with dust-free sanding as it enables on-tool dust extraction.
Sand Without Dust
Removing dust from sanding processes makes for better workplaces
Fix Auto, USA
Mirka's Dust-Free Solutions
A cleaner shop means healthier employees and a better working place.​ Marc Milot, Manager at Fix Auto appreciates how their body shops are now dust-free.
"By far one of the best investments we've done. We've been able to cut our abrasive costs. They last a little bit longer. The vacuum systems work great. Overall, everybody is really excited and happy that they don't have to be full of dust every day."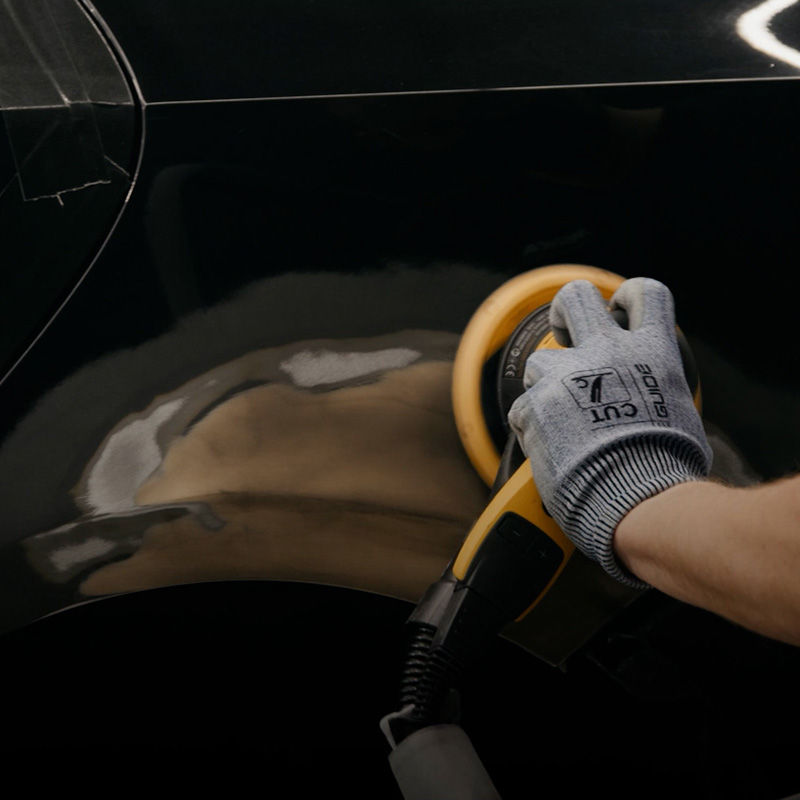 Working with Filler
When filler is part of the panel repair process, the sanding process must be done with professional equipment and quality abrasives to prevent scratches and uneven work showing through in the finish. We recommend using Mirka hand sanding blocks together with Galaxy abrasives for a smooth end result, when working with body filler and scratch conditioning processes, moving on to Mirka power tools including the Mirka DEROS random orbital sanders.
Dust-Free Workplace
Sanding metals, paint, putty and filler mean there is a chance of inhaling different kinds of dangerous dust, which can lead to occupational diseases over time. We recommend using dust extraction together with proper protective measures to keep sanding processes as safe and effortless as possible, so you can sand better for longer while reducing the risk of work related health issues. Mirka offers a comprehensive dust extraction system for sanding without dust.
Dust extraction and accessories
Do you want to know more?
Contact Us
Please get in touch and our expert support team will answer your questions.