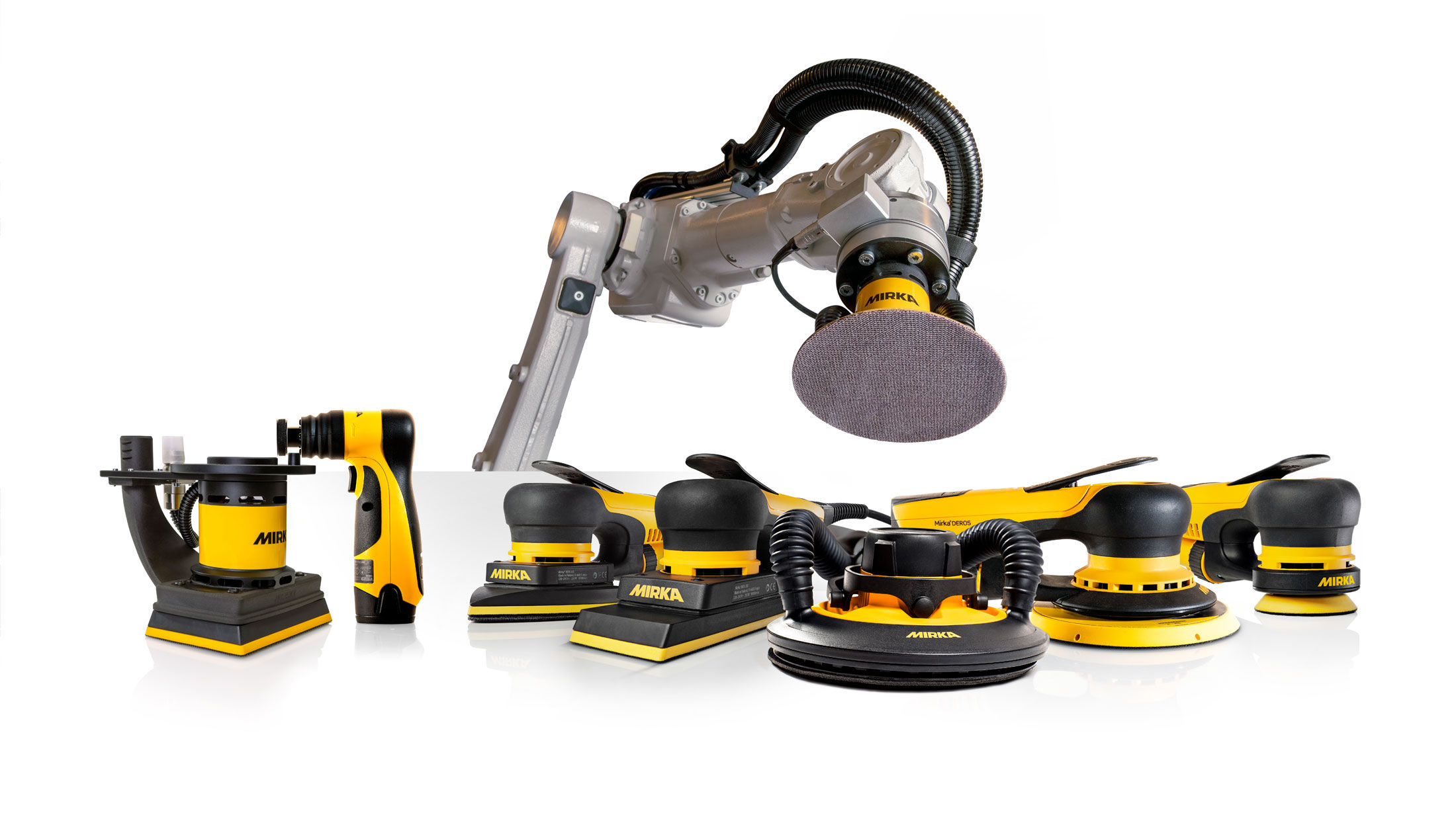 Award-winning Sanders and Polishers
Ergonomic and easy to use tools
Mirka's power tools are designed with the user in focus, always giving you the best and most efficient sanding experience. Awarded several times for our innovative tool design, most of our electric sanding tools are also the smallest and lightest on the market.
The tool must be perfect for the user
The Story of Mirka Power Tools
Mirka is celebrating over a decade of its Power Tools division. It all started with the Mirka CEROS sander in 2009. For more than ten years already, Mirka has produced power tools that are especially well suited for all users and different sanding applications.
Caj Nordström, Product Development Manager, remains humble about the awards that products such as the DEROS have earned.
"Winning our first award told us we had gotten the design right. But the most important feedback of course comes from end-users, who work with our power tools every day. The tool must be perfect for the user."
Mirka® AOS-B, Mirka® ARP-B, Mirka® DEOS, and Mirka® DEROS
World Tool Awards
Mirka® AROS-B denibbing cordless sander
SEMA Show - Global Media Award
The Mirka® AROS-B was one of the Global Media Award Winners at The SEMA Show 2019. Our cordless denibbing tool was selected as one of the top products at the show, picked among thousands of candidates.
Mirka LEROS® - the lightest and most advanced ceiling and wall sander
Red Dot - Best of the Best
Mirka® LEROS received the Red Dot: Best of the Best Award 2018 for groundbreaking design 2018. It is the lightest wall and ceiling sander on the market with a flexible sanding head and a brushless motor, which are all contributing to the user-friendliness of the tool.
"We are very honoured and proud of this prestigious recognition. There are years of determined development work behind Mirka LEROS. There was a clear market need for a light and ergonomic wall and ceiling sander. The high demand that we can see today and the continuously growing sales figures are clearly showing that we managed to answer the market need and develop something that will revolutionize the market", says Mirka's CEO Stefan Sjöberg.
Mirka AOS-B Cordless Sander
Red Dot - Design Award
The smallest battery spot repair sander on the market, Mirka AOS-B 130NV, designed in collaboration with the Swedish design company Veryday, has been awarded for high-quality design in the discipline Red Dot Award: Product Design 2017.
The ergonomic design has been a priority and makes the sander easy to move from job to job and allows users to operate the product for a long period without fatigue while delivering good control over the sanding process. The small and ergonomic tool also provides economical and consistent performance for the duration of the sander's battery life, which can last up to 16 hours when used for spot repair applications.
The lightest random orbital sander - Mirka® DEROS
Red Dot - Industrial Design Award
Thanks to its high efficiency patented brushless motor, the award-winning sander has plenty of power to get the job done fast and dust-free.
It is ergonomic, easy to use, and the innovative design gives you many benefits like speed, low maintenance, long lifespan.
Over a decade of Mirka Power Tools
The Sanding Revolution Started with Mirka® CEROS
The first Mirka power tool, the Mirka® CEROS electric random orbital sander was launched 2009, in fact predating the foundation of the Power Tools division, that was founded shortly afterwards.
At the time, Mirka was the first company to introduce brushless motor technology in a sander. The benefits are , ergonomic, yet efficient, sanders that disrupted the surface finishing field for all professional sanding.
We always appreciate to hear from you
Meet Our Clients
Here's what some of our customers say about our tools, abrasives, and solutions.
Ornamentalist - Decorative Painter, France
Mirka's Dust-Free Solutions
Having the right tools for the right sanding application is crucial if you want to exceed expectations in the finish, whether you work on something new or doing renovation work. For Alexandre Lardy, plasterer, ornamentalist and decorative painter from France, choosing a dust-free solution from Mirka was an easy choice.
"One thing I've really liked and that struck me immediately is the dust extraction aspect.

I have the impression that I'm not sanding at all, so effective is the extraction – I get absolutely no dust."
Nautor's Swan, Finland
High-Quality Finish
For Finnish yacht builder Nautor, a high-quality finish is about respecting the company's roots and heritage, and it takes the best kind of power tools and abrasives to accomplish that. Benny Brännbacka from Nautor shares with us what it means to collaborate with Mirka, and how important client satisfaction is when building spectacular yachts with Mirka's solutions.
"Working with Mirka is very good, we are continuously collaborating."
Bodyshop MH-Color, Finland
Mirka's Dust-Free Solutions
Consistent high quality is the key to customer satisfaction – a happy customer means a professional body shop has done its job well. Mika Rönnqvist from MH-Color in Finland trusts Mirka products to reach the best possible finish.
"I would recommend Mirka power tools for everybody. Their power tools stand out in several ways, both when it comes to ergonomics and the size of the tools. You can really tell that Mirka has been one step ahead with electric motors in sanders."
Case: Volkswagen, Germany
Mirka Automation for Robotic Sanding
With Mirka's state-of-the-art automated sanding solution, designers, engineers and product managers can be sure that their vision is fulfilled, and the end result reflects their high standards.
Mirka manufactures sturdy and compact robotic sanding heads that are designed by dedicated surface finishing professionals with unique experience.
Built for industrial use and easy to integrate, Mirka sanding heads suit the requirements of different manufacturing industries.
Salvi Harps, Italy
Mirka's Dust-Free Solutions
True dedication is something that is hard to define as it means different things for different people. For Enzo Vizzone of Salvi Harps, it means creating uniquely finished instruments and helping the beautiful harp music travel around the world.
"For us, the finishing process is the most important one."
Do you want to know more?
Contact Us
Please get in touch and our expert support team will answer your questions.