Gelcoat Sanding and Polishing for Yachts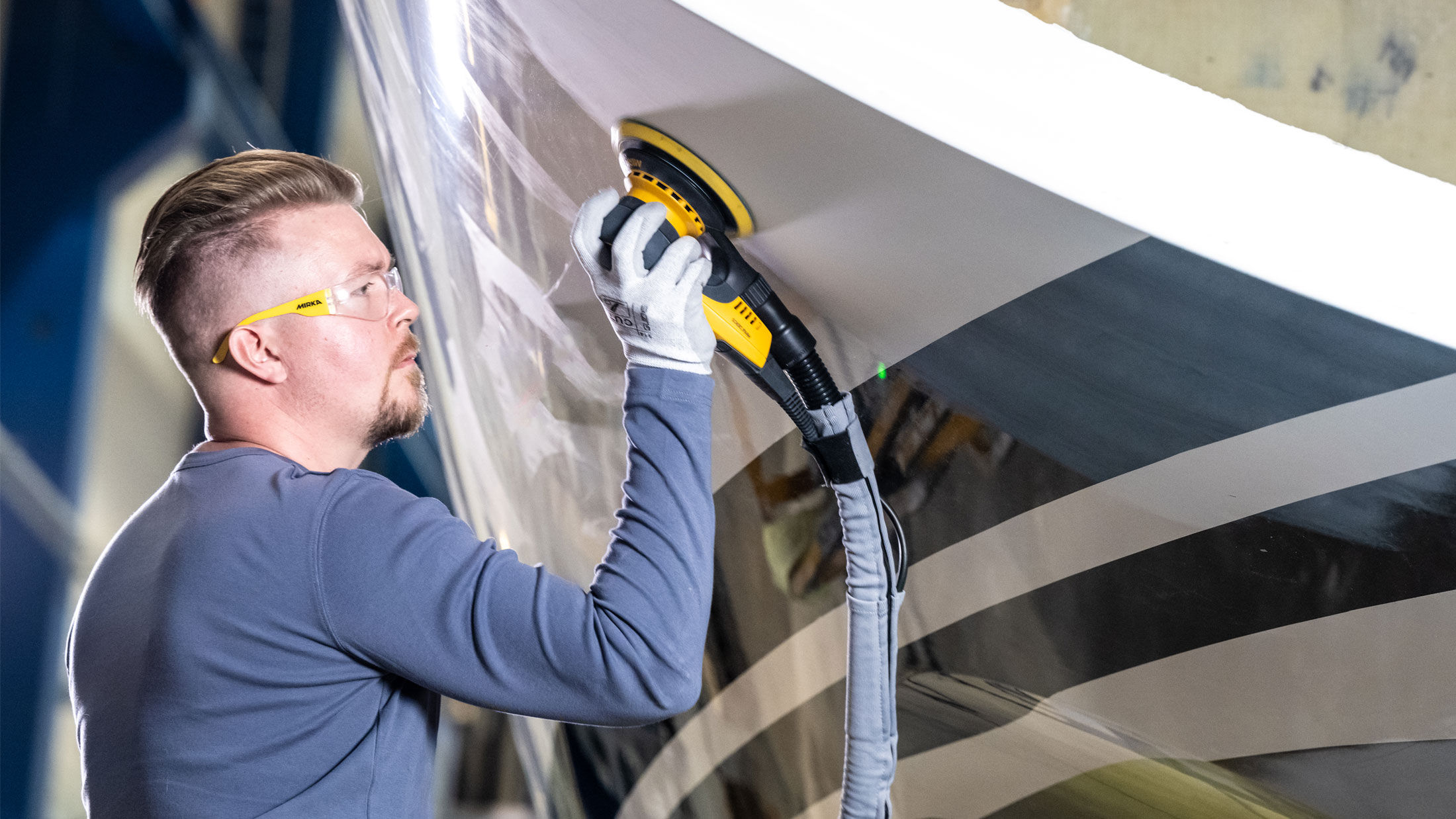 Factory Gelcoat Production and Maintenance for Boats and Yachts
Salt, water and wind all challenge marine surfaces. To get the perfect lustre and shine of a gelcoat surface on a newly manufactured yacht or boat, the crucial component is the exterior layer of the gelcoat. For yachts, the gelcoat surfaces are made to be long-lasting, to be able to resist UV damage and rough conditions at sea, but they must be maintained for a long life. And a maintained gelcoat surface is not only about looks. You will also protect the yacht or boat from salt, filth, mould, and excessive moisture with a well kept gelcoat surface.

It is easy to condition a gelcoat finish with Mirka solutions. Use Mirka® Galaxy or Abralon® for machine sanding the surface, work with Polarshine to remove swirls and polish it, and finish the job by protecting the surface. You can find the perfect match for your polishing needs with this handy compound grade scale. We also offer complete finishing kits to make it even easier.
For a superb shine on yachts and boats
Sanding and Polishing Gelcoat Surfaces
1/8 - Complete process
Sanding and Polishing Gelcoat on Yachts and Boats Surfaces
Here is how you can sand and polish production gelcoat surfaces for yachts and boats. By adding more sanding steps, it is possible to reduce the time needed for polishing. This will save both time and money. If there is an excessive amount of orange peel, we recommend that you start sanding with Mirka® Galaxy 240 grit.
By extending the sanding process and using finer grits, the polishing time will shorten and lower the total production time and cost.
You can watch the full video here or check out the practical details in the step-by-step process in the list.
2/8 - Step 1
Sanding
Start sanding with Mirka® Galaxy 240 grit together with Mirka® DEROS 650CV
in case of significant orange peel. Otherwise, start from 320 grit.
3/8 - Step 2
Continue sanding with Mirka® Galaxy, 500 grit.
4/8 - Step 3
Continue by attaching the Mirka® Net Interface to the DEROS 650CV. Sand with Galaxy, 800 grit.
5/8 - Step 4
Finish the sanding with Mirka® Galaxy 1000 grit together with a Mirka® Net Interface.
Use 1200 grit on dark colours.
Clean the sanded area with a Micro Fiber cleaning cloth. The sanded area is ready to be polished.
6/8 - Step 1
Polishing
Start by fitting the Twisted Wool Pad to the Mirka® PS 1437 polisher tool.
Apply Polarshine® 45 polishing compound onto the wool pad. Start polishing.
7/8 - Step 2
Light coloured surfaces
Fit a Waffle polishing foam pad and apply Polarshine® 12 onto the pad. Polish the surface.
Dark coloured surfaces
Change to a Black Waffle M foam pad, apply Polarshine® 12 Black polishing compound and polish the surface.
8/8 - Step 3
Clean the polished area with a micro fiber cleaning cloth.
Process steps
Learn more about our marine solutions
Get in Touch
Questions and Answers: Condition of Factory Gelcoat Coating Is Important for the End-Result
Why do you need a good condition gelcoat surface on a yacht?
Factory gelcoat coating and its condition is important. Composite materials, such as fibre glass with an exterior layer of gelcoat are used in manufacturing of boats and yachts. The gelcoat surfaces are made to be long-lasting, with resistance to UV damage and hydrolysis. And it's not just about how the surface looks when it's maintained. Preventing cracks or refinishing a cracked gelcoat surface will also protect the yacht or boat from salt, filth, mould, and excessive moisture.


What is the difference between gelcoat and clearcoat coatings on yachts and boats?
The difference between gelcoat and topcoat coatings is in the thickness. Gelcoat is harder and provides more efficient protection of the surface from the harsh conditions at sea.
Topcoat also protects the surface, but is sometimes used for more aesthetical reasons. In the boat or yacht production process a gelcoat consists of a coating of resin that is poured into the mould before doing the lay-up.
Clearcoat is a very thin layer of varnish that is applied to the part after it has been demoulded.
Steady grip. Less than 3.2 kg. High flexibility.
Mirka® Leros-S. Reach Closer.
The Mirka® LEROS-S features the well-known abilities of the LEROS, but in a shorter, even more easily handled length. That makes it perfect for sanding larger areas faster, such as on yachts and boats. The LEROS-S has two dedicated grip points for full control.
Thanks to its lightness, balance and easy manoeuvrability, the LEROS-S makes it possible to sand large areas faster and easier. The large sanding pad with its 5mm orbit works especially well in levelling filler.
It features a highly flexible sanding head to make sanding easier and more ergonomic. A better working position makes sanding more effortless and improves the end result as well as productivity.
Nautor's Swan, Finland
High-Quality Finish
For Finnish yacht builder Nautor, a high-quality finish is about respecting the company's roots and heritage, and it takes the best kind of power tools and abrasives to accomplish that. Benny Brännbacka from Nautor shares with us what it means to collaborate with Mirka, and how important client satisfaction is when building spectacular yachts with Mirka's solutions.
"Working with Mirka is very good, we are continuously collaborating."
Why Choose Mirka?
Save time and money – You can cut costs and reduce working hours
Why Choose Mirka?
Sand and polish safely without strain – Our tools and abrasives are ergonomic, efficient, and easy to use
Why Choose Mirka?
Improve the quality of work – The finish is excellent, with less effort
Save your health, time, and money
Sanding Without Dust
Do you get covered in dust when sanding? Try the benefits of Mirka's pioneering sanding solutions and see how a dust-free working environment can boost your business.
Benefits from dust-free sanding
Healthier working environment - Stop dust from getting into your lungs
Time-saving – No cleaning after sanding and clean abrasives cut better
Money-saving – No clogging lets you sand longer with the same abrasive
High-quality finish - Thanks to a finer scratch pattern
A better choice for you and the environment
Water-Based Polishes
All polishes that Mirka produces are water-based and produced in Finland. There are many benefits of choosing a water-based polishing compound.
Effective permanent removal of scratches - Water-based compounds remove scratches permanently. Solvent-based compounds can lose gloss after cleaning the surface with a degreaser and in some cases, they may only temporarily hide the scratches.
Safer for the operator - No hazardous chemicals
Sustainable - Water-based polishes are better for the environment and do not contain benzene or similar hazardous chemicals.
Solvent-based polishes may be effective in the short run, but they are more damaging and harmful.
Kim Rönnholm
Portfolio Manager, Mirka
You Might Be Interested In
Abrasives (available in up to 225mm)
Electric Tools and Accessories
Pneumatic Tools and Accessories
Do you want to know more about our marine surface finishing solutions?
Contact Us
Please get in touch and our expert support team will answer your questions.