Optimized Automotive Repair Process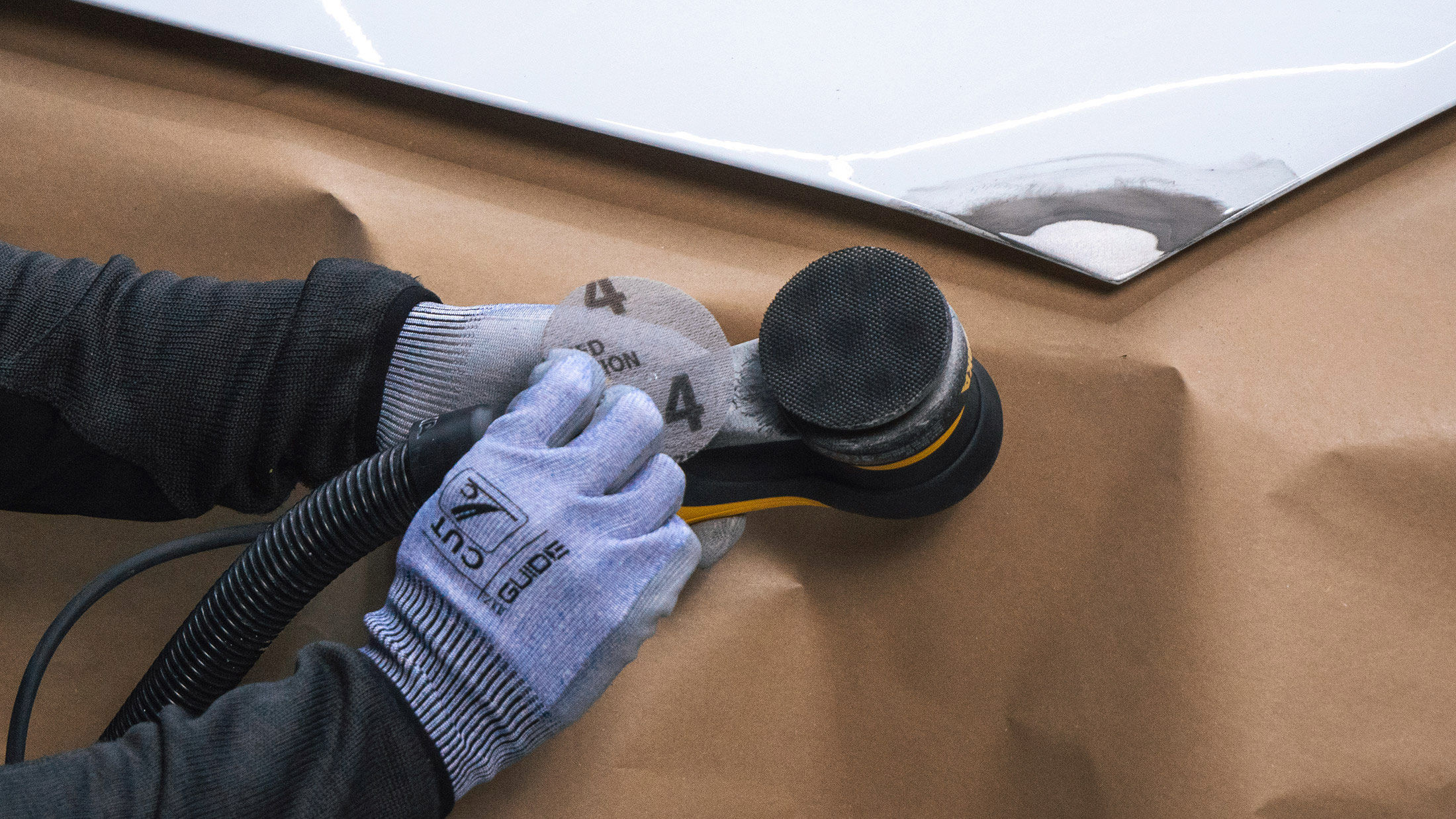 Applying the Mirka OSP System
Mirka OSP is a streamlined surface finishing process that reduces the amount of required time and abrasives. OSP or Optimized Surface Preparation is engineered to simplify the sanding process for your benefit.
Reaching a smooth workflow in the body shop requires a standardized repair process. With OSP, the correct accomplished repairs are performed in time, which also has a great effect on customer satisfaction. Less waste, fewer reworks, better sanding, better finish.
OSP Is All About 1-2-3-4
Mirka abrasives that belong in the OSP product range are clearly marked with numbers, making it easy for you to know which disc or strip should be used for each step. Number 1 is used for paint removal, Number 2 for feather edge, Number 3 for preparing the repaired area for primer by reducing scratches and expanding the feather edge and Number 4 for finalising the sanding.
Complete Body Shop Solution From Mirka
Mirka OSP Process
1/9 - Step 1
Preparing
Follow the instructions in this video for a complete body shop solution.


Start off by cleaning the surface to avoid any contamination.

Polish the surface prior to colour check using Mirka® ARP-B 300NV, Golden Finish Pad 1 & Polarshine® 20.

Wipe the surface clean.

Check colour.

Mask off the surrounding area.
2/9 - Step 2
OSP 1 Paint stripping
Start sanding with OSP 1 together with a Mirka® DEROS 650CV at 8000 rpm

for paint removal. The net structure of the disc enables a dust-free working environment.
3/9 - Step 3
OSP 2 Feather edge
Make a smooth transition from the clear coat surface to the metal with OSP 2 at 7000 rpm.

Clean the surface before body filler application.
4/9 - Step 4
Body filler
Apply body filler to the damaged area
Start body filler sanding with number 1 or number 2, depending on the structure and/or area. If you start with number 1, always continue with number 2.
Apply Dry Guide Coat before sanding.
OSP Strips with Mirka® DEOS 383CV at 7500 rpm, for levelling.
Clean the surface and apply Dry Guide Coat to highlight any imperfections in the surface.
5/9 - Step 5
OSP 3 Primer preparation
Prepare with primer sanding using OSP 3 and a DEROS at the speed 6000 rpm.
For scratch conditioning for primer application, use the handpad for hard-to-reach areas.
Clean the surface.
Masking for primer application.
Apply primer according to the manufacturer's recommendations and let it cure.
6/9 - Step 6
OSP 4 Paint preparation
Sand the primer with OSP 4 and a Net interface at the speed of 6000rpm.
Apply Dry Guide Coat.
Use the net interface to get optimized dust extraction and better levelling properties for the net products.
7/9 - Step 7
Blending preparation
Scratch conditioning with Mirlon Total XF and Net Interface, speed 6000rpm
Use Mirlon Total handsheets in hard-to-reach areas.
On the hard-to-reach areas that will be painted, use OSP 4 handpad.
Mask off prior to painting
Apply paint and clear coat
8/9 - Step 8
Paint rectification using Mirka Golden Finish
Sand to the wanted structure level with Golden Finish 1 and
net interface on Mirka® DEROS 325CV.
Damp sanding with Golden Finish 2 for scratch conditioning before polishing.
Use water or water-based cleaner for damp sanding.
Polish with Mirka® ARP-B 300NV 77 mm using Golden Finish pad 1
together with Polarshine® 20.
Continue with the second step, Golden Finish pad 2 for dark coloured
surfaces together with Polarshine 5."
Products used
Sander
Mirka® DEROS 650 CV, Mirka® DEOS 383CV
Mirka® DEROS 325CV
Sanding process
OSP 1, 2, 3 and 4
Mirlon Total XF
Net Interface
Mirka Golden Finish Abrasive 1 and 2
Dry Guide Coat
Polishing process
Mirka® ARP-B 300NV
Mirka Golden Finish Pad 1 with Polarshine® 20
Mirka Golden Finish Pad 2 with Polarshine® 5
Microfiber cloth yellow
Process steps
Savings in Electricity and Abrasive Material
With the simplified OSP system you can significantly reduce abrasive material consumption: studies in body shops have shown an abrasive material decrease of 32%. Choose Mirka electric sanders for your body shop and cut electricity costs as much as 90%.
Do you want to know more?
Contact Us
Please get in touch and our expert support team will answer your questions.
Fix Auto, USA
Mirka's Dust-Free Solutions
A cleaner shop means healthier employees and a better working place.​ Marc Milot, Manager at Fix Auto appreciates how their body shops are now dust-free.
"By far one of the best investments we've done. We've been able to cut our abrasive costs. They last a little bit longer. The vacuum systems work great. Overall, everybody is really excited and happy that they don't have to be full of dust every day."
Espace Carrosserie 94, France
Mirka's Dust-Free Solutions
Want to streamline your sanding operations in your body shop - while saving money on sandpaper? This is what Mirka's OSP system has done for Christophe Compiègne, at Espace Carrosserie 94, in France. He works as an automotive body finisher/paint specialist.
"Mirka is well ahead of the field; and in terms of the OSP system, really well ahead. The OSP abrasives are less likely to clog, so you can use them longer and you end up with a better finish."
Milton Martin Toyota, USA
Mirka's Dust-Free Solutions
Ronnie Thomas, Collision Center Manager, at Milton Martin Toyota told us about how switching to Mirka's dust-free sanding solution saves them both time and money.
"We were changing air filters weekly, now we're changing air filters monthly."