Automotive Post Paint Polishing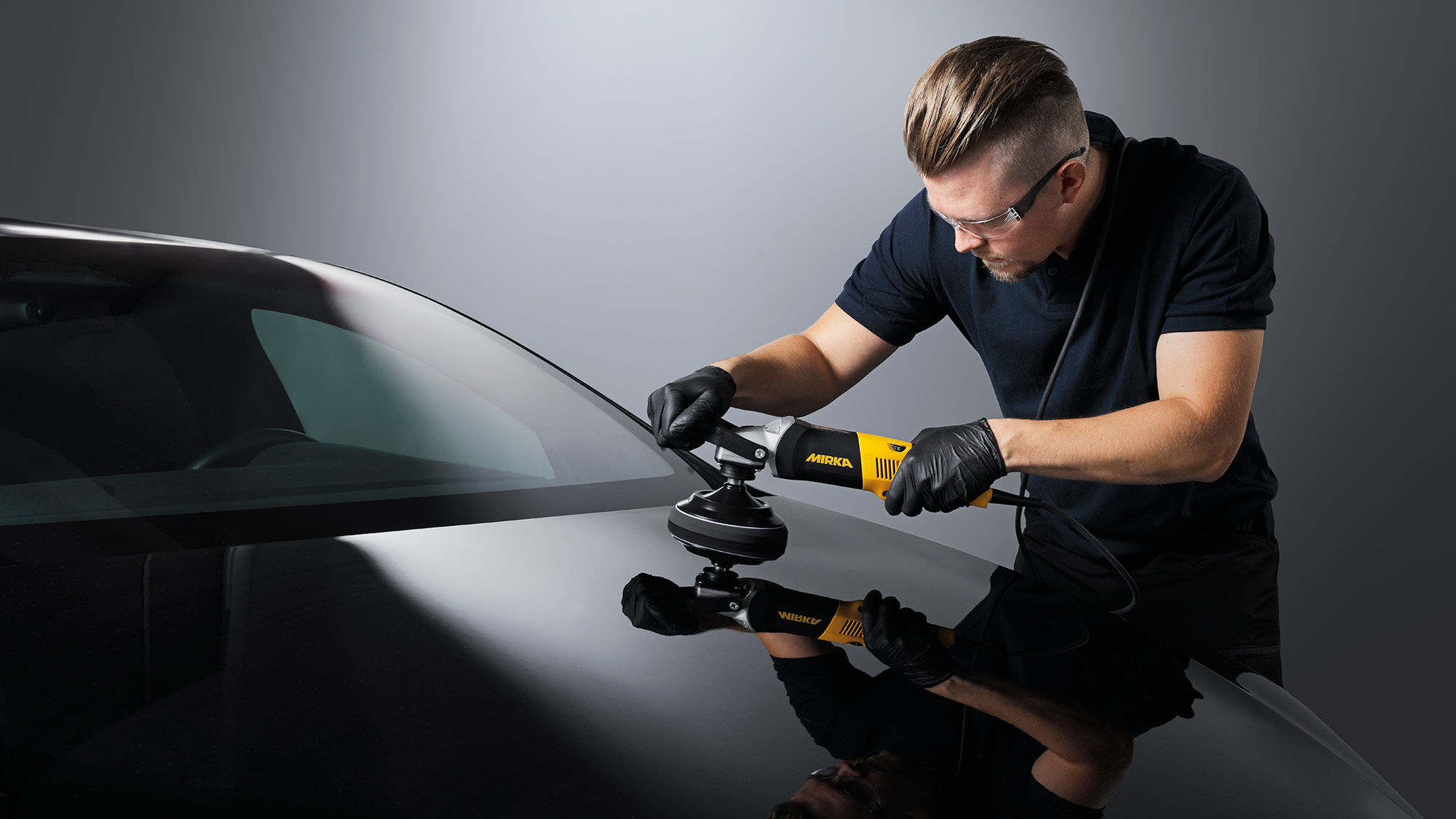 Post Paint Polishing with Mirka Solutions
When removing orange peel, scratches and other imperfections requires a damp sanding and polishing process, Mirka abrasives, tools and compounds have an especially good chance to shine. With Mirka's fine grit abrasives, ergonomic tools, supplies and water-based polishes, automotive paint can reach a flawless condition using simple and easy processes.
Easy Polishing Process
Simplified processes with high-quality supplies and environmentally friendly polishes make post paint polishing easy and problem-free.
Mirka Polarshine compounds are water-based and free from solvents.
Post Paint Process with Mirka Galaxy
1/5 - Step 1
Post Paint Process with Mirka® Galaxy
The finer grits of the new Mirka Galaxy work especially well in rectifying imperfections in automotive refinishing. In a post-paint process, working together with fine Mirka Abralon grits and Mirka Polarshine compounds, you can go for a true high-quality finish.
Watch this instructional video for a post-paint process or check it step by step.
2/5 - Step 2
Clear Coat Sanding
Fit an interface onto the sander backing pad.

Start sanding the clearcoat with Galaxy 1500 grit. Keep speed at 7000 rpm.
3/5 - Step 3
Sand the surface structure
Sand the surface structure to a required level. Wipe the surface clean.
4/5 - Step 4
Damp Sanding with Mirka® Abralon
Move to damp sanding the surface with Mirka Abralon.

Use Abralon® J3 in 3000 grit. Spray water on both the abrasive and the surface. Sand at 7000rpm. Wipe the surface clean when you are done.

Note: Remember to turn off the dust extractor when damp sanding.
5/5 - Step 5
Polishing
Use a Mirka ARP-B 300NV or Mirka AROP-B 312NV for the polishing stage.
Apply Polarshine® 20 on a Mirka Golden Finish Pad 1. Polish at 1500rpm.
Then, apply Polarshine® 5 on a Golden Finish Pad 2 for a finer polish.

Finally, wipe the surface with a microfiber cloth to remove remains of compound.
Process steps
Post Paint Process with Golden Finish
Our Golden Finish system is an easy and clear post-paint solution, which is easy to follow due to the colour-coded compounds and pads.
Mirka's Golden Finish is simply a one-step system for light colours and a two-step system on dark colours.
A better choice for you and the environment
Water-Based Polishes
All polishes that Mirka produces are water-based and produced in Finland. There are many benefits of choosing a water-based polishing compound.
Effective permanent removal of scratches - Water-based compounds remove scratches permanently. Solvent-based compounds can lose gloss after cleaning the surface with a degreaser and in some cases, they may only temporarily hide the scratches.
Safer for the operator - No hazardous chemicals
Sustainable - Water-based polishes are better for the environment and do not contain benzene or similar hazardous chemicals.
Do you want to know more?
Contact Us
Please get in touch and our expert support team will answer your questions.
You Might Be Interested In