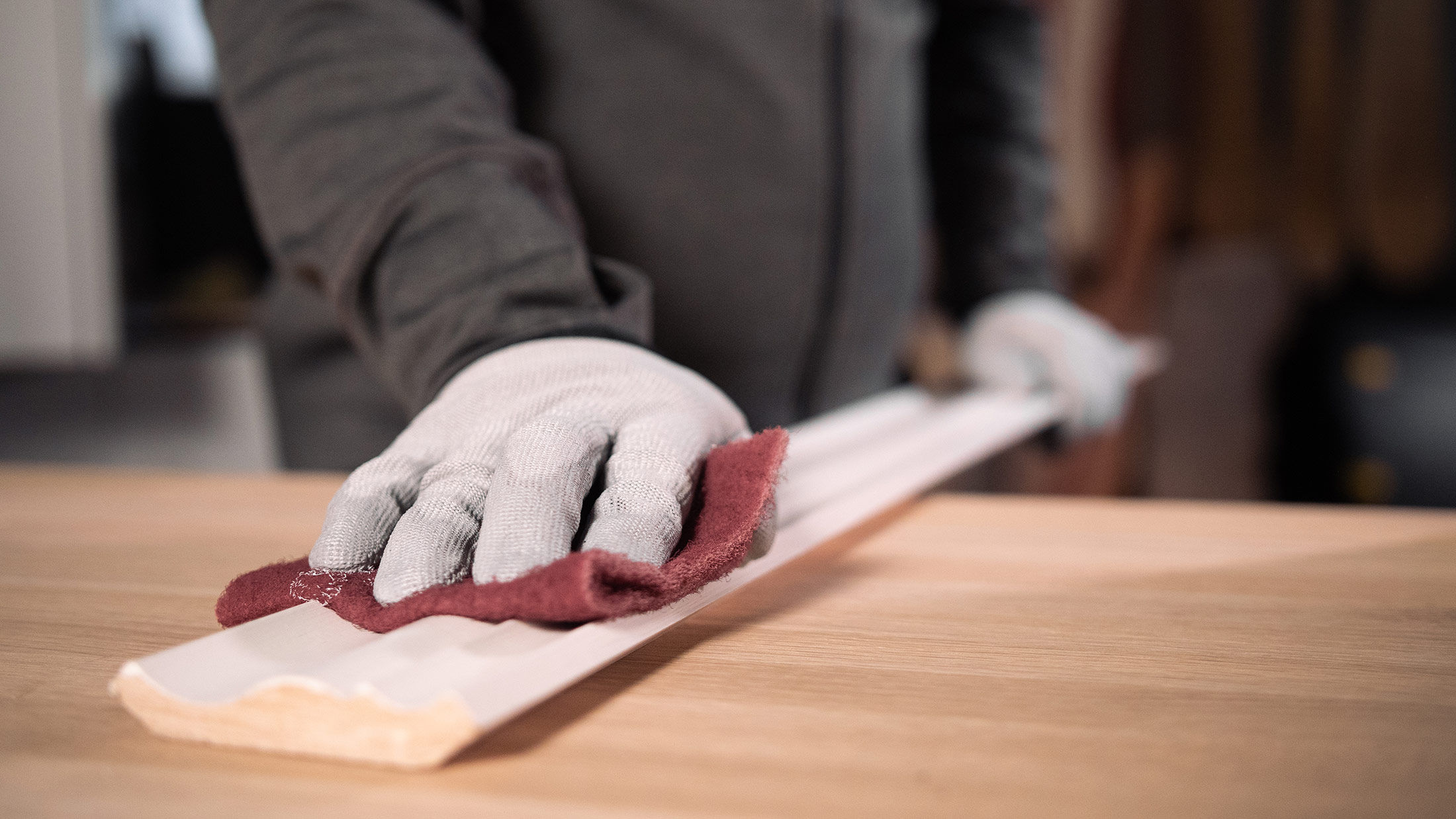 How to Sand Profiles and Contours Faster
Sanding profiles, corners, and curved surfaces may be tricky, but with Mirka's abrasives you can:
Reach every corner
Achieve a flawless finish
Sand efficiently
Complete work in less time
Sanding complex parts can be done more efficiently and effortless by choosing Mirka abrasives. When sanding profiles, corners, and curved surfaces, for example, ceiling mouldings, door mouldings and floor mouldings, we recommend using either Goldflex Soft or Mirlon Total®, depending on the type of surface and depth of contours you are going to sand. All concave, convex or the most complex shapes take shape with ease.
Using Mirka's abrasives
Simple Steps to Perform a Better Profile Sanding Finish
1/2 - Step 1
Start sanding
Start hand sanding with either Goldflex Soft P150-P320 grit or Mirlon® Total VF 360 strips to remove imperfections in the surface. The worse the surface, the coarser the abrasive grit starting point must be. If the surface is in better shape, we recommend you start with a finer grit.
If you are unsure which abrasive to choose, compare the abrasives listed on this page.
2/2 - Step 2
Apply pressure
Apply pressure into the profiles:


Press Mirlon Total VF 360 into the profiles until you have reached the desired result.
If you choose Goldflex Soft you can start sand with P150, continue applying the base coat and intermediate sand with P320.
If you are using a coarser grit than 240, we recommend you to apply base coating and sand between the steps.
Process steps
Hand sanding to reach every corner
We Offer Options for Every Surface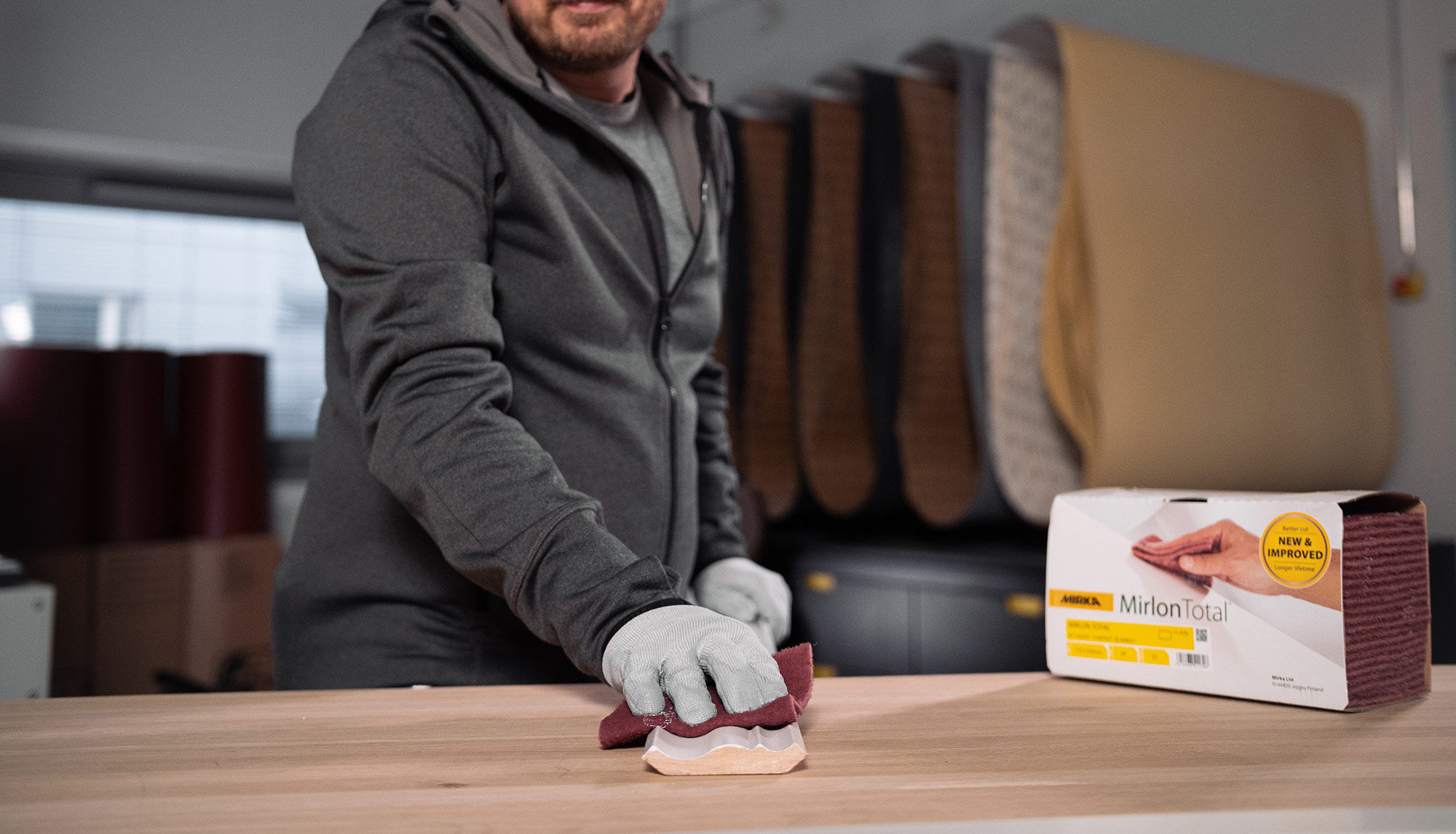 Mirlon Total®
Mirlon Total® is a Total Coating™ Technology fibre abrasive that is easy to use on profiled surfaces and produces an excellent finish, thanks to its special structure. It produces a dense scratch pattern and features an open and flexible structure. It has strengthened fibres which make it strong and long-lasting. Mirlon Total is ideal for matting of surfaces and creates an excellent base for the next lacquer layer.
We recommend using Mirlon Total for intermediate sanding of painted surfaces since it is more flexible and compliant. The more profiles, the greater benefit you will have by using Mirlon Total. The most coarse grit available in 360 grit.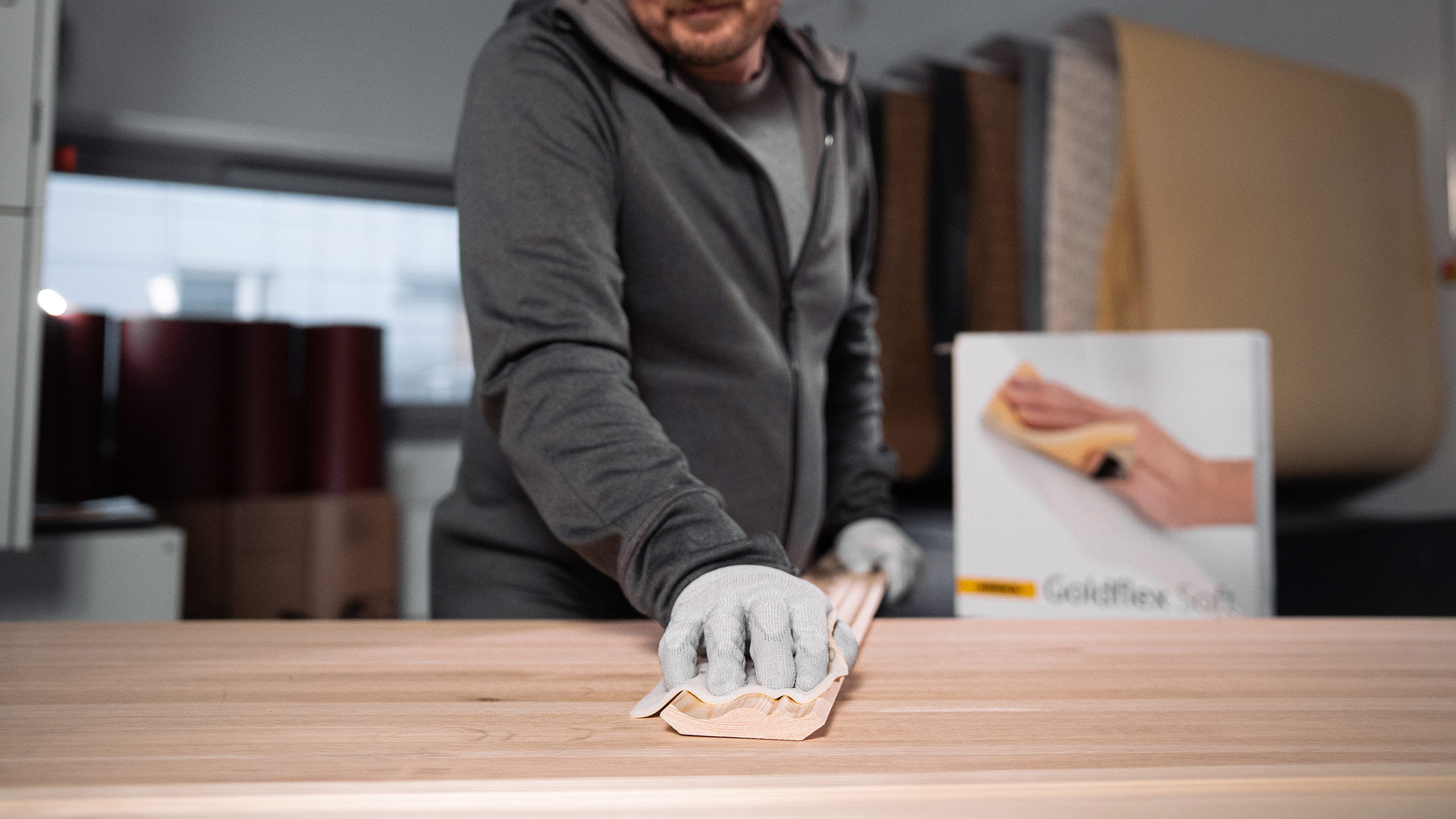 Goldflex Soft
The soft and flexible Goldflex Soft has been developed for sanding profiled surfaces and irregular, difficult-to-reach details by hand. The foam base is grip friendly and applies pressure evenly, which reduces the risk of sanding through the surface. The special stearate coating prevents clogging.
Goldflex Soft offers a wider grit range compared to Mirlon Total. It can be used for intermediate sanding of painted surfaces when using finer grits than P240. More coarse grits than P180 can be used, if you want to remove paint, larger irregularities, and putty. Goldflex Soft has a flattening effect, which means that it removes surface unevenness better and more efficiently.
Mirka Abrasives for the Perfect Profile Sanding Finish
Do you want to know more?
Contact Us
Please get in touch and our expert support team will answer your questions.
Why Choose Mirka?
Save time and money – You can cut costs and reduce working hours
Why Choose Mirka?
Sand and polish safely without strain – Our tools and abrasives are ergonomic, efficient, and easy to use
Why Choose Mirka?
Improve the quality of work – The finish is excellent, with less effort
Salvi Harps, Italy
Mirka's Dust-Free Solutions
True dedication is something that is hard to define as it means different things for different people. For Enzo Vizzone of Salvi Harps, it means creating uniquely finished instruments and helping the beautiful harp music travel around the world.
"For us, the finishing process is the most important one."
You Might Be Interested In