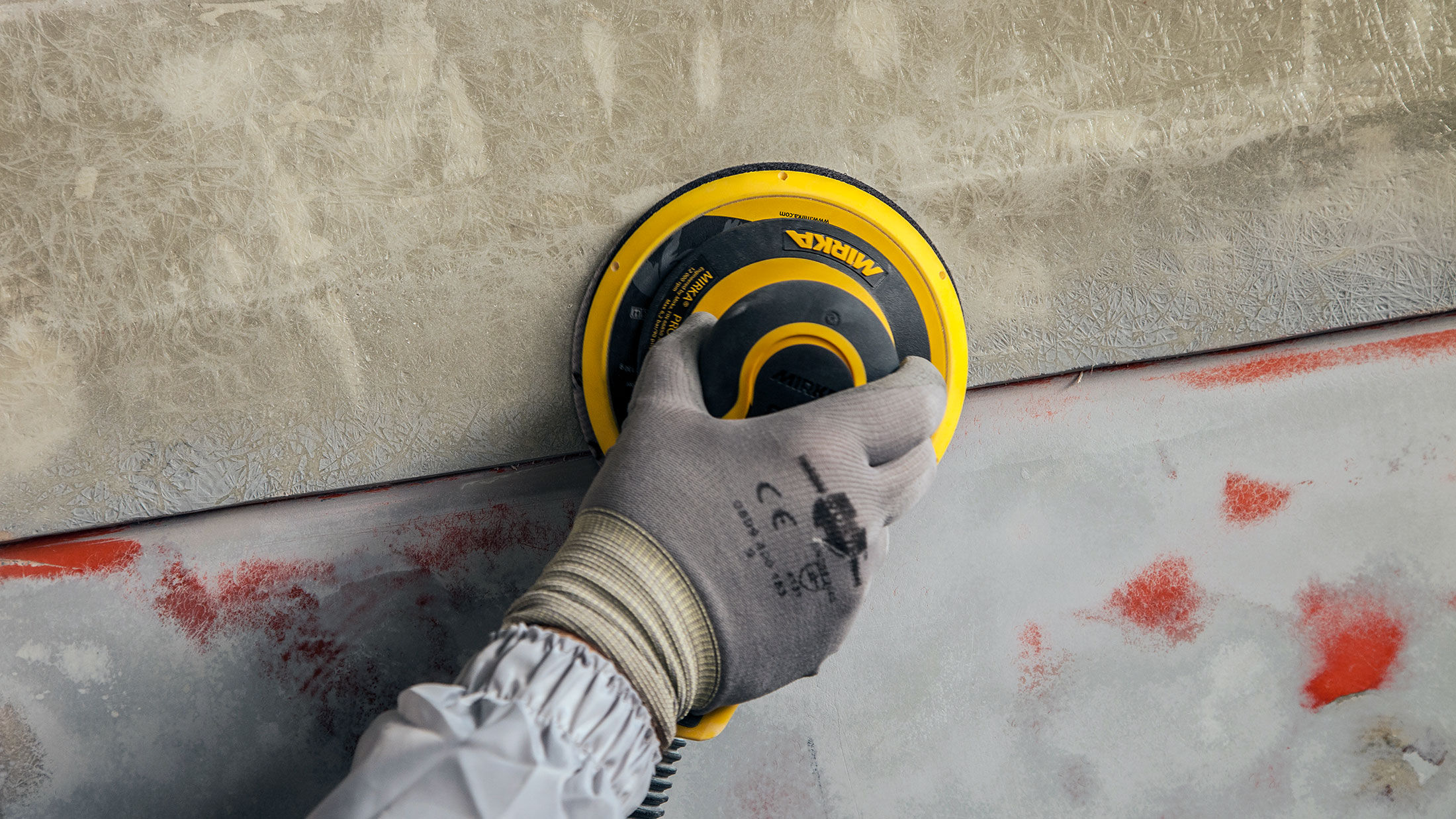 Solutions for Composites
Grinding, sanding and polishing composite materials
Mirka's dust-free sanding and polishing solutions maximise efficiency, minimise costs and deliver first-class results, for even the most demanding applications.
Composite Surfaces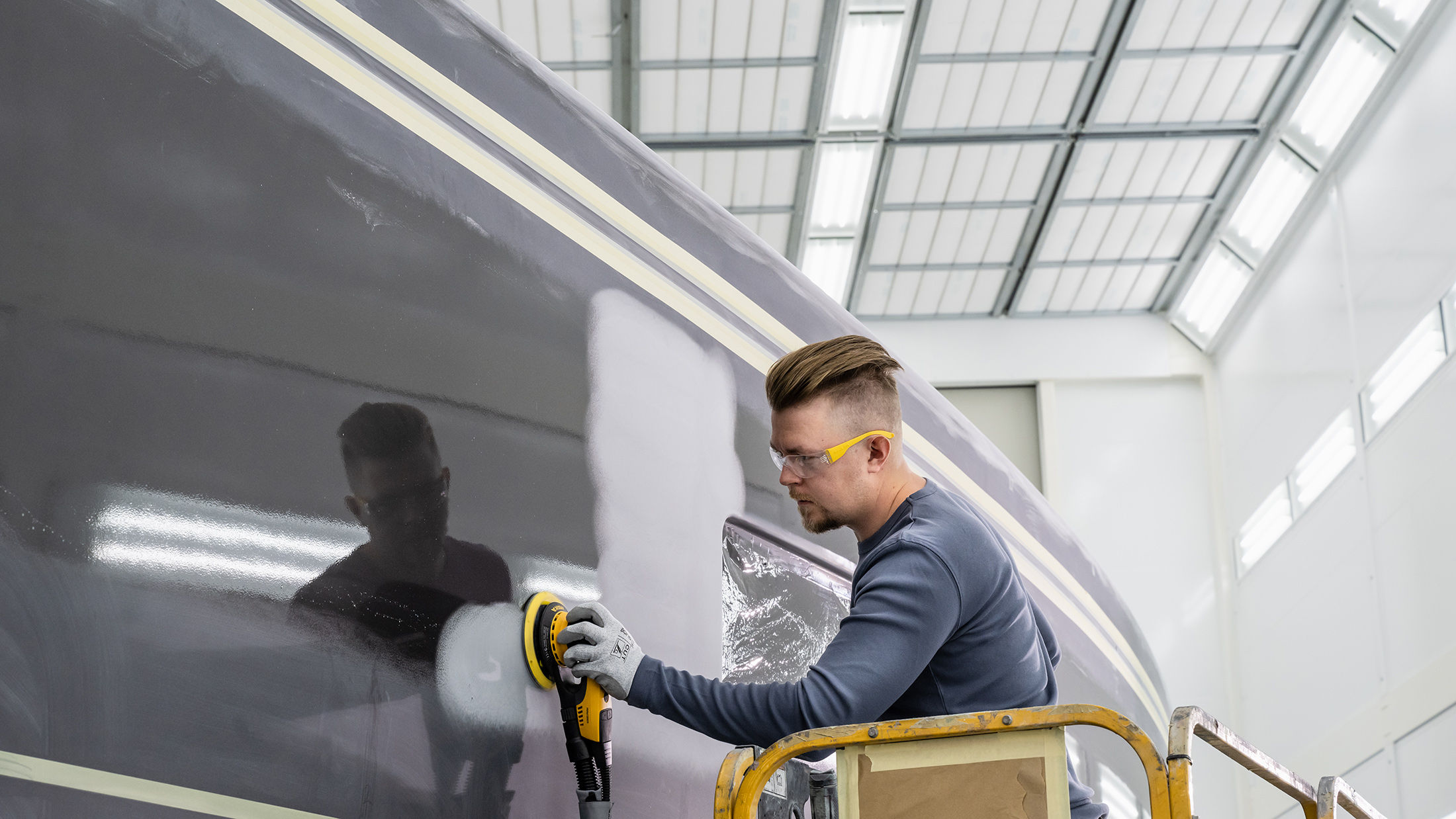 From grinding glass fibre reinforced polyester to polishing composite to a high-gloss finish, Mirka has class-leading abrasives, tools and solutions for manufacturers working with composites. Composite surfaces are often large and ergonomic power tool design plays a significant role in making sanding work efficient and effective.
Grinding and sanding composites without personal protective equipment or a dust extraction system can pose a significant risk for occupational diseases to develop. Using Mirka's proven dust-free technology makes workplaces safer and working more enjoyable - not to mention reaching the best possible finishing quality.
Sanders for Sanding Composite Surfaces
Composite innovation in various sectors
Committed to Understanding Our Customers
Mirka collaborates closely with companies to help them address and overcome their manufacturing challenges. Therefore, innovation and the requirement to keep costs down consistently lie at the heart of our R&D and production.
Gaining valuable insight from the field has resulted in significant investment in the design of a comprehensive range of power tools that work effectively when combined with Mirka abrasives to meet the requirements of end users in a variety of sectors, including automotive production, aerospace, energy, marine, recreational vehicles, architectural and interior design.
With our R&D engineers as well as laboratory and production equipment under the same roof, Mirka can work at a fast pace to bring customer solutions to market quickly and efficiently.
Abrasives for Sanding Composite Surfaces
Solid Surface Polishing and Sanding
The introduction of solid surface materials integrated into many interior design applications such as kitchens, bathrooms, furniture and public spaces has raised the standard required for high-quality surface finishing. Mirka's customer-focused approach has led to the development of many solutions to meet this need, including the Mirka® DEROS sander in combination with Abranet abrasives and suitable extraction to deliver a dust-free sanding experience.
For small areas, the Mirka AOS-B has been developed to reach hard to access areas and tight spaces, achieving a smooth surface finish when combined with Mirka Abranet and Abralon abrasives.
Polishing Composite Surfaces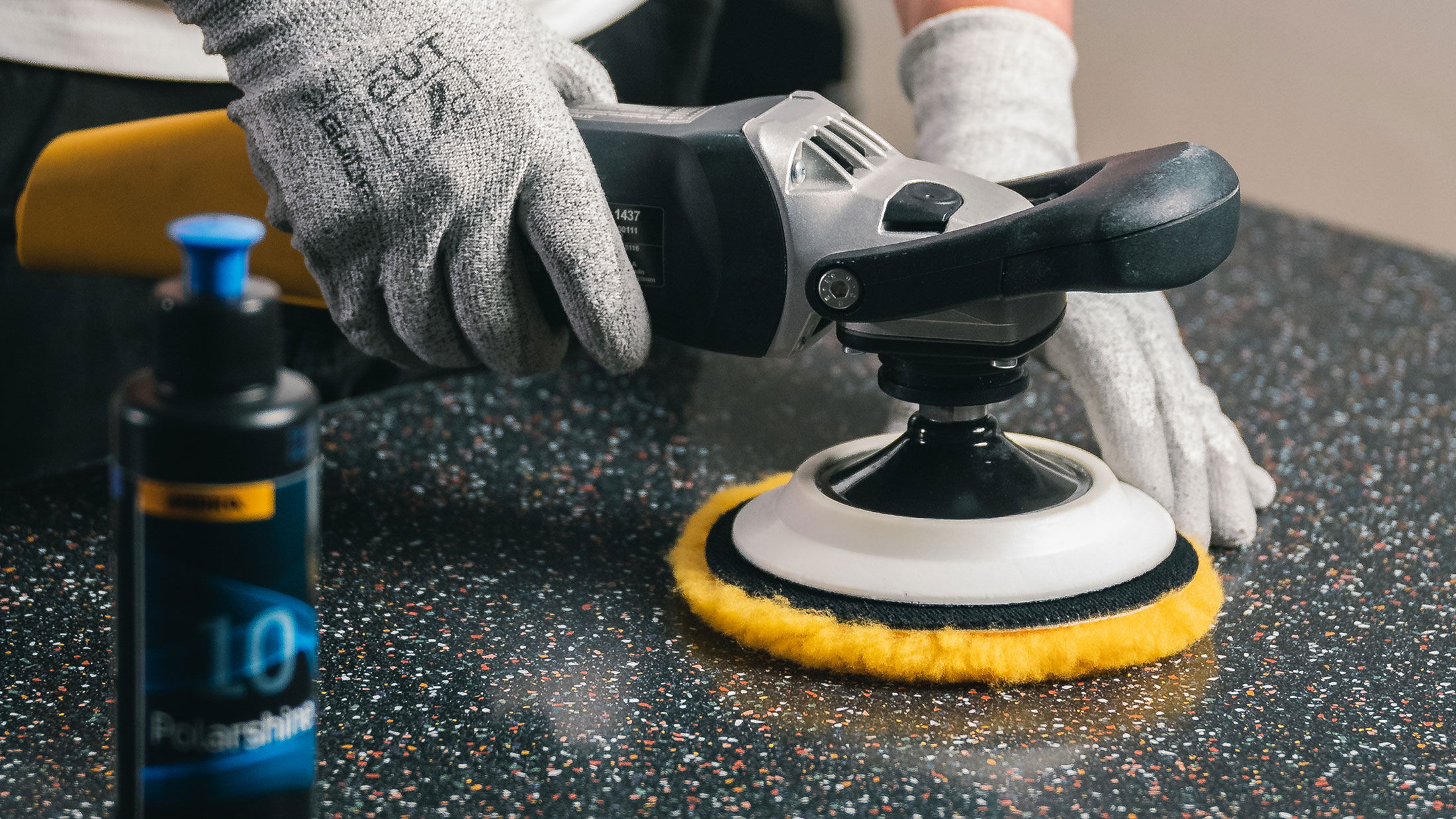 When a composite surface has been sanded completely smooth using Mirka abrasives and tools, it is time for Mirka's polishing know-how to enter the stage.

Mirka offers different polishers for small or large composite surfaces, for manufacturing or restoration, for marine, transport, or solid surface applications, designed for complete control of the surface and the desired shine. To go together with the ergonomic polishing tools, there are suitable consumables such as polishing pads and other supplies, as well as efficient water-based polishing compounds.
Polishing Carbon Fibre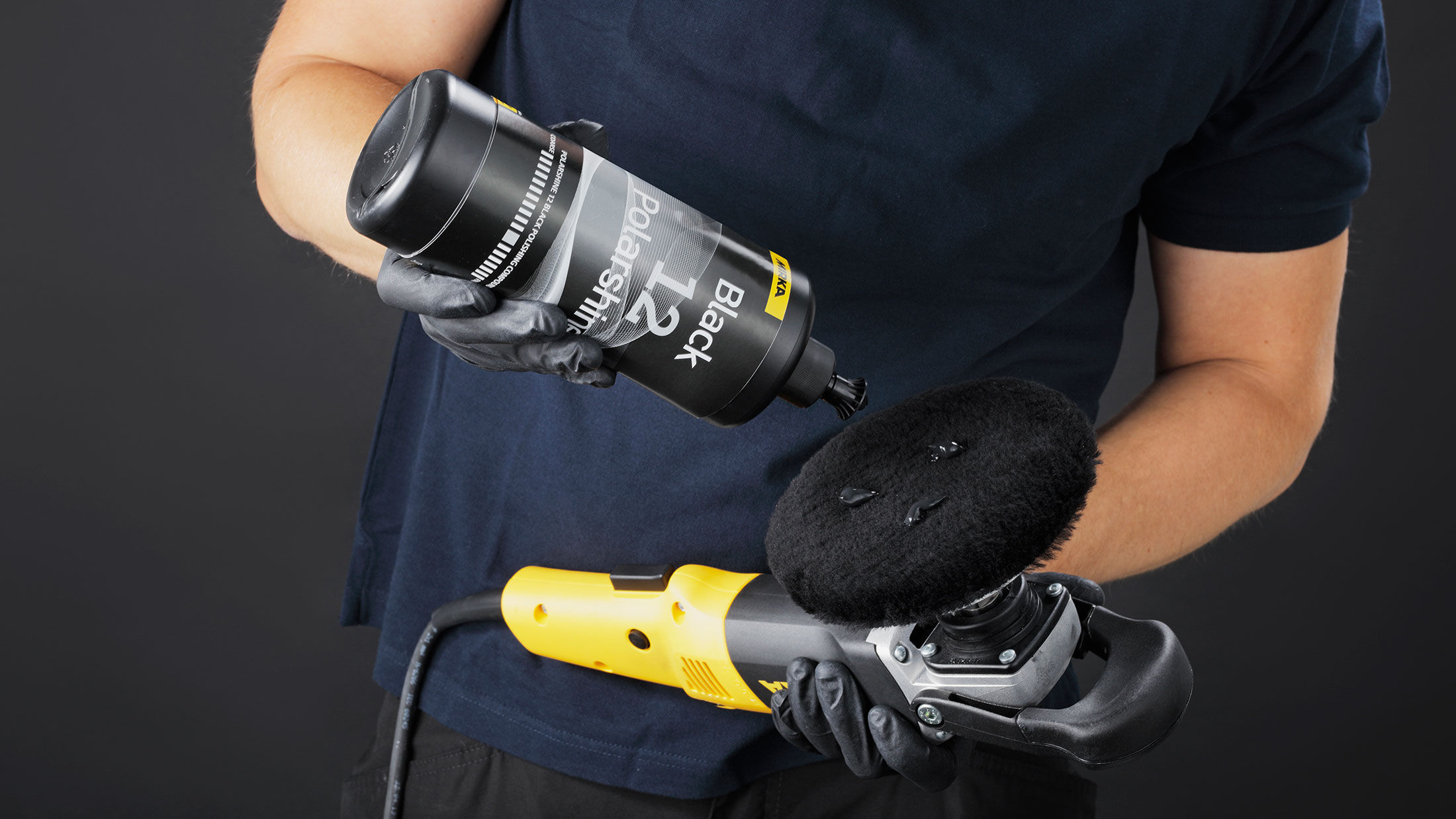 In marine production as well as high-end vehicle production, exposed carbon fibre and composite play a both functional and aesthetic role.
For polishing dark composite surfaces including carbon fibre, Mirka has developed a special Polarshine 12 Black polishing compound to avoid any milkiness on the surface associated with using light coloured polishing compounds. A deep and dark, lasting gloss can be reached quickly using Mirka's compound know-how with polishing carbon fibre and composite.
Polishing Compounds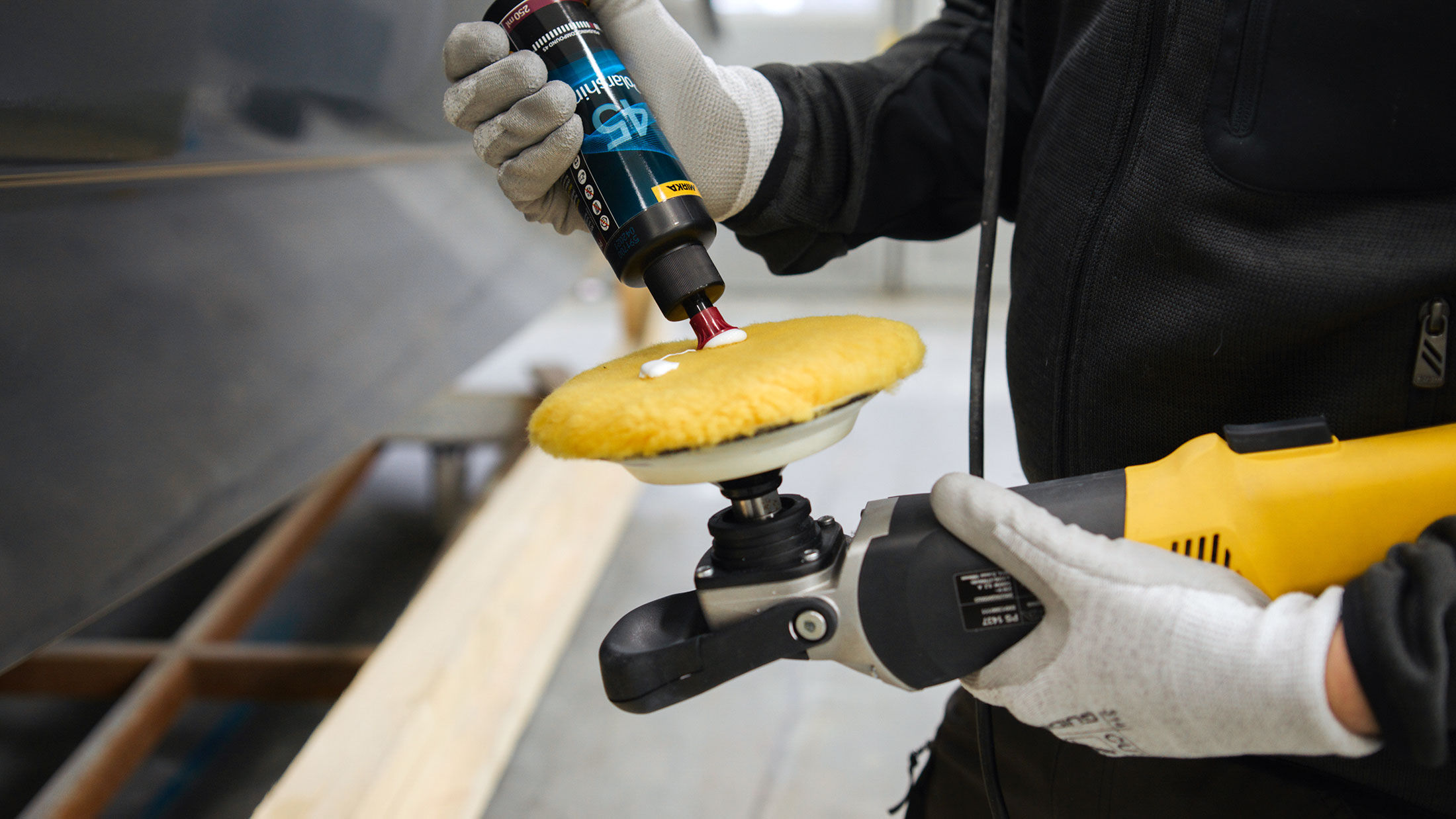 In a relatively short time, Mirka's highly effective polishing product line, Polarshine®, has become the clear choice for performance conscious users. Although it was originally developed for demanding polishing operations in the automotive OEM and aftermarket sectors, it performs just as well in the marine and composite industries or any application where a high gloss end result is important.
To achieve the ultimate high-perfection finish required for multiple surface applications, Mirka's Polarshine range of polishing compounds is optimised to deliver superior results every time.
A better choice for you and the environment
Water-Based Polishes
All polishes that Mirka produces are water-based and produced in Finland. There are many benefits of choosing a water-based polishing compound.
Effective permanent removal of scratches - Water-based compounds remove scratches permanently. Solvent-based compounds can lose gloss after cleaning the surface with a degreaser and in some cases, they may only temporarily hide the scratches.
Safer for the operator - No hazardous chemicals
Sustainable - Water-based polishes are better for the environment and do not contain benzene or similar hazardous chemicals.
Composite Sanding and Polishing Applications
Do you want to know more?
Contact Us
Please get in touch and our expert support team will answer your questions.