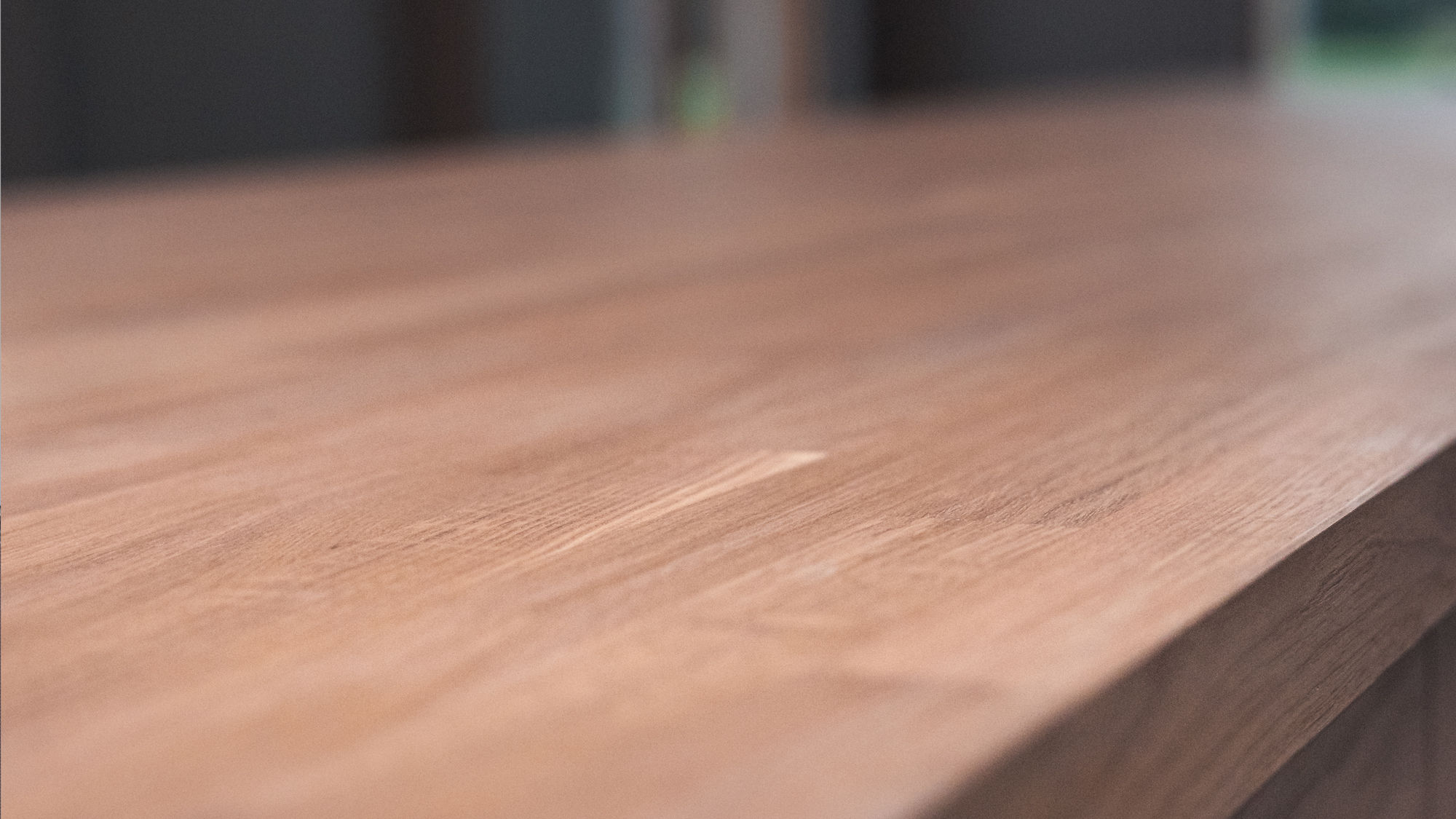 Wood
Increase efficiency for manufacturing windows, doors, and furniture
We know the challenges you meet every day and we have the solutions to give you the best results, dust-free. Mirka's products are used by leading furniture producers and are recommended by global paint companies.
Rapid & Effective Wood Sanding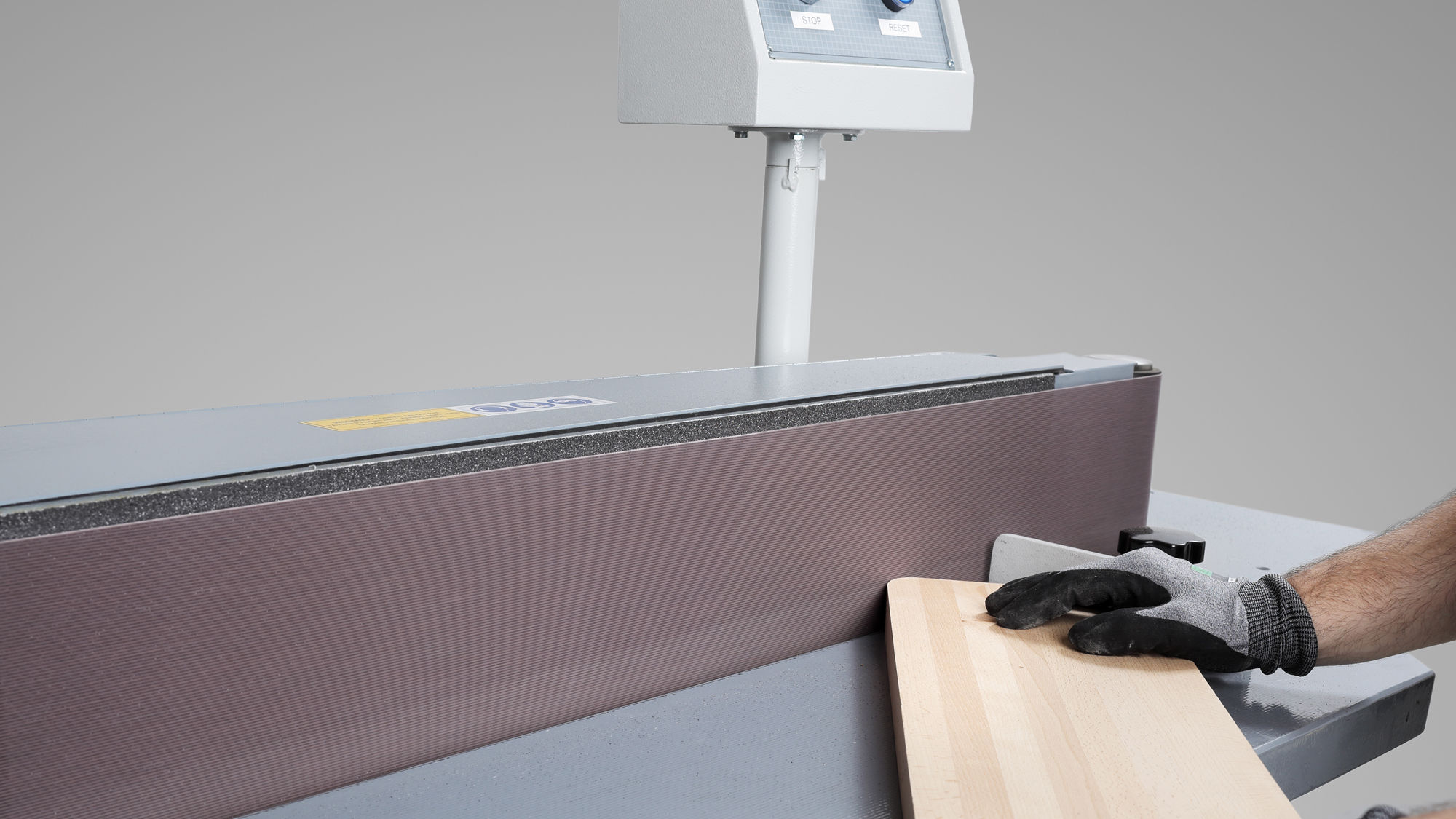 When you choose Mirka's unique sanding solutions, you know that you can count on us. We are not just offering the best technical solution for your manufacturing application - we also bring our expertise to the table. Along with our next-level technology sanding products, we strive to improve every part of your sanding and polishing application, in a sustainable way. This will increase productivity and profitability. At the same time, we can help you worry less because you can be sure you are getting the best products and solutions available.
Use a Mirka solution for fast and efficient sanding and our polishing solutions for a smooth finish.
Mirka® AIOS
New Automated Sanding Solution for Sanding Corners on Wood
Automate your sanding process and reach corners with the new Mirka® AIOS 353CV robotic sander. The new rectangular sander is especially engineered for woodwork, providing robotic precision for increased productivity and quality - dust free. The Mirka AIOS 353CV is one of the newest additions to the Mirka automation product range.

We also provide automated robotic polishing solutions for an excellent finish.
Manufacturing industry
Solutions for All Surfaces
Let's face it, we are all searching for the best way to boost productivity. Improving efficiency is all about working smarter, not harder. Improving work efficiency and reducing the risk of costly errors is possible, by choosing the right type of equipment for sanding and polishing all kinds of surfaces. Choosing a Mirka solution is the key, we provide solutions for:
Wood
Composite
DuPont Corian® and other Solid Surfaces
Efficient, Easy-to-Use and Ergonomic Tools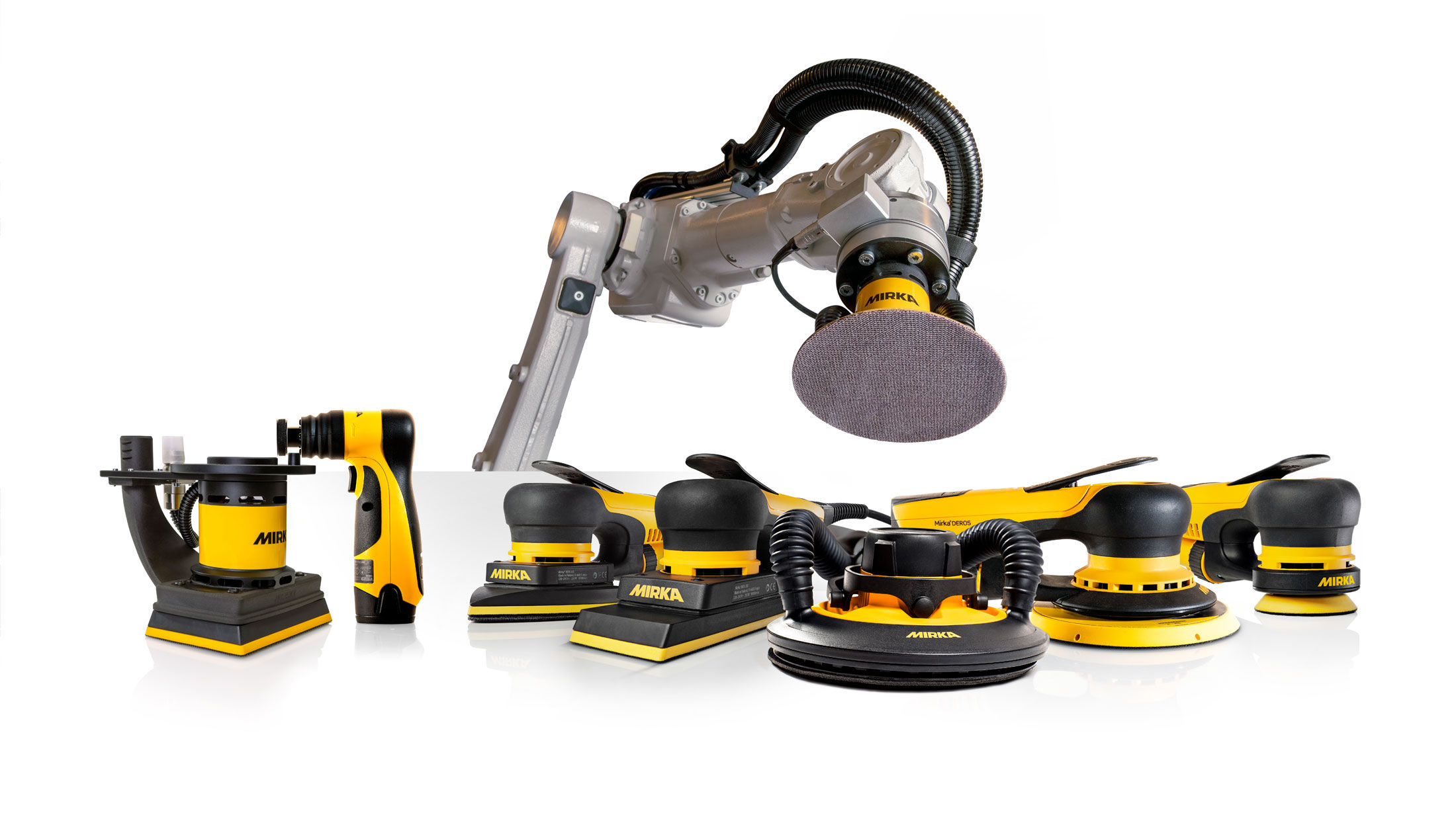 Are you looking for a sander that is effective, yet light and user-friendly? With Mirka's power tools and dust-free sanding solutions, you can improve your work process and save both time and money.
With our power tools, you get
Better ergonomics
Consistent surface quality
Easy-to-use tools
Faster results
Less vibrations and noise
A dust-free and a cleaner working environment


For faster wood sanding
Mirka® Galaxy: New High Technology Abrasive
Mirka Galaxy is a new kind of high technology abrasive. It combines effectiveness with long use life, thanks to a new kind of self-sharpening ceramic grain, a clogging resistant coating and the new Multifit™ hole configuration.
Every aspect of the Mirka Galaxy serves together to turn it into a real multi-purpose abrasive. It is suitable for sanding both soft and hard materials as well as various substrates, thanks to its excellent clogging resistance and dust repellence.


See more videos how you can improve your sanding process with Mirka® Galaxy
Tailored for wood sanding applications
Mirka Ultimax® Ligno: All-New Abrasive for Wood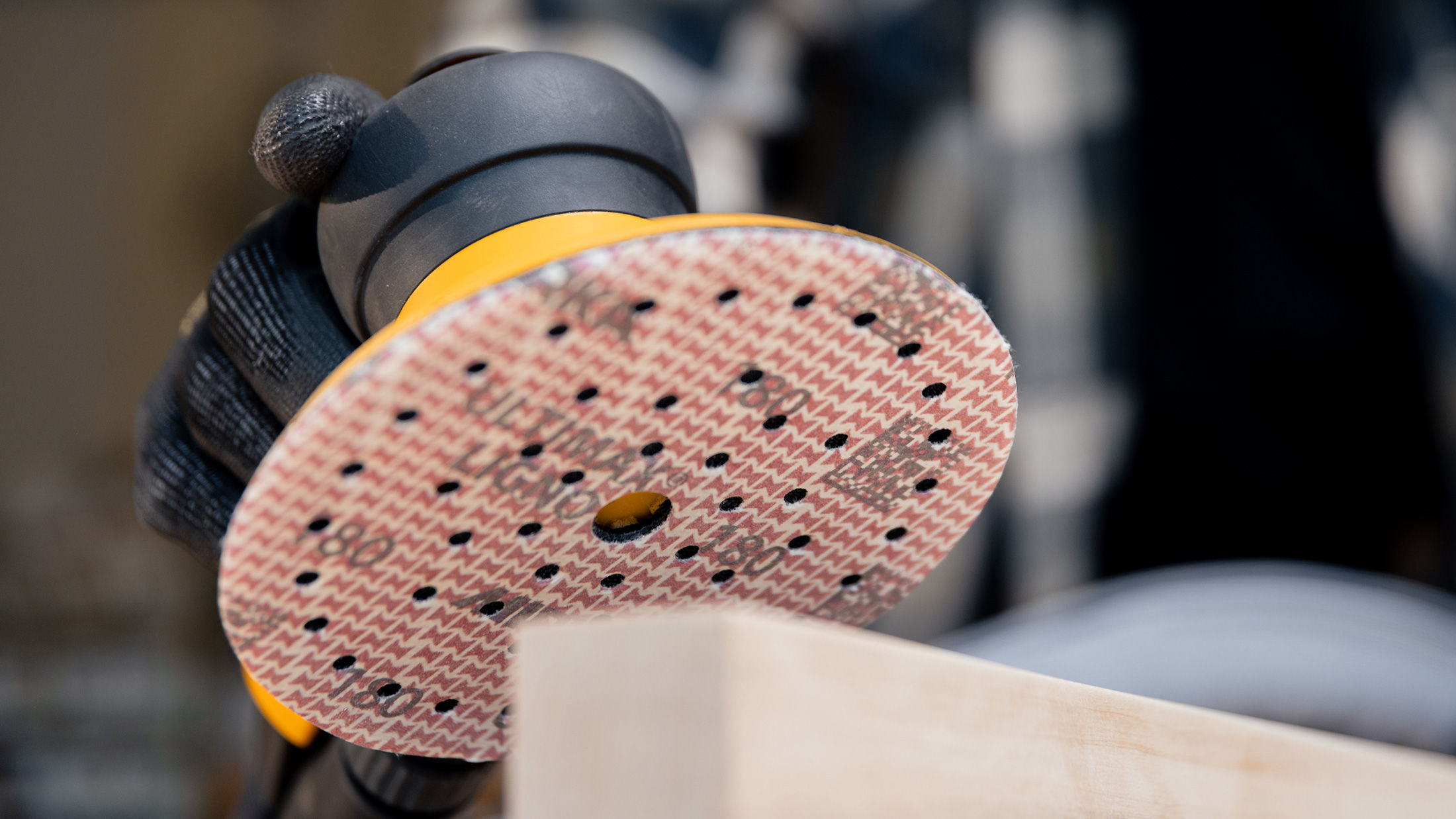 The recognizable grain pattern of the Mirka Ultimax Ligno ensures optimal cutting performance with consistent results. The segmented surface increases sanding pressure on each abrasive grain, while directing dust in the channels created in between. Its resistance to clogging prevents swirl marks in the working surface.
In addition, each segment has four sharp corners and two angled surfaces, constantly creating additional cutting edges during sanding. This gives the Ultimax Ligno a consistent fast cut and great sanding results, ready for the next step.
Wood sanding without dust
Save Time and Money With a Dust-Free Solution
Exposure to dust poses many hazards to the health and safety of millions of workers. Dust in the workplace can also contaminate or reduce the finishing quality of products and affect worksite productivity. But it's all preventable.
Try Mirka's pioneering sanding solutions and see how a dust-free working environment can boost your business.
Healthier workplace - Stop dust from getting into your lungs
Time-saving – No cleaning after sanding, clean abrasives cut better
Money-saving – Clogging resistance lets you sand longer with the same abrasive
High-quality finish - Thanks to a finer scratch pattern
Do you want to know more?
Contact Us
Please get in touch and our expert support team will answer your questions.
Salvi Harps, Italy
Mirka's Dust-Free Solutions
True dedication is something that is hard to define as it means different things for different people. For Enzo Vizzone of Salvi Harps, it means creating uniquely finished instruments and helping the beautiful harp music travel around the world.
"For us, the finishing process is the most important one."
Volkswagen, Germany
Mirka Automation for Robotic Sanding
With Mirka's state-of-the-art automated sanding solution, designers, engineers and product managers can be sure that their vision is fulfilled, and the end result reflects their high standards. Mirka manufactures robotic sanding heads that are designed by dedicated surface finishing professionals. They are easy to integrate, to suit the requirements of different manufacturing industries.
"Thanks to Mirka's Automation concept we can guarantee consistent quality and process optimisation. Mirka® AIROS is the only specially designed, most compact, lightweight sanding head available on the market that can cater to virtually all robotic systems."

Ardi Ilter, Business Sector Manager Wood, Mirka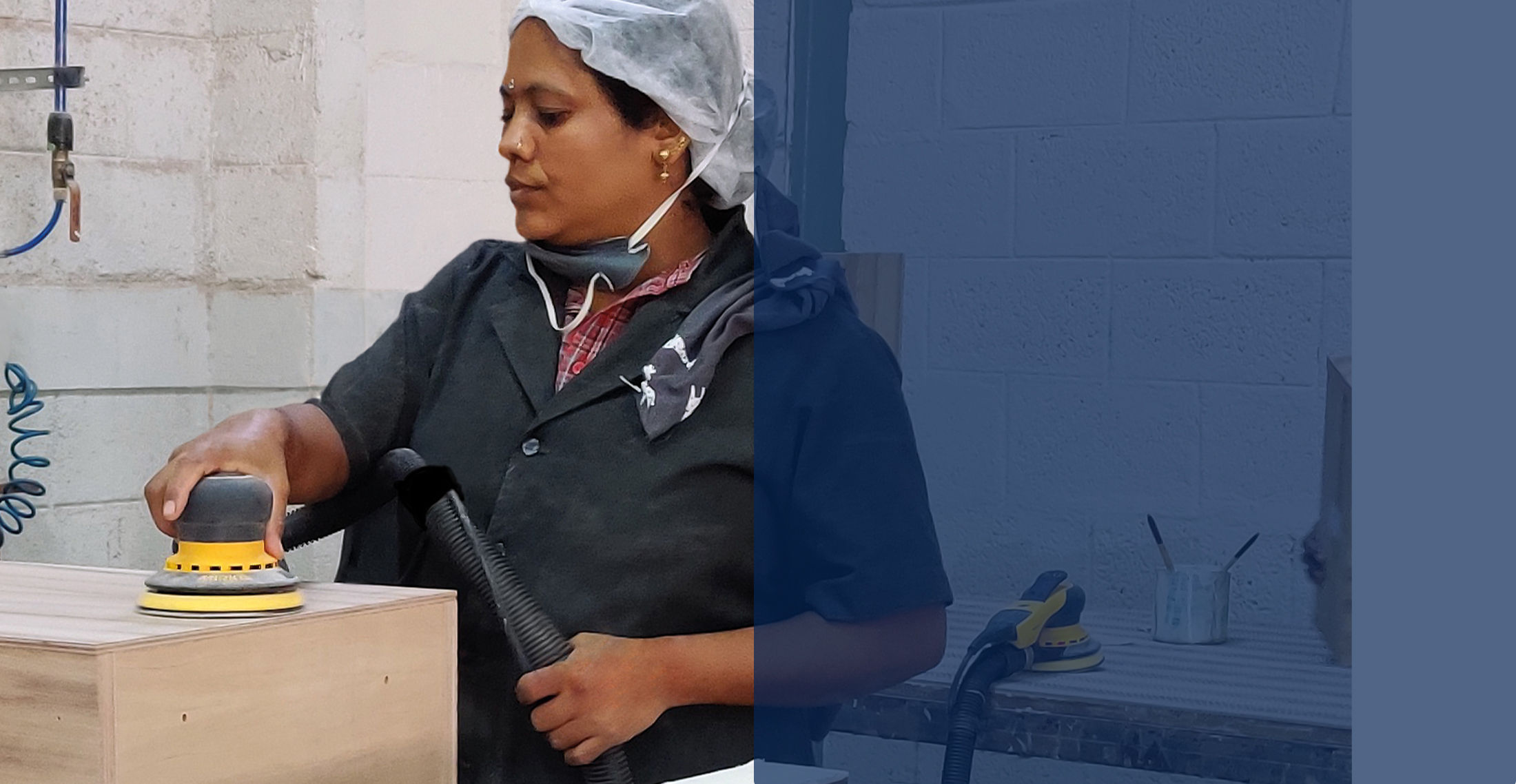 Productivity has improved significantly and workers have a better working environment.
MAS Furniture & Katerra, India
For you and the environment
Sustainable Mirka
For us, it has always been clear to not waste financial or material resources – our own or yours. It is equally clear to preserve the planet's resources. Sustainability, for us, means taking the economy, the earth, and people into consideration when we make business decisions.
We work hard to conserve energy and raw materials, reduce waste, increase recycling, and decrease the use of persistent chemicals. We are developing healthier, safer, and more efficient products and processes so that you will benefit. For example, our dust-free sanding systems help protect the lungs when sanding while giving a cleaner and better surface finish.
Responsibility
For Mirka corporate responsibility is at the very core of how we conduct business. As stated in our values, all parts of our operations are driven to be responsible, committed, innovative and respectful.
In practice, this means ensuring that what we do in terms of sustainability, occupational health and safety, compliance and legislation as well as management systems are an integral part of every department.