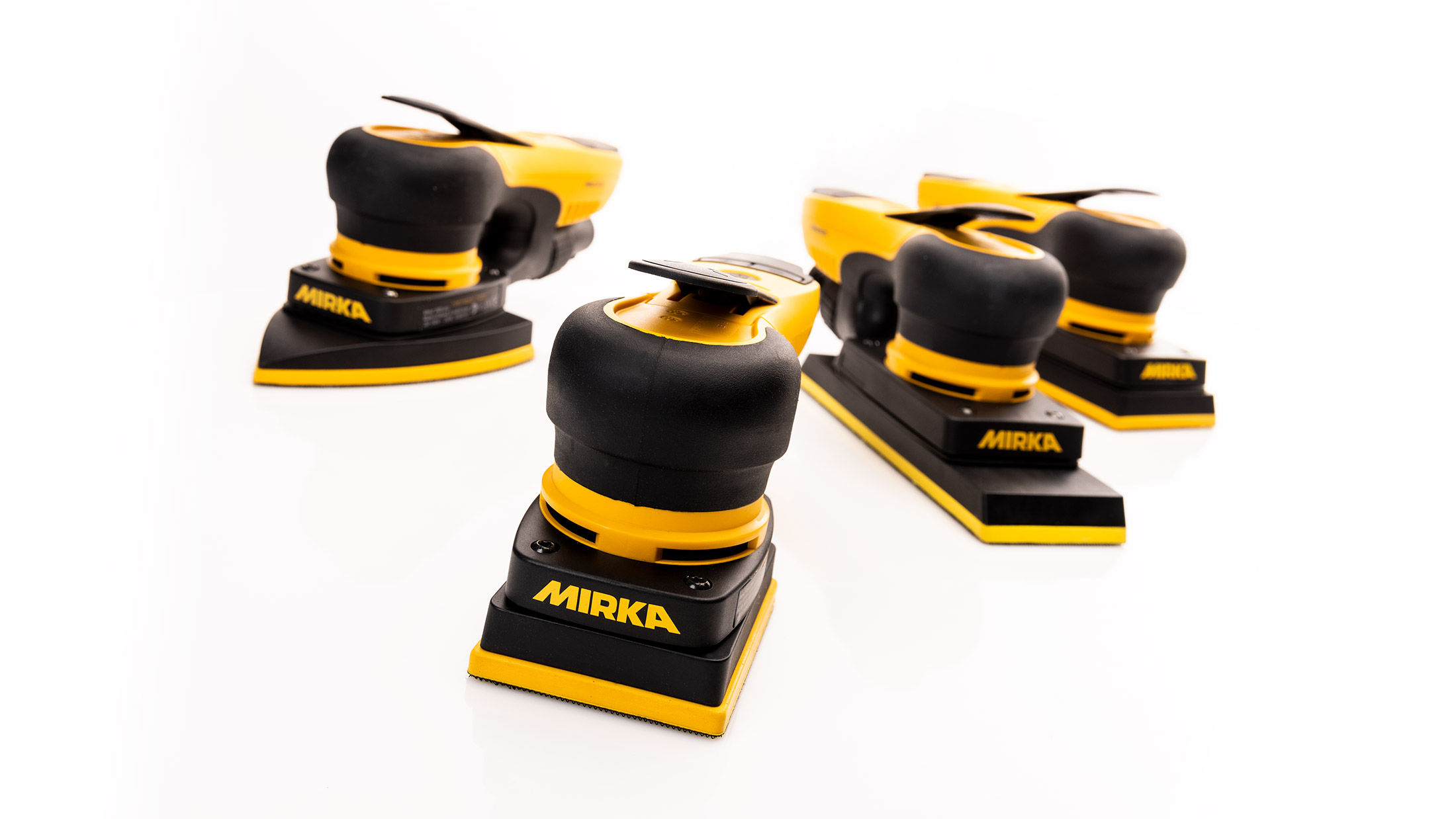 Mirka® DEOS - The Most Compact Electric Hand Sander
Closer. For Perfection.
Mirka DEOS, the electric orbital sander, integrates all the innovative features that have made Mirka DEROS so popular, and more. Available in 4 compact sizes, you can be sure to sand all profiles, corners and hard-to-reach areas with precision and ease.
An Electric Hand Sanding Tool for a Smooth Finish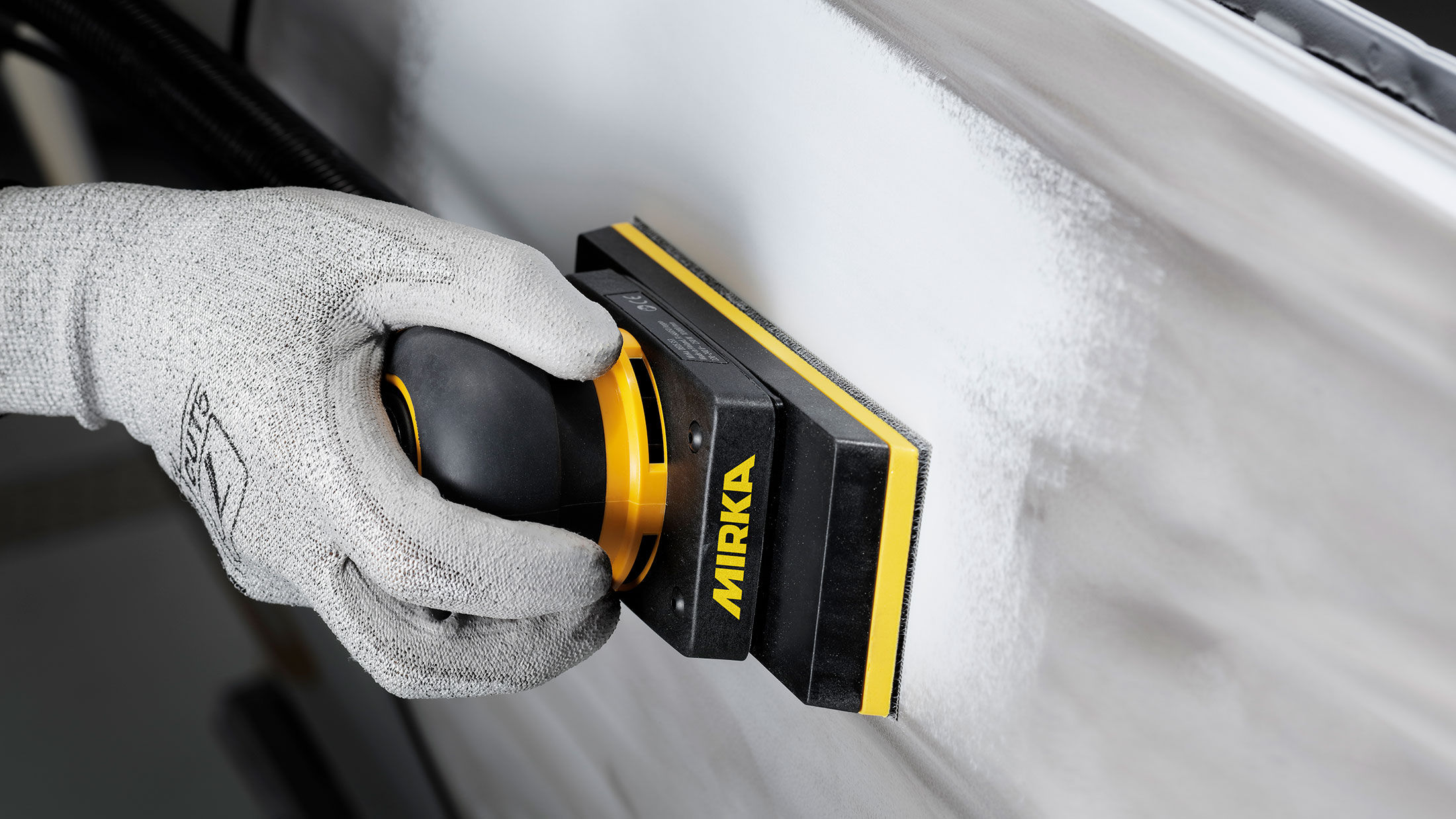 Whether you're using an electric sander for walls, wood, or sheet metal, our award-winning Mirka DEOS is easy to choose.
There's no other electric orbital sander that matches the power and finesse of the Mirka DEOS. Some of its innovative features include its high-efficiency brushless motor with plenty of sanding power, to get your job done quickly and safely. Choose the model that best suits your needs, whether you are working on automotive surfaces or sanding walls.
At only 10 cm high, the tool's compact and very low profile gives a high maneuverability and helps deliver a precise and efficient sanding performance. The difference an optimal size electric orbital hand sander tool has on your end product must be seen.
Many of our tools have been awarded for their next-level design and the Mirka DEOS is no exception, recommended for its excellent ergonomic design which ensures that the sander can be used comfortably for long periods without fatigue. The Mirka DEOS fits comfortably on your palm for an easy sanding experience throughout the process.
Which size to choose?
75 x 100mm, 70 x 198mm, 81 x 133mm or Delta 100 x 152 x 152mm
The Mirka DEOS electric orbital sander is compact and very light. The machine is available in four dimensions: the Mirka DEOS 383CV, 70 x 198mm, is designed mainly for car body repair. It is perfect for body filler dressing.
The Mirka DEOS 353CV, 81 x 133mm and Mirka DEOS 663CV, Delta, 100 x 152 x 152mm, are mainly for use in woodworking and decorative painting. They are perfect for doors and windows but also for corners, edges, hard-to-reach work surfaces, tight spaces.
The latest introduction to the Mirka DEOS range is the new DEOS 343CV compact electric sander, with a 75x100mm pad. It is designed for sanding windows, doors and frames.
A Hand-held Electric Sander is Easy to Use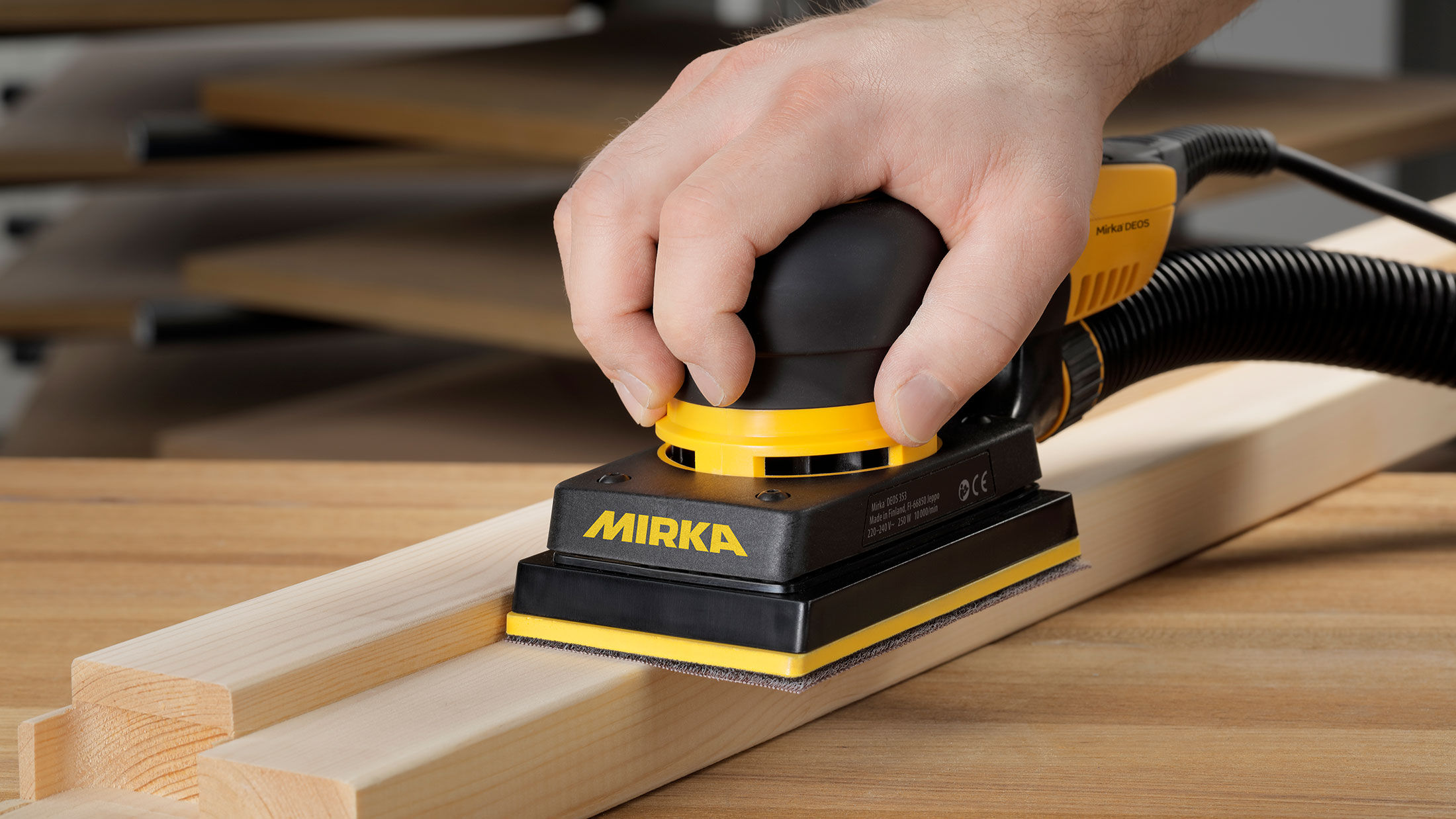 The question you should be asking isn't "How to use an electric sander", but rather "What type of electric sander should I buy".
Our Mirka DEOS is as simple and efficient as they come; no learning curve is required, as you can get on the job right away. The DEOS is a compact, brushless electric sander that provides the efficiency of pneumatic sanders but without the costs and size of the pneumatic system.
The Mirka DEOS is also designed with the user's health in mind. We are aware of the harmful vibrations generated when working with electric sanders and the toll they can have on your hands. We have developed a special app to respond to the growing importance of health and safety in the workplace and specifically to help workers avoid harmful vibrations and to spread awareness of workplace safety.
Mirka DEOS is equipped with Bluetooth® low energy technology to provide immediate calibration and smooth handling. We're focused on making the job as easy as it can be, with less stress and better results.


The Bluetooth® word mark and logos are registered trademarks owned by Bluetooth SIG, Inc., and any use of such marks by Mirka Ltd is under license. Other trademarks and trade names are those of their respective owners.
Mirka Gives You a Finishing Quality Like No-One Else Can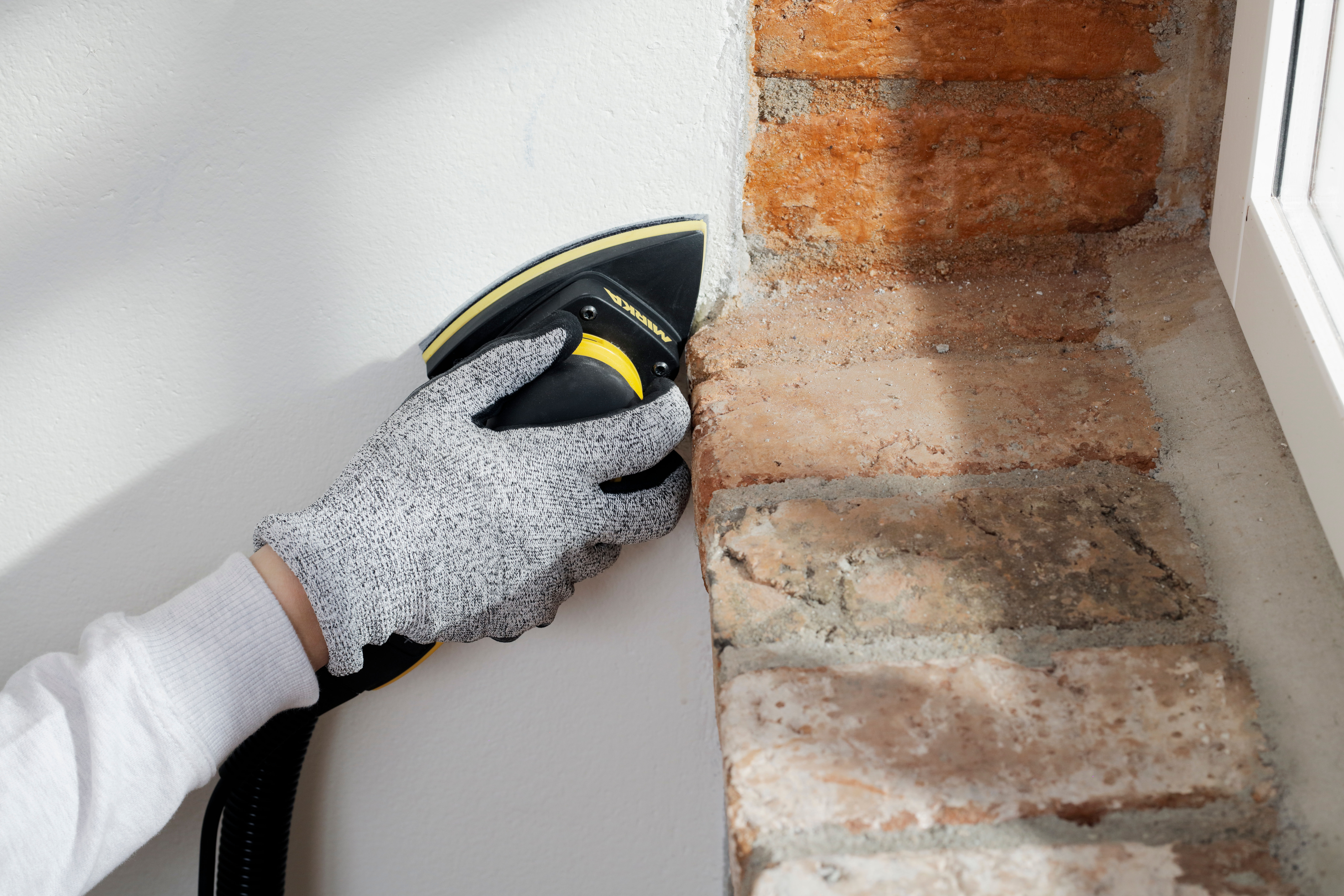 Mirka DEOS is all you need for easy, worry-free sanding.
These powerful sanders are an integral accessory to successful sanding work because there's no other machine that can provide such a finish that Mirka does, with inbuilt reliability to get the job done.
In the long run, our products are warranted to last for years to come, but with great power comes great responsibility to your tools. Our tools are made to be used and built to last – still, they need to be cared for and properly maintained to give their best. Make sure your tools are in tip top shape.
Sanding corners is faster and easier than ever before
Mirka® DEOS Delta: Flawless From Corner to Corner
This new sander has all the great features that our Mirka sanding machines are known for, including:
Easy-to-use
Great ergonomics
Low weight and low profile
It's easier to sand with it, especially when working on vertical areas.
This new sander has the largest orbital movement of all delta sanders on the market making it the perfect partner for effective and fast stock removal.
50% more effective
Work Faster With Mirka DEOS
Do you want a sander that does the job in half the time? Remove more stock with Mirka DEOS. Thanks to the 3mm orbit and powerful brushless motor you get 50% more effective stock removal than regular sanders. All this, while still keeping vibration levels low for comfort.
Less than 1 kg
Sand Longer with Less Strain with Mirka DEOS
Does sanding leave you with aching muscles and tired shoulders? Give your body a break with the Mirka DEOS. Weighing less than 1 kg makes it more than 20% lighter compared to the nearest competitor sander on the market.
10 cm height only
Get Closer to the Surface
Do you sometimes work in tight spaces? Reach comfortably into the nooks and crannies with a sander that is just 10 cm high. The low profile – gets you 30% closer to the surface at any angle, giving you unmatched control.
Can I reduce my hand-arm vibration exposure with Mirka DEOS?
Take Care of Your Daily Exposure
At Mirka, we put your health in focus and we are aware of the harmful vibrations generated when working with sanders. That is why we design our tools with the lowest possible vibration level. The Mirka DEOS vibration level is only 2.6 m/s2.
We have developed an app to respond to the growing importance of health and safety in the workplace and specifically to help workers avoid harmful vibrations. All Mirka DEOS are equipped with Bluetooth® low energy technology. The sanders can be connected to the myMirka app via Bluetooth. myMirka is the platform providing digital services and connectivity solutions.
Find the Right Abrasive for Your DEOS
Sanding putty and plaster without dust
Save Time and Money With a Dust-Free Solution
Do you get covered in dust when sanding? Save your lungs and your wallet by switching to dust-free sanding.
Try Mirka's pioneering sanding solutions and see how a dust-free working environment can boost your business.
Healthier workplace - Stop dust from getting into your lungs
Time-saving – No cleaning after sanding and clean abrasives cut better
Money-saving – No clogging lets you sand longer with the same abrasive
High-quality finish - Thanks to a finer scratch pattern
Preventive maintenance is crucial for durability.
Cared for Properly, Your Mirka® DEOS Lasts for Years.
Changing your backing pad regularly helps to keep your sander in tip-top condition. Check out what Mirka DEOS can do, along with our other electrical orbital sanders.
Do you want to know more?
Contact Us
Please get in touch and our expert support team will answer your questions.