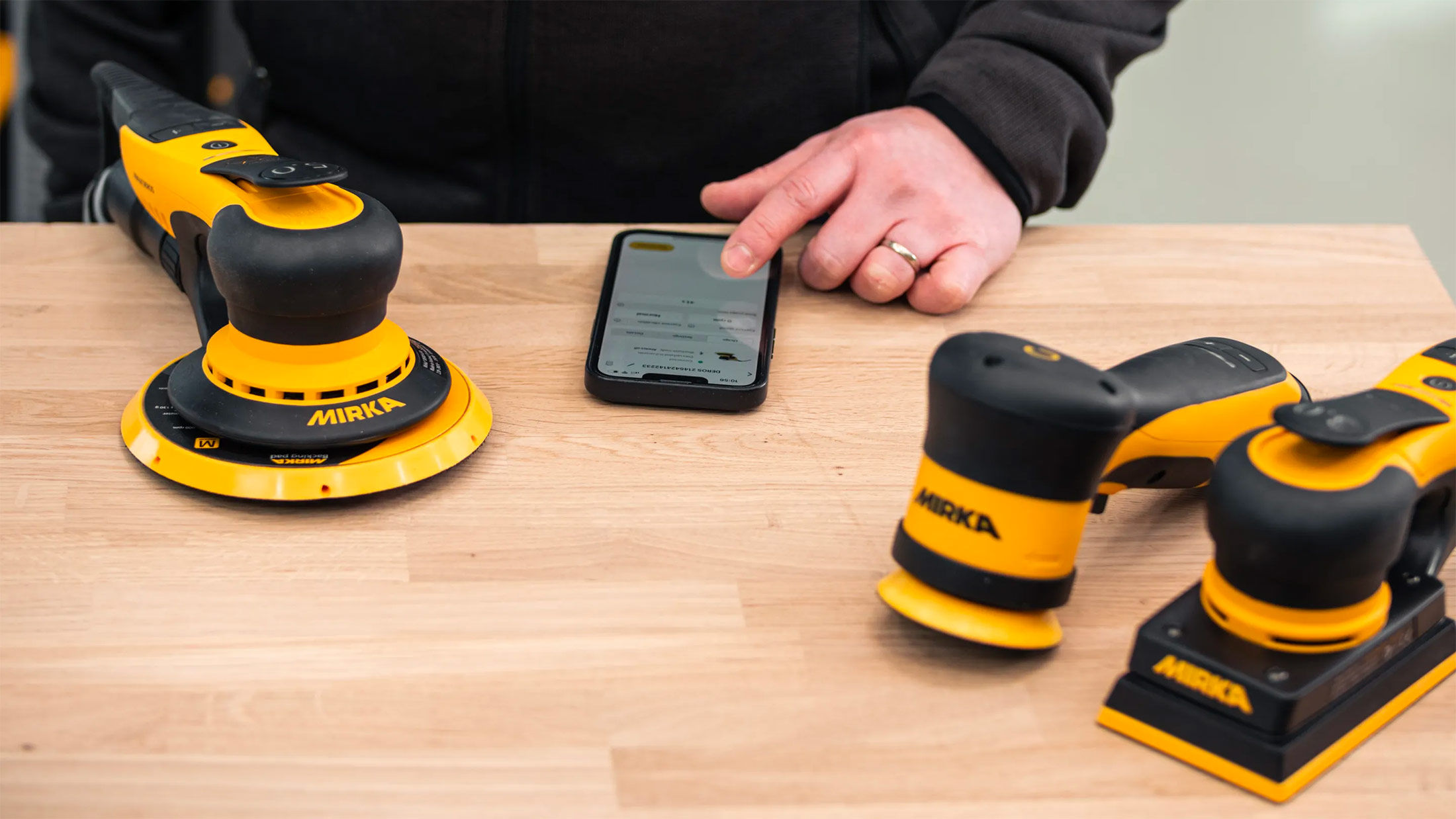 myMirka®
Track Your Vibration Exposure with the myMirka® App
Connect your Bluetooth enabled Mirka tool with myMirka app to see information about the tool. With the myMirka app, you can measure vibrations and track your daily vibration exposure. You can also view the tool's battery level and health.
What Is myMirka?
The starting point of myMirka came from offering a simple way of looking after your hands when sanding and polishing. We have added an integrated vibration sensor and Bluetooth® low energy technology to our most popular electric sanders and cordless polishers and developed an app to follow-up the measurements.
With the myMirka app, you can measure vibrations and track your daily vibration exposure.
Experience surface finishing in a new way. Mirka's digital solutions are just a click away.
Cordless Convenience with Complete Control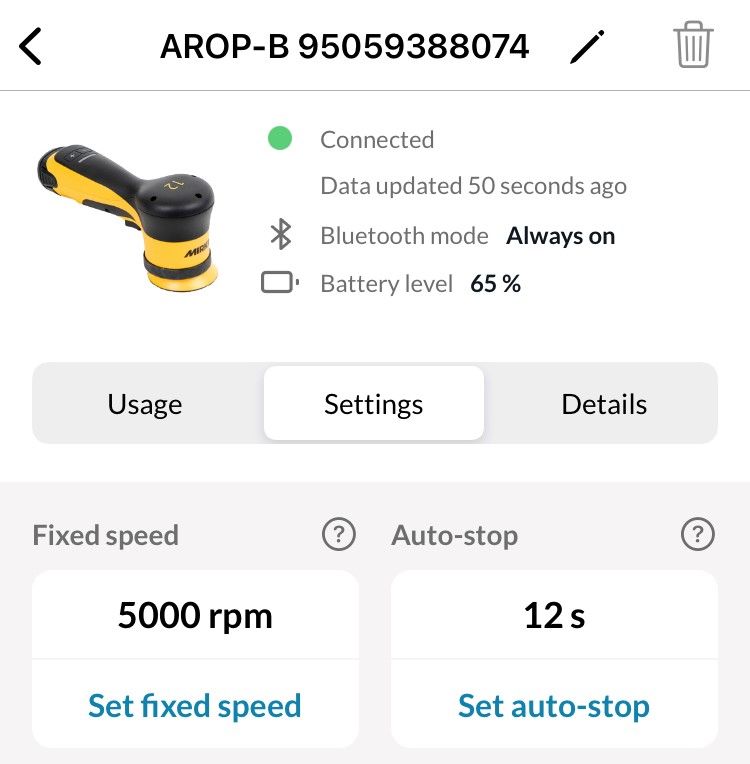 With variable speed on the trigger, you get optimal control of the polishing process. For a complete cordless system, combine the Mirka® cordless sanders and cordless polishers.
myMirka features:
RPM range management → Optimize and standardize a sanding process by locking and limiting sanding speed
Interval setting / Auto-stop function → Set the maximum runtime regardless of how long the switch is pressed
Vibration measurement (also available for Mirka DEOS, DEROS and LEROS) → Momentary vibration level indication and Daily Exposure follow-up
Each cordless polisher is delivered with two 2,5Ah 10.8V Li-ion batteries and a charger. (5Ah 10.8V Li-ion batteries are available to buy separately.)
This is how to connect your Mirka sander the myMirka app
Connecting Your Tool
Here we have put together some video guides where you can see how to connect different sanders to the myMirka® app and activate Bluetooth.
Please note that in some countries the full version of myMirka and Bluetooth are not available.

The Bluetooth® word mark and logos are registered trademarks owned by Bluetooth SIG, Inc., and any use of such marks by Mirka Ltd is under license. Other trademarks and trade names are those of their respective owners.

Please note that Bluetooth is automatically deactivated when the tool is disconnected from the mains outlet or battery. If you have disconnected the tool, you need to activate Bluetooth and pair your device again next time you use it.
The myMirka Bluetooth connectivity is available in EU countries, Australia, Bosnia and Herzegovina, Brasil, Canada, China, Georgia, Iceland, India, Israel, Mexico, New Zealand, Norway, Russia, Serbia, South Africa, Switzerland, Turkey, UK, Ukraine, and the USA.
Tool Vibration Indicator

Health and safety issues at work sites are becoming increasingly important. Due to vibration during the sanding operation the vibration white finger (hand-arm vibration syndrome) is one of the recognized symptoms. At Mirka we put the users' health in focus.
Mirka's Tool Vibration Indicator measures the momentary vibration level and displays it clearly. The vibration is measured according to the ISO 5349-1:2001(E) standard. Advices on how to lower the vibrations, if above normal level, are integrated in the app.
Daily Vibration Exposure
The app tracks the daily vibration exposure according to the European directive, 2002/44/EC Article 5. The gauge turns yellow when the operator has been exposed to a level of 2.5 m/s2 of the maximum daily vibration exposure and red when the level exceeds 5.0 m/s2.
Mirka's Digital Vision
Mirka's digital transformation and connectivity vision is to transform surface finishing into a digital future, by launching smart interconnections, providing added value and instant feedback to our customers and other stakeholders in a high tech smart fully integrated business environment with help of device intelligence and Big Data.
In the digital era, connectivity is crucial. myMirka is not just an app, it's a platform providing digital services and connectivity solutions. Join myMirka, stay connected and utilise the added value Mirka brings the surface finishing industry.
Bluetooth Enabled Electric Sanders
Bluetooth Enabled Cordless Tools