Abrasives
{{ root.totalResultsCount }} results
For all your sanding applications
Abrasives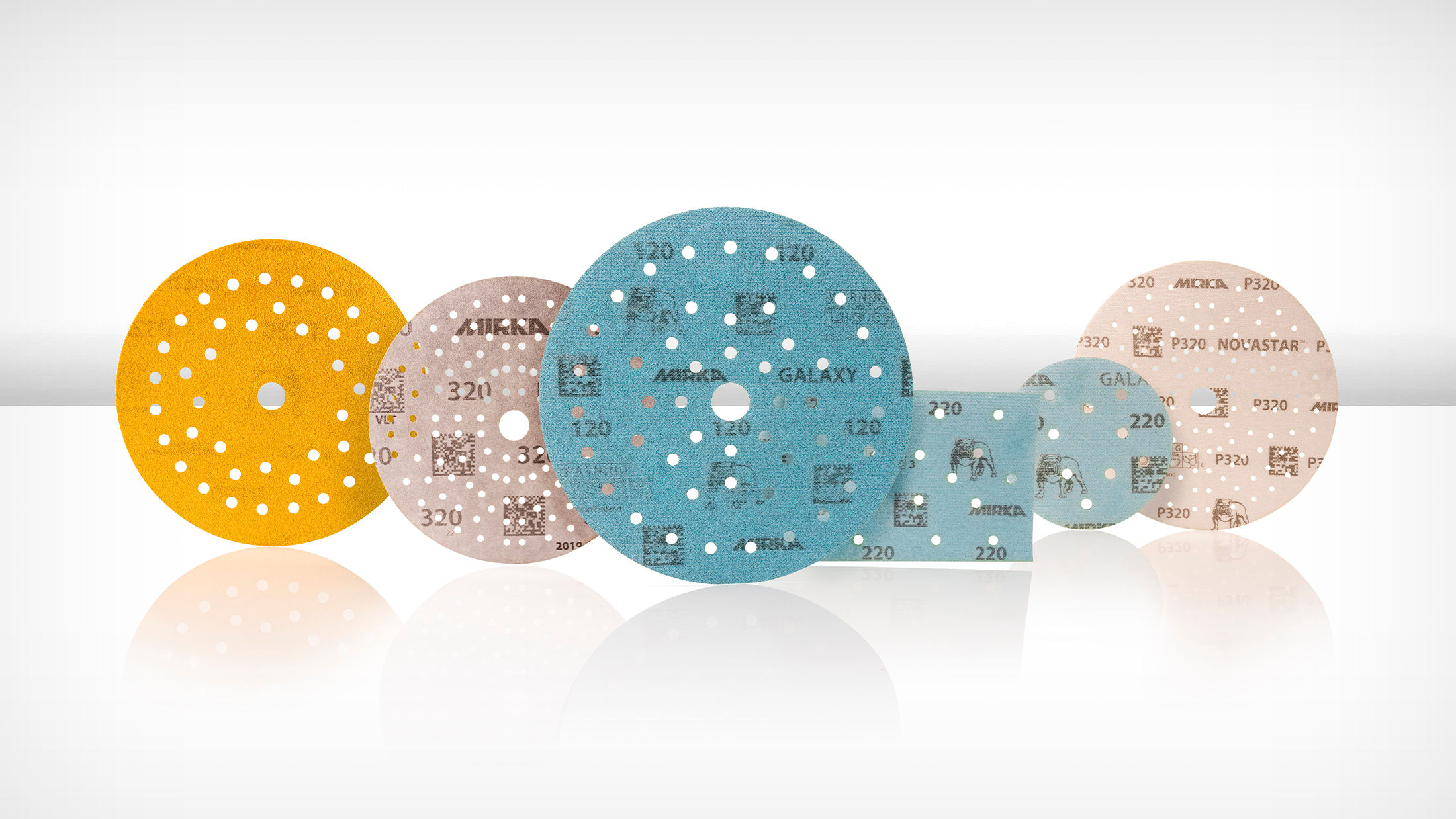 We offer a complete range of technically superior and high-quality abrasives for all kinds of sanding applications. As a world leader in surface finishing technology, Mirka provides a broad range of ground-breaking abrasives and sanding solutions for professionals in surface finishing and the precision industry. We manufacture cloth, coated, fibre, film, foam, non-woven, sandpaper and dust-free net sanding abrasives.
With dust minimized, you can focus on what you do best; knowing that our abrasives provide a more cost-efficient, safer, cleaner, and healthier working environment. Our extensive abrasive product range caters to both individual operations and complete sanding systems.
Making abrasives involves chemistry, physics, and materials science
The Art of Abrasives Manufacturing
All these factors need to be considered to produce suitable coatings. The size and properties, as well as the orientation of the "grit" particles as they are deposited on the adhesive-coated backing, and the properties of the adhesive and backing materials themselves – all these factors need to be considered to produce coatings that are fit.
Grains of aluminium oxide and silicon carbide are commonly used as the material and resin adhesive is typically used to bond the grains to the backing paper. The range of materials, situations, and conditions in the workplace where sanding is required is matched by the large range of coated abrasives available to do the work, each with a unique combination of materials: the size of the grains; open or closed coat – how densely the grains are packed; whether there is a stearate coating to lubricate and prevent clogging; the flexibility (or rigidity) of the backing material; and its suitability for dry or wet sanding.
Sanding process
The Role of the Abrasive
On a miniature scale, the individual abrasive particles cut material from the object being sanded. The dust particles that result from sanding wood, for example, are merely microscopic versions of the sawdust and shavings produced by larger-scale wood-cutting processes. There are also abrasives for metal and other materials and sanding applications that work in the same way.
What abrasive variants do we have and what differentiates them
Different Types of Abrasives
Abrasives come in all shapes and sizes, for example, discs, strips, triangles, sandpaper sheets, abrasive pads, abrasive sheets and abrasive rolls.
They are usually categorized into different groups depending on the type of material in the backing, for example, net backing. Mirka is the pioneer of the dust-free sanding revolution, led by the ground-breaking innovation Abranet® and net range. Traditional sandpaper is also a popular paper abrasive type. Paper abrasives have been always been popular, especially since it is now possible to make them with multihole configurations, allowing you to sand dustless.
Here you can find the most popular abrasives that Mirka offers, including net, sanding paper, film, non-woven, and foam abrasives.
Abranet® and Abranet® Ace
Net Abrasives
For a wide range of applications
Long-lasting
High-quality finish
Dust-free sanding for a healthier working place
Saves time – No dust, reduces time needed for cleaning
Mirka® Galaxy and Novastar
Film Abrasives
Flexible and smooth abrasive
Multifunctional
Clogging-resistant
For dustless sanding
Long life & fast cut
Mirka Iridium™
Paper Abrasives
Premium multihole sandpaper for universal dustless sanding
Wide application range
Perfected for speed and efficiency
Flexible and durable
For both soft and hard surfaces
Abralon® and Goldflex Soft
Foam Abrasives
Developed for sanding both smooth and profiled surfaces
The flexible construction allows it to create a smooth sanding pattern on angled surfaces and edges while minimising the risk of pressure marks
Suitable for both dry and wet sanding, by machine or by hand
Mirlon® and Mirlon Total®
Non-Woven Abrasives
Three-dimensional fibre sanding material
Long-lasting
Flexible
Used for the final steps in sanding applications for an excellent finish
Suitable for both dry and wet sanding
Learn More About Our Top-Brand Abrasives