Paint Rectification on Marine Clear and Topcoat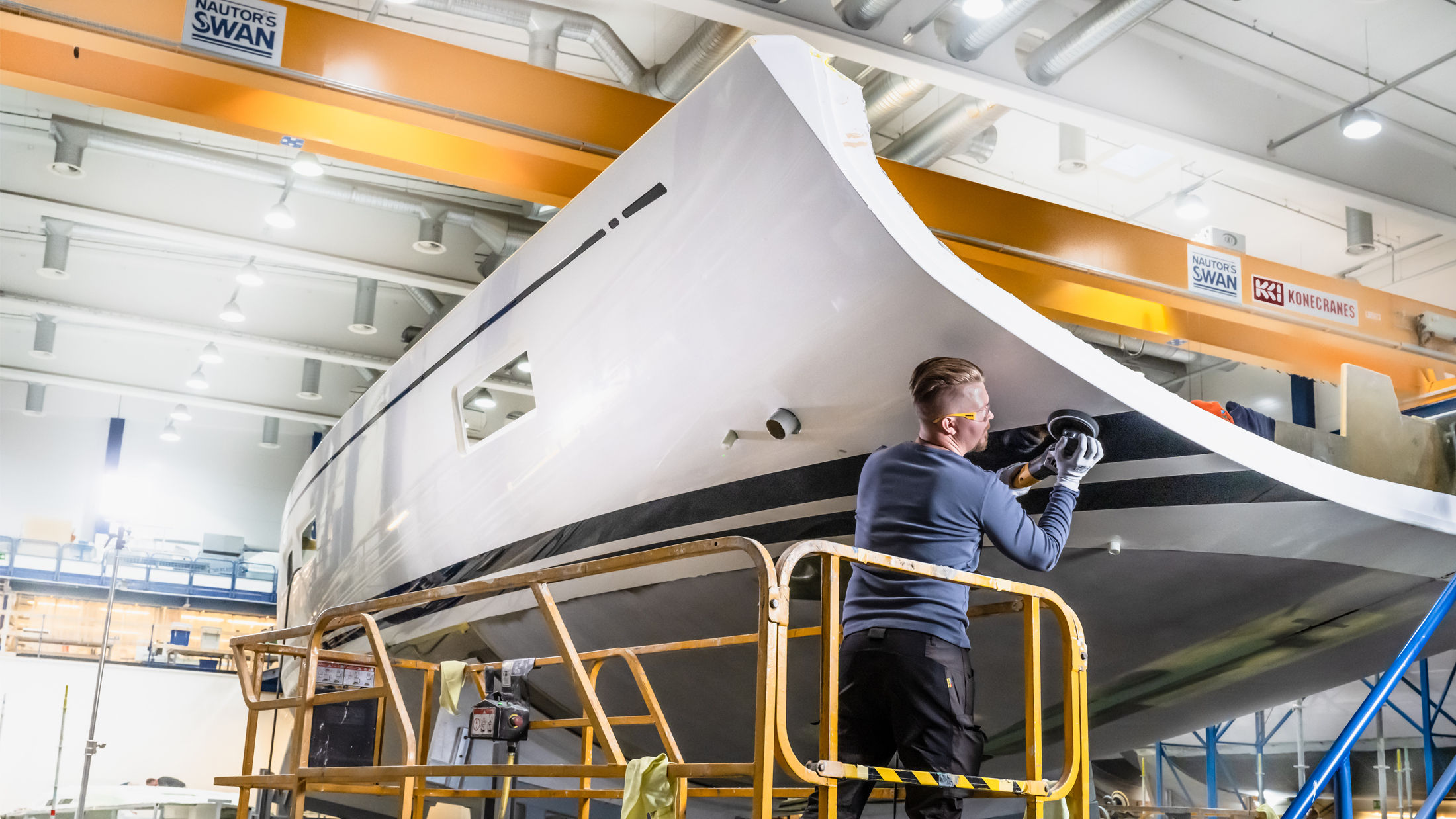 Clear and Topcoat Process for Yachts and Boats
It takes time, effort, and knowledge to build and maintain the perfect yacht or boat. At the manufacturing stage, Mirka's marine solutions can make the surface finishing processes more efficient and with a better end result.
The quality of the surface finish and coating can be taken to the next level by sanding or polishing, or removing smaller imperfections such as orange peel, to get an even better lustre.
Topcoat marine paints can be applied after surface preparation to ensure that the topcoat paint adheres to the substrate and provides a long-lasting finish that can resist a variety of weather conditions. Mirka provides solutions for both fresh and fully cured topcoat surfaces.
For a better luster
Clear and Topcoat Process for Yachts and Boats
1/6 - For yachts and boats
Perfect Surface
Preparing and maintaining the perfect surface yacht or boat takes time, work, and knowledge. Mirka's maritime solutions can improve the efficiency and quality of surface finishing procedures during the manufacturing process.
The sheen of the surface finish and coating can be improved further by sanding or polishing, or by removing minor flaws such as orange peel.
After surface preparation, topcoat marine paints can be used to guarantee that the paint clings to the substrate and gives a long-lasting finish that can withstand a variety of weather conditions.
Here you can find a simple procedure for achieving the greatest outcomes.
You can watch the full video here or check out the practical details in the step-by-step process in the list.
Remember to follow any additional recommendations and guidelines provided by the paint provider.
2/6 - Step 1
Sanding
Start sanding with Mirka® DEROS 650CV, 150 mm, with a Net Interface.
Start sanding with 1200 or 1500 grit.
Clean the surface with a microfibre cloth.
3/6 - Step 2
Continue sanding with 2000 grit.
Clean the surface.
4/6 - Step 3
Continue wet sanding with Abralon® J3 3000.
Clean the surface between every step of sanding.
5/6 - Step 1
Polishing
Polish the surface with Polarshine® 35 and a Lambswool Pad PRO together with Mirka® PS 1437 Polisher to eliminate sanding scratches.
Clean the surface.
6/6 - Step 2
For light coloured surfaces, finish with Polarshine® 12 and an Orange Waffle Foam Pad.
For dark coloured surfaces, continue with Polarshine® 12 Black with a
Black Waffle Foam Pad to remove any polishing marks, haze and holograms.
Clean the surface.
Process steps
Questions and Answers: Clear and Topcoat for Marine Applications
Can you use topcoat on a boat or yacht?
Topcoat boat paint is a marine finish that can be used both above and below the waterline. Topcoat marine paints should be applied after extensive surface preparation so that the topcoat paint adheres to the substrate and provides a long-lasting finish that can resist a variety of rough weather conditions on the sea.
What is the difference between gelcoat and clearcoat coatings on yachts and boats?
The difference between gelcoat and topcoat coatings is in the thickness. A gelcoat is a coating of resin that is poured into the mould before doing the lay-up. Clearcoat is a very thin layer of varnish that is applied to the part after it has been demoulded.
Nautor's Swan, Finland
High-Quality Finish
For Finnish yacht builder Nautor, a high-quality finish is about respecting the company's roots and heritage, and it takes the best kind of power tools and abrasives to accomplish that. Benny Brännbacka from Nautor shares with us what it means to collaborate with Mirka, and how important client satisfaction is when building spectacular yachts with Mirka's solutions.
"Working with Mirka is very good, we are continuously collaborating."
A better choice for you and the environment
Water-Based Polishes
All polishes that Mirka produces are water-based and produced in Finland. There are many benefits of choosing a water-based polishing compound.
Effective permanent removal of scratches - Water-based compounds remove scratches permanently. Solvent-based compounds can lose gloss after cleaning the surface with a degreaser and in some cases, they may only temporarily hide the scratches.
Safer for the operator - No hazardous chemicals
Sustainable - Water-based polishes are better for the environment and do not contain benzene or similar hazardous chemicals.
Solvent-based polishes may be effective in the short run, but they are more damaging and harmful.
Kim Rönnholm
Portfolio Manager, Mirka
Save your health, time, and money
Sanding Without Dust
Do you get covered in dust when sanding? Try the benefits of Mirka's pioneering sanding solutions and see how a dust-free working environment can boost your business.
Benefits from dust-free sanding
Healthier working environment - Stop dust from getting into your lungs
Time-saving – No cleaning after sanding and clean abrasives cut better
Money-saving – No clogging lets you sand longer with the same abrasive
High-quality finish - Thanks to a finer scratch pattern
Why Choose Mirka?
Save time and money – You can cut costs and reduce working hours
Why Choose Mirka?
Sand and polish safely without strain – Our tools and abrasives are ergonomic, efficient, and easy to use
Why Choose Mirka?
Improve the quality of work – The finish is excellent, with less effort
You Might Be Interested In
Pneumatic Tools and Accessories
Polishing Tools and Accessories
Do you want to know more about our marine surface finishing solutions?
Contact Us
Please get in touch and our expert support team will answer your questions.