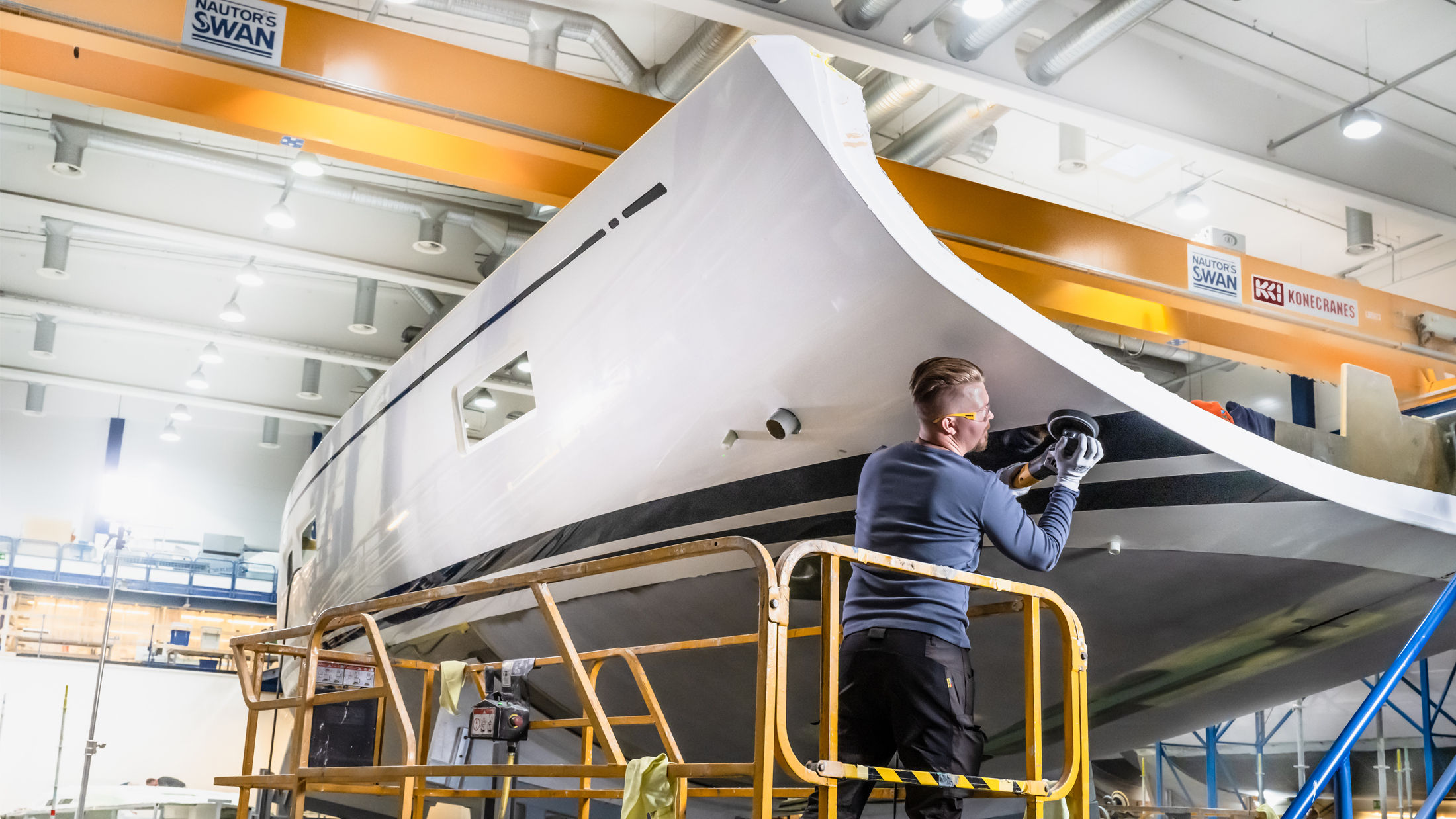 Marine Surface Finishing
For Manufacturing and Restoring Yachts and Boats
We offer a wide range of products for various marine surface finishing applications. From boat manufacturing, including high-end yacht production, to boat refurbishing and restoration, we can deliver. Our high-technology products and award-winning tools suit everything from the contours of composite boats to smoothening out the gelcoat finish – from small scale to high volume production.
Contact Us
Steady grip. Less than 3.2 kg. High flexibility.
Mirka® Leros-S. Reach Closer.
The Mirka® LEROS-S features the well-known abilities of the LEROS, but in a shorter, even more easily handled length. That makes it perfect for sanding larger areas faster, such as on yachts and boats. The LEROS-S has two dedicated grip points for full control.
Thanks to its lightness, balance and easy manoeuvrability, the LEROS-S makes it possible to sand large areas faster and easier. The large sanding pad with its 5mm orbit works especially well in levelling filler.
It features a highly flexible sanding head to make sanding easier and more ergonomic. A better working position makes sanding more effortless and improves the end result as well as productivity.
For effective sanding of hulls
Lightweight and Ergonomic
The new Mirka Long File Boards make a difference in hand sanding in marine production. They are a special lightweight construction, complete with an ergonomic grip handle, making sanding hulls faster and more comfortable.
Sanding large surfaces such as the hulls of boats and yachts can be straining and cumbersome, and the Long File Boards have been created to make it efficient and effortless instead.
Get Your Free Copy of Our Whitepaper
Sand Better, Polish Less - learn how to save time and money in yacht surface finishing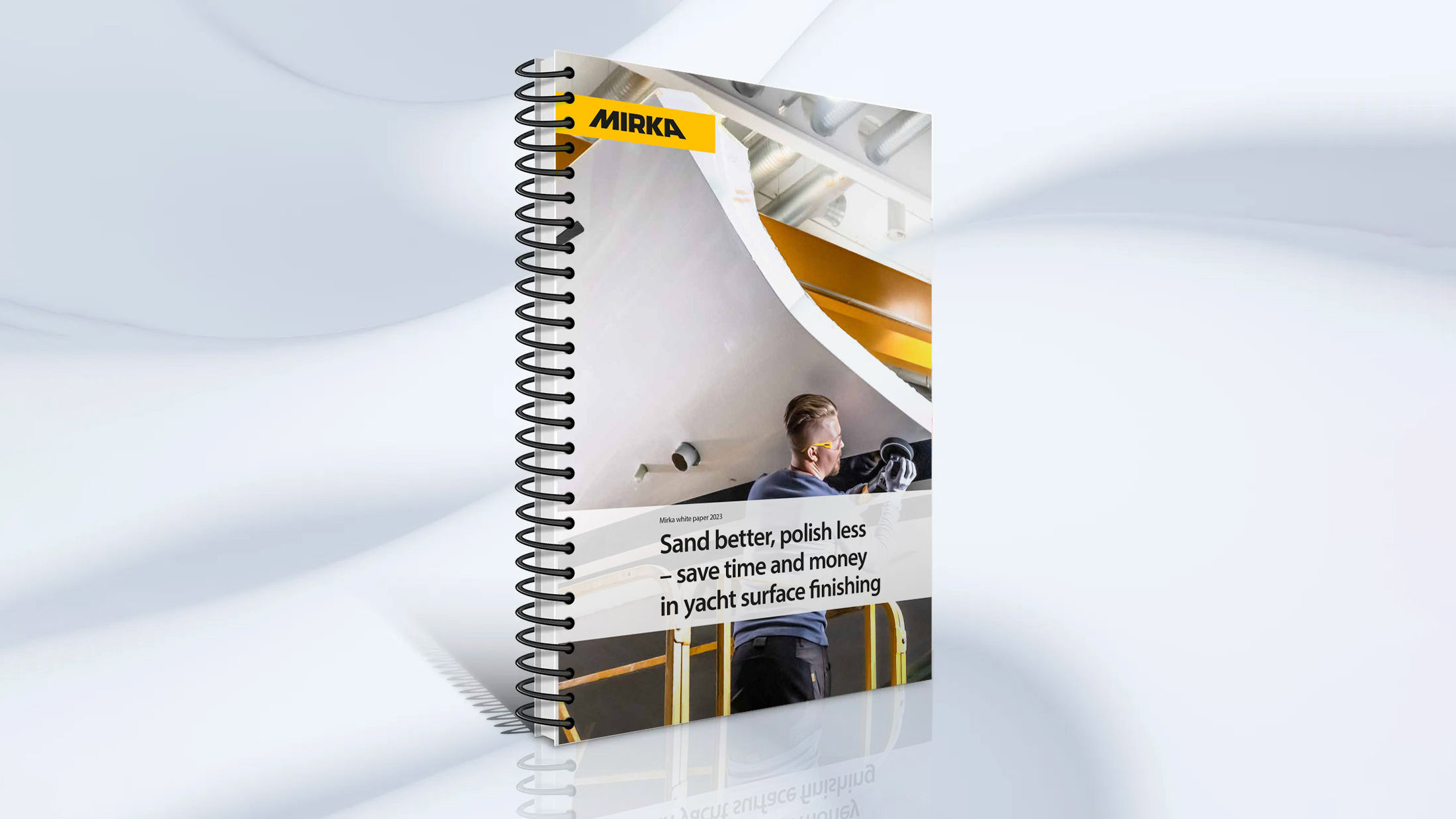 To help companies offer more cost-effective surface finishing solutions to their customers as well as a safer working environment to their employees, Mirka has created its own, alternative process that is introduced in this paper.
Learn all about how yacht manufacturers and yacht maintenance companies can save valuable time and money by sanding better and polishing less!
Calculate potential savings in yacht finishing
Try Our Marine Savings Calculator
With our Marine Savings Calculator, you can estimate potential savings using a Mirka finishing process compared to a currently used yacht finishing process. The calculator is suitable for motor boats as well as sailboats.
You Might Be Interested In
A better choice for you and the environment
Water-Based Polishes
All polishes that Mirka produces are water-based and produced in Finland. There are many benefits of choosing a water-based polishing compound.
Effective permanent removal of scratches - Water-based compounds remove scratches permanently. Solvent-based compounds can lose gloss after cleaning the surface with a degreaser and in some cases, they may only temporarily hide the scratches.
Safer for the operator - No hazardous chemicals
Sustainable - Water-based polishes are better for the environment and do not contain benzene or similar hazardous chemicals.
Solvent-based polishes may be effective in the short run, but they are more damaging and harmful.
Kim Rönnholm
Portfolio Manager, Mirka
Save your health, time, and money
Sanding Without Dust
Do you get covered in dust when sanding? Try the benefits of Mirka's pioneering sanding solutions and see how a dust-free working environment can boost your business.
Benefits from dust-free sanding
Healthier working environment - Stop dust from getting into your lungs
Time-saving – No cleaning after sanding and clean abrasives cut better
Money-saving – No clogging lets you sand longer with the same abrasive
High-quality finish - Thanks to a finer scratch pattern
Cranchi Yachts, Italy
What does it take to build Cranchi's spectacular yachts?
When it comes to creating magnificent yachts, Mirka sanding and polishing solutions play a significant part in achieving the best quality and finish. For Italian yacht manufacturer Cranchi, a high-quality finish is at the core of the business, without compromising the work environment.
"In Mirka, we have found a partner that listens carefully to our needs."
Nautor's Swan, Finland
High-Quality Finish
For Finnish yacht builder Nautor, a high-quality finish is about respecting the company's roots and heritage, and it takes the best kind of power tools and abrasives to accomplish that. Benny Brännbacka from Nautor shares with us what it means to collaborate with Mirka, and how important client satisfaction is when building spectacular yachts with Mirka's solutions.
"Working with Mirka is very good, we are continuously collaborating."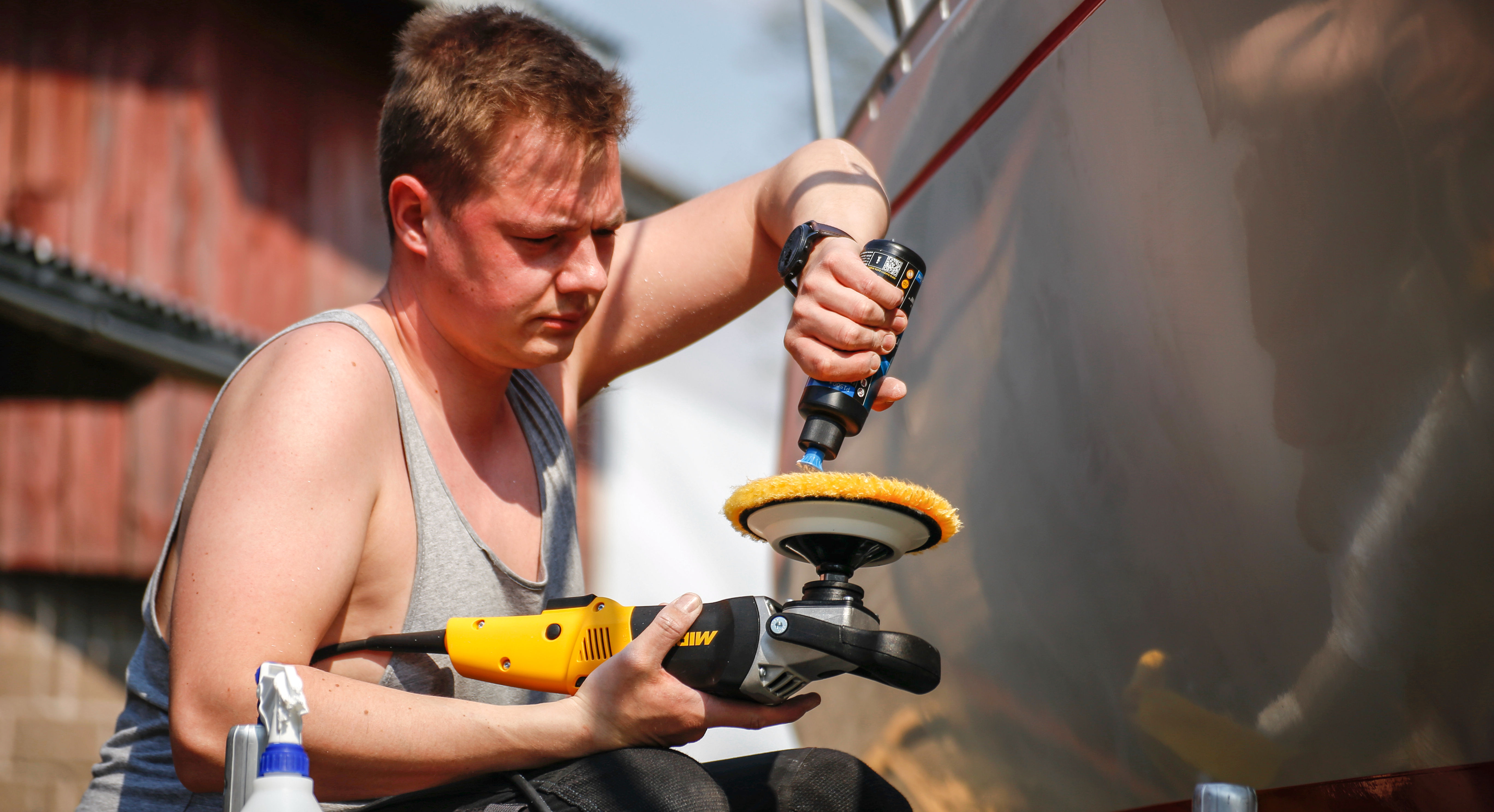 I recommend Mirka's Polarshine marine products to anyone who really wants to take care of their boat. The result is amazing, 42-year-old Emma looks new again. I was surprised by the ease of work.
Kristoffer Pietikäinen, Boat owner, Finland
For you and the environment
Sustainable Mirka
For us, it has always been clear to not waste financial or material resources – our own or yours. It is equally clear to preserve the planet's resources. Sustainability, for us, means taking the economy, the earth, and people into consideration when we make business decisions.
We work hard to conserve energy and raw materials, reduce waste, increase recycling, and decrease the use of persistent chemicals. We are developing healthier, safer, and more efficient products and processes so that you will benefit. For example, our dust-free sanding systems help protect the lungs when sanding while giving a cleaner and better surface finish.
Responsibility
For Mirka corporate responsibility is at the very core of how we conduct business. As stated in our values, all parts of our operations are driven to be responsible, committed, innovative and respectful.
In practice, this means ensuring that what we do in terms of sustainability, occupational health and safety, compliance and legislation as well as management systems are an integral part of every department.
Contact Us
Do you want to know more about our marine surface finishing solutions? Please get in touch and our expert support team will answer your questions.